This post contains affiliate links, so we may receive a small commission on any purchases through these links. See
Our Affiliate Policy
for more info.
Last Updated: April 26, 2022
Backpacks used to be designated for students and trekkers and the briefcase was a regular in workplaces and courtrooms. Change comes with progress though, and nowadays, the laptop has become an indispensable tool for virtually everyone. Companies have responded to the need by offering a variety of messenger bags as well as backpacks that can accommodate your laptop.
A backpack or a messenger bag are two of the most popular unisex bag options available today for both men and women. These bags are now common for a variety of uses, including business, pleasure, and travel.
The perfect bag for you will rely on a variety of factors, including your own style, capabilities, and also how you want to use the bag.
Let's go over all you need to know about messenger bags, backpacks and their pros and cons, so you can better decide what's the right choice for you.
Which is Better Messenger Bag or Backpack?
Messenger Bag

Messenger bags with carrying handles and shoulder straps have replaced the briefcase as the most common type of bag. It gets its name from the style of bag that bike couriers and postal workers use, and also, its origins may be tracked all the way back to the Horse Carriage system.
The most significant distinction between messenger bag vs backpack is the fabric used. In order to be worn over one shoulder, a messenger bag includes a cross-body strap. This type is excellent for holding your personal items without having to use your hands, and they are the right size for laptops and files, making the messenger bag a popular choice for professionals and students.
Top quality messenger bags have the advantage of being portable and having a more professional appearance than backpacks, which makes them a good alternative to a briefcase for those who need quick access to their belongings while on the go.
Backpack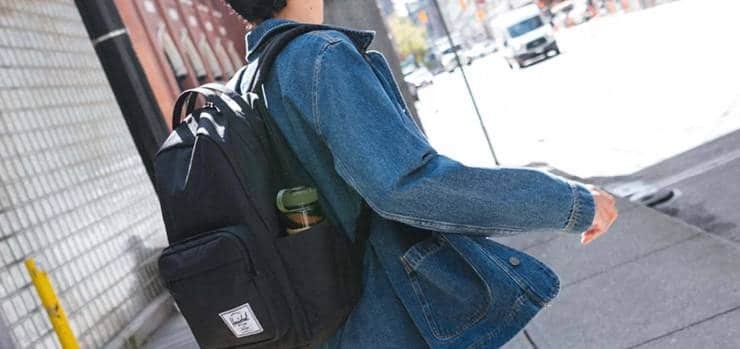 Backpacks, on the other hand, are ideal for transporting large items, and many of them are equipped with a laptop sleeve that can accommodate devices up to 17 inches in size. A backpack, which has two tight straps and is made of waterproof breathable material, allows you to uniformly distribute the pressure on your back, which reduces strain and makes them even more appropriate for commuters.
If you have a lengthy commute, a backpack will give you more room and pockets to store your goods, and it is much more likely to be waterproof than a messenger bag.
Admittedly, a top-loading backpack might be difficult to locate items in, particularly if you've packed it completely full. If you're on a long journey, you can choose whether you prefer the convenience of access or the extra capacity in case you need it more than you anticipated.
Backpacks are available in a wide variety of designs. It's simple to select one that complements your personality and way of life. They are available in a range of sizes and forms, as well as a huge variety of materials.
Backpacks made of leather or with a leather accent provide a clean and professional appearance. Nylon backpacks have an athletic appearance, but dyed cotton and canvas backpacks have a contemporary and easygoing appearance.
Can You Use Messenger Bag as a Backpack?
Not really, you need to remember that a messenger bag isn't a backpack, so if you want to carry it across your back it should not be higher than your lower back. Messenger bags are less flexible than backpacks when it comes to traveling. In comparison to backpacks, messenger bags do not offer the same level of protection.
If your jacket gets too hot while you're strolling around town, you won't be able to put it away as easily as you would if you were carrying a backpack. Messenger bags simply do not offer the same level of protection as backpacks do.
Are Messenger Bags Bad For Your Back?
When you wear a messenger bag mainly on one shoulder, the opposite side of your back may become spastic, producing stiffness and soreness in your lower spine and pelvis. This is dependent on the weight of the bag. If you wish to avoid any of these consequences, carrying a backpack rather than a messenger bag could be the solution.
Are Messenger Bags No More in Style?
It is indeed very stylish to carry a messenger bag since they are both extremely flexible and attractive. A messenger bag goes well with the suit for a smart business look. You can be certain that you are utilizing a high-quality product designed to serve your everyday needs for the professional worker, contemporary student or leisure traveler.
Conclusion
The final step in choosing which bag is suitable for you is to consider the design and layout of each bag, as well as the function for which you want to use it.
Messenger bags have a professional appearance. You may wear them with trousers or a suit and tie, and they have a smart-casual aesthetic that is appropriate for any occasion. Featuring quick access as well as ample room for a laptop and books, it is an excellent option for students and office workers.
However, over time, the finest backpacks have changed significantly, and though they may appear slightly extra casual in appearance, they are far more adaptable and functional for a variety of different reasons, making them particularly helpful for commuting and lengthy travels, among other things. Unlike messenger bags, which tend to come in a one-size-fits-all form, backpacks allow you to customize the size, materials, and style to meet your specific needs.