This post contains affiliate links, so we may receive a small commission on any purchases through these links. See
Our Affiliate Policy
for more info.
Last Updated: September 6, 2022
Bags for men come in an astounding array of types and styles. Everything, from waist bags to rolling luggage, is now available in forms that reflect style, needs, destination, goals, and personality. The designs of indoor and outdoor bags are changing to become more inclusive of all these functions and more individual in the expression of them.
Why are there so many types of bags for men on the market at the moment?
The reason for the huge variety in type and style of bags for men is because supply reflects demand and our demands reflect our developing lifestyles. We all have places to go and tasks to accomplish.
A bag is a container that guards our stuff. It's an extension of us. It gives us security and organization and, of course, style.
Not all of us are familiar with some of the new forms of bags that have men very interested right now. Not everyone has heard of the tote, the messenger, or the sling bag.
And what is a cross body bag or a saddle bag anyway?
In recent years, international travel came to a standstill, and even journeys to and from work (or anywhere outside the home) changed dramatically for many people. The new norm was to stay at home, and this gave us a great deal of time to think about things.
Fashion experts believe that this is when accessorizing became more flexible than efficient, and conventional bag styles for women began to invade the male domain.
Experts observed that gender lines were fading, and bag lines were expanding. Men became more interested in more ways to self-express and the bag industry followed their interest in hot pursuit.
Do men carry more stuff around now than they used to?
Men don't carry more stuff around; they just do it in a way that shows style. Bags for men changed according to need, and the first ever demands were for mobility and safety. The briefcase, for example, was not suitable for cyclists or walkers, and the style of the courier bag was recognized.
Men want to carry stuff around comfortably and not just all stuffed into their pockets. And then, all of a sudden, it became acceptable to do it with style and originality.
The rise of the fashion house bag lines for men obliged with new and luscious receptacles, with the bag worn as garment the most recent of all. Louis Vuitton's Keepall range, which includes the glow-in-the-dark clutch, was introduced just last year.
The bags we carry suggest everything from focus and precision to relaxation and nonchalance. As well as being functional, bags must also demonstrate and soothe our temperaments.
Whatever it is, bags emphasize our message to the world, and men are allowed to take part; indeed, men are expected to participate.
Bags have become like spectacles, an item we wear and the sole function of which was once to improve our eyesight. Glasses are now a major and powerful fashion accessory to the point where to wear frames without lenses is quite acceptable.
Main Functions of Bags for Men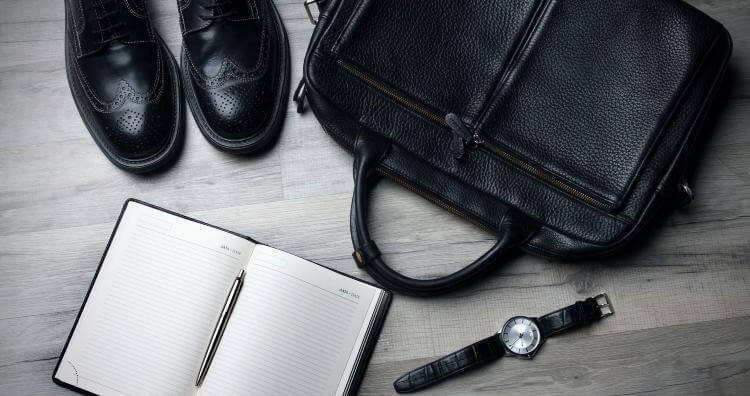 Bags help blokes get to places with their stuff, and they look after that stuff when they get there. And bags tell our story.
A beautiful bag dropped carelessly at one's feet, is not just sitting there. It is part of the architecture of one's space.
Men, like women, can now ask: What will this bag do for me, and how will it do it my way? This is the new task of the modern bag: protection, rich pretension, and extension of style.
The clearest way to demonstrate the expanded functions of men's bags is to consider every situation in which and to which he now always takes a bag – and it's not just "a bag", it's "his bag".
Places men take a bag:
When going to work
Shopping
To the pub
To a concert
Traveling
To the gym
Running, cycling, riding, hiking, or walking
To university or any other place of study
To church
Visiting other people
Walking around the neighborhood
Places men go to without a bag:
Things we now must always carry with us:
Wallet, money, key cards
Identification
Passport
Keys
Sunglasses
Phones
Kindles and books
Tissues
Hand sanitizer
Masks
Snacks
Water bottles
Ipads
Headphones
laptops
Sunblock
What do all these bags have in common?
First of all, they represent personal security and safety. We carry our entire life around with us in the form of identification, digital money cards, keys, personal items, and phones.
It doesn't matter if we are going to the gym, the playground, or a business meeting. We need (and expect) our personal effects to be secure. There are, therefore, security features that all styles of bags are now keen to exhibit.
Modern bags for men are designed to be more versatile than ever before. A leather briefcase, which is stylish and individual, should have enough personality to convert to a weekender when the opportunity arises. Likewise, the tote can go to uni, and the messenger bag can be taken on the plane.
The other thing bag lines have in common is that as they develop, most men will probably want to try most of them out, not for functionality but for the potential to express personality.
Business Bags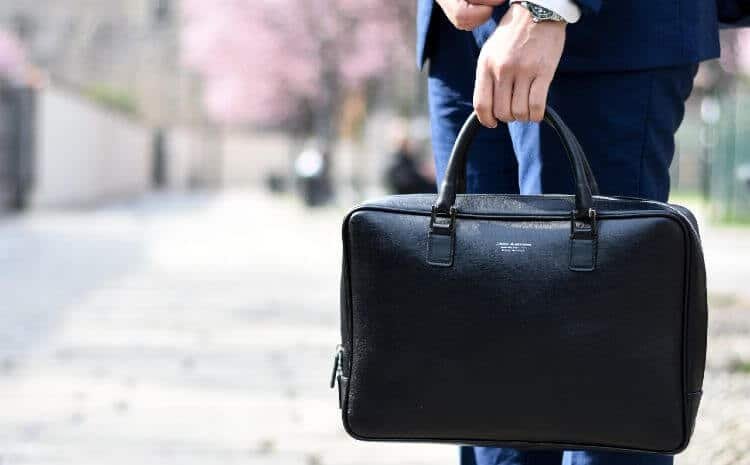 Bags for business have changed, and the new styles are all about grace, precision, and form. However, they have not relinquished traditional features, such as security, protection, preservation (of documents), and accessibility.
Business bags must look good, be carriable, be waterproof, and be unique, strong, and light. The severity of design continues to reflect significance of purpose.
The main business bag types are the briefcase or the attaché case, the satchel, the portfolio (or padfolio) and the simpler lap top sleeve.
Briefcase and the attaché case
The briefcase is a narrow flat case with a handle that was originally designed for lawyers to carry any amount of papers, folders (or briefs) to and from court. This is the origin of the term "brief case", and these bags were originally only used by lawyers.
The attaché case, which was once smaller and slimmer, was designed to transport and protect single documents or single files. Brief cases and attaché cases are now interchangeable, come in different shapes and sizes and include storage space for laptops and Ipads.
Briefcases are typically made from leather, faux leather, or vinyl and can have hard or soft sides. A good briefcase should be strong, light, and very good looking; it reflects the impact of its contents.
Satchel
The satchel sounds casual and 'workday", and they can be, but they are also styled now to reflect purpose as well as nonchalance.
The satchel arose from a need to 'commute and carry', perhaps on a bicycle, more easily and probably more safely, and were designed to be flung off and then hauled back on at speed.
This function alone, means that the design and quality of straps on bags for men are under constant surveillance; a brilliant new strap feature can change a bag's market potential.
The satchel is now a statement on how you commute and on the quality and purpose of your day. A fine leather satchel is what you take when you go to lunch on a workday. Satchels have straps rather than handles and can carry a lot more than flat documents or files.
The satchel can be made from leather, imitation leather, vinyl, canvas, or even plastic, (depending on its job), and fashion statements are expressed with straps and buckles, studs, leatherwork, and printed canvases.
The portfolio (or padfolio)
The portfolio, or the padfolio is a type of soft envelope without a handle or strap and can be made with anything from leather to plastic. They can also range in size and cost; again this depends on where they will be used and what the user wants to imply.
They are predominantly organizers for papers and documents and now include space for a laptop and a phone. The portfolio is what you might carry to a meeting.
Laptop bag
The laptop bag is designed specifically to protect laptops in transit. Thus, they need to be strong, insulated, waterproof and mobile. The best laptop bags are padded, have pockets, and look strong.
The padded laptop bags have made it possible to carry laptops on bikes, in trains, and through markets, leaving the wearer hands free to shop or steer on the way.
Laptop bags for men come in three designs: the backpack, the satchel, and the envelope cover, which is designed to protect those laptops that are carried within other bags.
For the Tradesman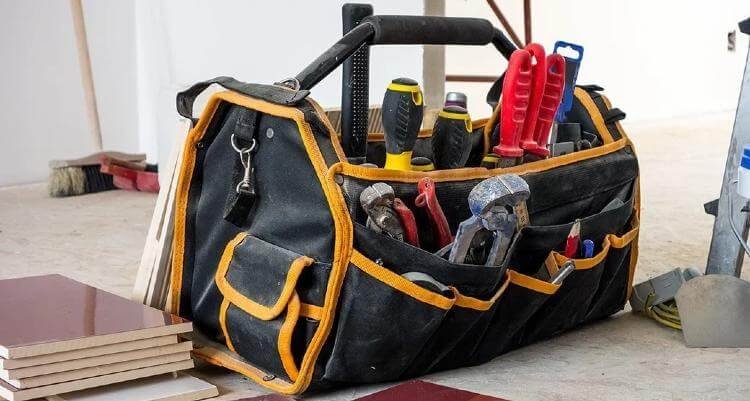 Bags for the tradesmen have mostly been the traditional soft sided carry bags with strapped rounded handles. These were always quite big and require the wearer to carry a lot of weight constantly and usually on one side of the body.
These bags have now morphed into backpacks – a safer way to carry weight and an easier way to continually pick up weight and move with it, often across large distances.
Tools of trades have changed – this means that carry bags have had to transform in order to store and carry them safely, and both ground bags and backpacks feature multiple interior and exterior pockets and loops to hold tools secure.
Tool bags need to be tough – they are slung from car to shoulder to the ground, and back into the van in a continuing cycle, and this is why broad canvas bags with strong handles have been the norm.
The newer tool backpack styles feature the same quality materials, but there is now a wider variety of materials used. They are usually made from leather, canvas, propylene, and strong vinyls.
Bags for tradesmen need more – they need to be water resistant, tear resistant, fire retardant, and UV resistant – reflecting the changing nature of the work environment and awareness of occupational safety procedures and responsibilities.
Modern tradie bags are usually rounded with ground studs to protect the base, or square based, rather like an esky. In fact, many now include insulated cooler sections to protect food and drink from the elements.
These also include the same pockets, clips, straps, and buckles, studs, buttons, and are designed to reflect the workday: tough, long, and strenuous.
What About the Student?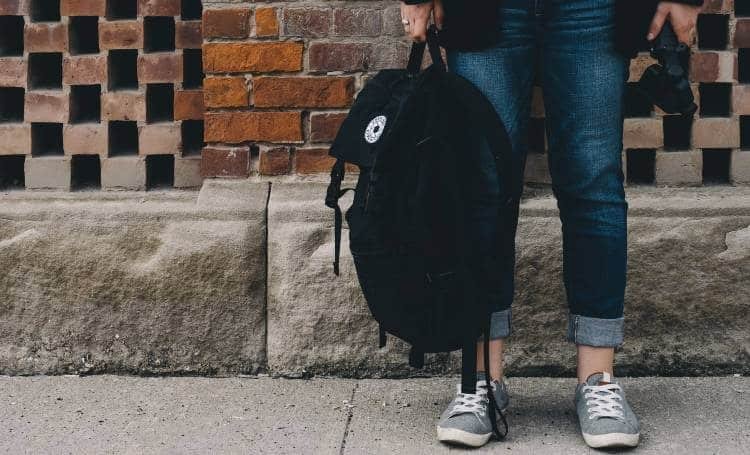 Other types and styles of bags are those aimed at students. This can be just about anyone now, and bags are designed to carry study materials just about anywhere. Bags must also reflect that students have unique needs, as they:
Carry a lot of books
Walk a lot and travel by bus and train
Are always on the move
Carry laptops and other devices
Are often cash poor and usually time poor
Will study anywhere – inside or outside
College bags are designed to be durable, comfortable, secure, and to reflect a personal statement of long term commitment. The most popular choice (in fact, the only choice now) is the backpack, and the differences between these are all in the designs:
The base laptop backpack, which carry and protect laptops during transit.
The cyclist version, which is lighter, made of sweat resistant material and more heavily padded.
The slimline minimalist version, which is sleeker and finer and designed to carry less weight.
The superior models, which look a little like basic hiking packs and can carry more items, more weight and may include a waist belt (this type is also suitable for teachers).
The fabric versions, which are softer and washable and designed for comfort and not meant to be used outdoors for lengths of time.
The funky version, which come in cool colors, cool fabrics and with printed decals.
The humble backpack has developed over the decades to reach more intense expressions of individuality, and these are expressed through color, materials, designs, and trims, and company declarations of ecological commitment.
For the Sportsman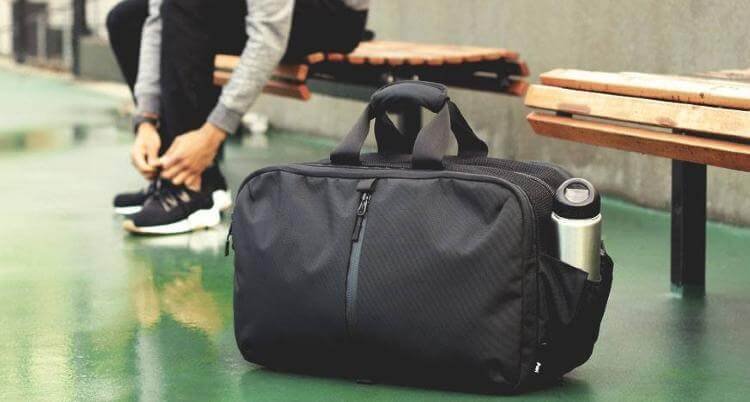 Bags for the sportsman hold a healthy corner of the industry. These include simple carry bags, backpacks, and specialist bags, which are designed to carry the equipment unique to a single sport – tennis or golf for example.
After work, it's time to work out, and working out is a valued part of the daily schedule. Gym enthusiasts, runners, cyclists and walkers, members of sports teams, and athletes all need their own bags. Sports bags in general need to be washable, durable, waterproof, light, tear proof, luminous, and identifiable.
Types of bags depends again on what we are doing and where we are, how often we practice, and who we are.
At the gym
Gym enthusiasts need to consider their workout and their environment. These include conventional gyms, gyms with outdoor areas, and gyms with swimming pools. All of these settings can affect your gear.
The materials the gym bag is made from (polyester, nylon, vinyl, or leather, canvas) are important because of what you are carrying in the bag. For example, if you visit the gym before work, will you have to carry your sweaty gym clothes to work?
The amount of storage space you are comfortable with is worth considering; water bottles need to be kept upward, sweaty clothing and shoes in a separate place, phones, keys, headphones and wallet somewhere where they can be reached easily.
The functionality, safety (with anti-theft and waterproof pockets), weight (how will you be getting to the gym) and maintenance (is it washable?) are all additional important considerations.
Mobile sports bags
The mobile sports bags, usually in the form of smaller backpacks, are designed to be worn to workouts and events rather than carried. Thus, they must be light, strong, waterproof, rip resistant, comfortable, wearable, and breathable.
Mobile sports bags are often more padded and with more comfortable (wearable) straps and buckles.
For the Hiker or the Backpacker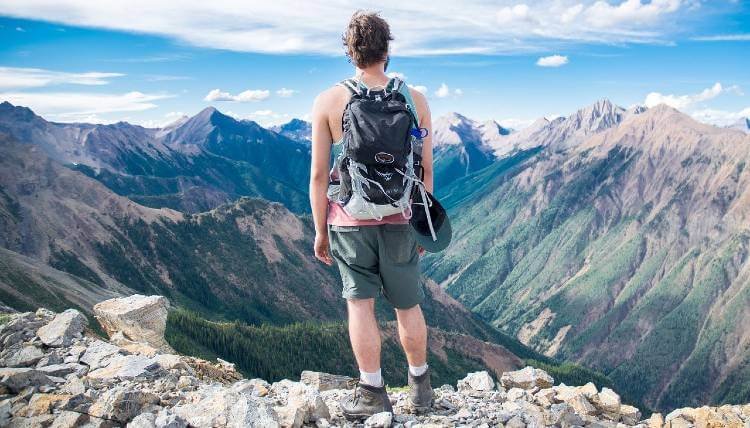 Outdoor backpacks or hiking packs are designed to carry supplies needed to sustain us on overland hikes of varying lengths, amounts of time, and distances.
Outdoor hiking kits are designed to cater for different terrains – bush terrain or mountain terrains, for example, different climates, different levels of fitness and experience, and are now very much tailored to fit the individual.
The four types of backpack we will look at here are:
The frameless backpack, which is the lightest and least robust of the four and not designed to carry heavy weights. These are smaller and simpler than the typical frameless hiking pack.
The internal frame hiking pack, which can carry more weight and cater for longer distances and different terrains.
The external frame backpack, which are the heaviest and most durable of the packs and are designed with the frame outside the pack.
The tactical backpack, which are used for training and challenge purposes and designed specifically for extreme terrains and survival conditions.
Frameless backpack
The frameless trekking pack is intended for use on day hikes and hikes that will be completed at speed. For this purpose they are made light and durable with light strapping, buckles and clips, less pockets and cooler lightweight fabrics.
More experienced hikers, who know and understand different terrains, will choose the materials likely to withstand the pressures applied to them during a trip.
Internal frame pack
The internal frame travel backpack has the frame built inside the actual pack. They are designed to fit everything inside and are the most common choice for the beginner and the casual hiker.
These provide greater protection from the elements because everything is protected inside the pack. In rainy conditions, this is a definite plus. The internal frame backpacks use straps to hold the backpack and secure the load.
It is in the design materials that internal frame packs differ the most. Vinyls and canvases differ in weight, robustness and quality. They are designed to match the purpose and needs of the individual hiker.
Two significant features on any backpack that are most prone to weathering are the straps and the zippers. Features such as double stitching, quality metal zips, and robust buckles are a few of the details worth checking. If you aren't sure, always ask.
Another useful feature in an internal frame hiking pack is good ventilation or netting that will keep your lower back comfortable and sweat free.
External frame backpack
The external frame designs are the strongest and most robust and are intended for complex terrains and weather conditions. They must carry supplies for longer trips. Many hunting packs have external frame to be able to carry heavy loads.
The capacity (and price) of this pack depends on its size and style, and these depend on what needs to be carried, the terrain, the climate and the expected weather during the trip.
Experienced hikers choose equipment to match their trip and, if leading a group, they choose the trip to match the skill and fitness of the hikers.
Tactical backpack
Backpack that is the most specialized and probably the most durable. They have a different function to the hiker's packs because they are intended for training rather than leisure or pleasure.
Tactical packs are taken into the most demanding circumstances and are used for military, law enforcement and other high activity training purposes. They are taken into extreme terrains, on extreme distances, and into all weather situations.
They are designed for body comfort during feats of strength and endurance and so include features such as hydration bladders, radio ports, pockets for earphones, maps or radio antennae.
Tactical backpacks are required to carry extreme weight. Construction materials are robust, weatherproof and durable.
Lifestyle Bags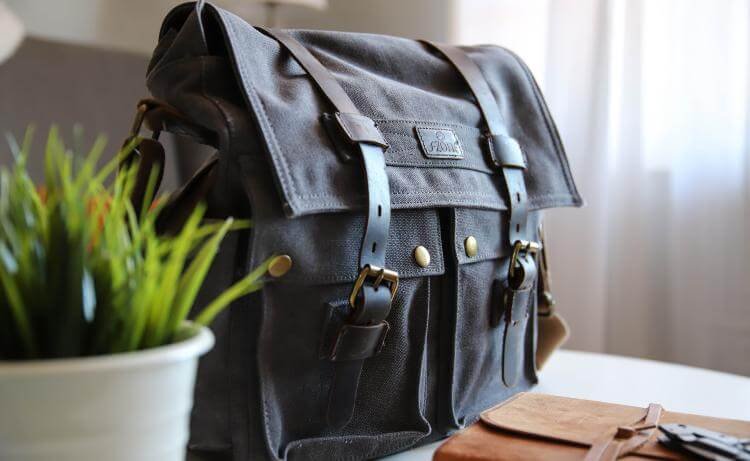 Here we look at the bag men take when they are just going somewhere and want to endorse personality and keep gear safe.
Tote bag
Tote bags are larger, durable bags with handles and with flat bottoms, and which were traditionally carried by women. They are much like carry bags and are very useful for shopping.
These can be made out of a variety of materials, such as canvas, plastic, durable cardboards, leather, nylon, and recycled fabrics. The tote bag is not worn around or across the body, which makes for extra comfort in hot weather.
Waist pack
The waist or fanny pack is a small pouch, secured with a zipper and usually worn around the hips or waist. They can be worn attached to belts and have been popular with travelers as a way to carry around valuables safely. Fanny packs now come in a greater variety of sizes.
The cross-body bag
A crossbody bag is designed to be worn on one side of the body with the strap looped over the opposite shoulder. However, you can really wear them however you please. They are smaller than the slingbacks and designed as an accessory rather than as a functional carry bag.
The messenger bag or courier bag
Messenger bags, or courier bags, are similar to backpacks, but they allow easier and quicker access to the contents of the bag. They are definitely more suited for bike deliveries. They are made with robust cross-body straps and were named from the type of satchel used by mail carriers.
Made from a range of materials and trims, messengers are able to reflect the purpose of an outing with flair and elegance.
The saddle bag
The saddle bag is named for its signature shape: the bag itself is more or less in the shape of a saddle. Fashion commentators insist that the male version is simpler and more angular than the ladies.
The saddle bag straps are important. The saddle bag is designed to be worn across the body with the saddle part on the front of the body. On the outside, they appear quite large, but are not so roomy on the inside, an important thing to remember if you have a lot to carry. They are usually manufactured with pull apart clips.
They come in all hues of leather and many different colors, and the metal components are called hardware and are very significant in the design process.
The slingback bag
A slingback bag is a type of a backpack that is worn over one shoulder with the weight of the bag settled diagonally across the back. In other words, they are quick to pull on and off as it does not need to be fitted and settled like the conventional backpack.
The sling backpack has been revived from the nineties, but with more style, class, and variety in materials and style.
They are not meant for too much weight, and they look better not stuffed full; perfect for day trips and for when you don't need a lot of items with you.
Men typically carry phones, wallets, earphones, iPads, sunglasses, and masks: the slingback carries more than a saddlebag but less than a backpack, and they come in a devastating array of leathers, leather trims and metal fasteners.
For the Traveling Man
Bags for the traveling man include the weekender, the cabin (carry-on) bag, the backpack, the garment bag, the shoe bag, and the soft shell or hard shell rolling suitcases.
Bags for the traveler are designed around three basic premises: where he wants to go, how he's planning to get there, and how long he plans to travel.
Whether the journey is a day trip, a weekend getaway of an extensive tour of the unknown, the accompanying travel bags must deliver security, mobility, durability, style, and accessibility.
The weekender
The weekender is that bag you throw everything into that you need for just one weekend. They are also known as overnight bags, carryalls or as small travel bags.
Weekender bags are casual and comfortable and can be made from canvas, cotton, leather, and faux leather; their main feature has always been convenience, but now we can add style as well.
The cabin bag
The cabin bag is the piece of luggage that passengers are allowed to carry with them in the passenger compartment on public transport instead of in a separate cargo area.
The cabin or carry on bag for men needs to be lightweight and secure, and they need plenty of tight pockets for phones, reading devices and earplugs, in short, everything you want on your flight.
Cabin bags have morphed in design from the conventional hard shells to stylish backpacks that also have added shoulder straps and handles.
The backpack
Backpacks used to only be rough, tough, functional and comfortable. They have only ever increased in popularity, and the demands on the style have changed dramatically.
Travel backpacks still retain their versatility and their ability to distribute weight safely and evenly, but they are now designed to carry anything, from university books, laptops, clothing, and office documents.
Men's backpacks are designed for day trips, weekend getaways, short hiking events, cycling events of any kind and other outdoor pursuits such as an afternoon playing golf.
They also include the specialist bags, such as the Camelbak, which is a flat backpack with drinking tubes that carry water and are worn by cyclists on longer trips.
Backpacks can be made from canvas and leather products and must be stylish enough to pull off an evening out. Alternatively, they can be the more traditional nylon and polyester blends.
A backpack has developed in design to reach higher standards of safety than ever before. For example, it is common for backpacks to have anti theft features, such as when the main zippered compartments are worn against the body rather than away from it. This ensures it remains secure against pickpockets.
The garment bag
Garment bags are collapsible protective flat bags designed to keep clothing hanging upright and clean whilst in transit. Garment bags are nearly always made from polyesters and nylon – they must be waterproof and untearable.
They come in different sizes and contain foldable compartments for storing and hanging items of clothing, particularly formal or evening garments that are best not folded.
The duffel bag
The duffel bag is a nostalgic nod to yesteryear where they were once common fare. The duffels are large and rough, sometimes waterproof, but traditionally made with canvas. Duffel bags for men are now made with synthetic fibres, and they mostly no longer have the drawstring top closure.
Many men choose the duffel bag for a weekend away because they are easy to use, quick to pack and are designed to not just fit in with the weekend but to also compliment it.
The traveling shoe bag
The bags with shoe compartment are made from waterproof materials to protect your shoe collection when you're traveling. The best designs open and close with zippers and include a plastic window for easy identification of shoes. These bags can be padded.
The hardshell and softshell luggage

Hard shell and soft shell luggage sets include the rolling luggage designs, which stand upright on four wheels, and are held with extendable handles. These require much less effort to propel from place to place.
The traditional roller luggage has two wheels that is pulled by the handle. There is no perfect type of luggage, and manufacturers appeal to the needs of the individual traveler and their personal style.
Popular Bags for Men That are Getting Attention
The following products have been noted for some very particular functions and style features. They are all recent products with glowing reviews.
Note the blurring of the functions of each bag – the way that a single style of bag can be used for more than one purpose and in multiple places because they meet multiple needs.
Note the gender natural features, the innovations in design, and the acknowledgement of environment and resources.
Also note the connections to yesteryear and our persistent yearning for the simple.
| The Bag | Image | Reasons for the accolades | View |
| --- | --- | --- | --- |
| LEAPER Canvas Sling Bag | | Sleek and smooth. The washed canvas with leather decoration is stunning. | Check Price |
| STYLIO Zippered Padfolio | | Elegant, multifunctional, and away from the expensive end. Has pockets and sleeves to keep stuff organized. Padded (but not puffy) for extra protection. | Check Price |
| NEWHEY Mens Briefcase | | Comfortable, durable and waterproof. Double secured by magnetic snaps and zippers. Great for work or casual use and holds lots of stuff safely. | Check Price |
| DEWALT Lighted Tool Backpack | | Has an LED light that can be used to find tools inside the bag or in the area you are working in. Great for when you are working in dark areas. It is tough and durable. | Check Price |
| UNDER ARMOUR Gym Bag | | This is a classic. It has a large vented compartment for your sweaty laundry or shoes, and it converts into a backpack, so you can jog home if you have enough energy left. | Check Price |
| CoolBELL Convertible Backpack Shoulder Bag | | This beauty is multifunctional; it looks like a briefcase but can be used as a backpack or a messenger too, and its sexy enough to set a mood. Looks fine, and it's mine. | Check Price |
| CHAMPION Signal Tote | | This bag is sexy and clean. Broad, simple and won't fall over. At the office or by the pool, on the train: anywhere. | Check Price |
| VASCHY Messenger Bag for Men | | Inexpensive and snug, but can hold a laptop comfortably. It is water resistant, and the straps are strong. The ultimate grab and go bag. | Check Price |
| SAMSONITE Winfield 3 DLX Carry-On Spinner | | This one has garnered attention because its roomy, lightweight and also strong – and the wheels don't make noise. | Check Price |
| OSPREY Aether AG 60 Hiking Backpack | | The reason this bag has been noted is for the hip belts, which are comfortable to wear even over long periods. | Check Price |
Summary
Bag fashion for men have changed over time, and there has never been such an array of products and styles to choose from. We don't leave home without a bag. Often, we don't even leave a room without one. Men today are expressing their goals and their desires through their bag choices, from everyday carry backpacks to stylish tote to the hardworking outdoor adventure packs.
Products and designs are in fierce competition, and designers and manufactures are constantly searching for those elusive features that will edge their products to the top of this dynamic and ever changing market.