This post contains affiliate links, so we may receive a small commission on any purchases through these links. See
Our Affiliate Policy
for more info.
Last Updated: April 26, 2022
Do you like airports too much and the airport look means a lot to you? Is your luggage not acting up like the rest of your outfit is?
If your answer to any of these questions is yes, do not worry, you are not alone.
Airport looks have turned into a big thing and luggage now forms a major part of the overall outfit.
To buy a new traveling bag each time you go out does not seem rational. So, if you've been wondering how to make your luggage stand out from the crowd, here are some of the best tricks to personalize your suitcase and to steal the thunder at the airport carousel.
How To Make You Luggage Stand Out
1. Paint Your Initials in Different Languages
Painting your initials in different languages is a good way to give that different vibe to your luggage. You can add languages as you travel more and more. This is also a great way to remember all the places that you have explored.
It is an easy way to personalize your suitcase and does not require much of an investment either. Some paint, a couple of brushes, the Internet, and some effort will give your bag a unique look that you have always wanted.
2. Quirky Luggage Tags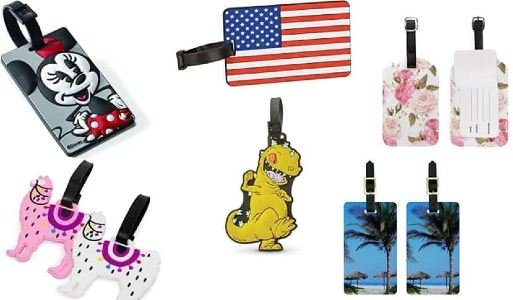 The best way to accentuate your boring luggage is to add some quirky luggage tags. Luggage tags serve the purpose of identification and generating aesthetics too. You can choose your favorite fandom and then create a luggage tag accordingly. Origami can also be a great option to create luggage tags.
Having some cool luggage tags can also be great conversation starters on airports. Who knows, you just might find your partner while waiting for your luggage to arrive.
3. Multicolored Ribbons
Another great way to give that personalized touch to your bags is by matching them with a ribbon. The ribbon can be chosen after you are done selecting your airport outfit.
Ribbons are a very sustainable way to decorate your luggage. They are reusable, come in a plethora of colors, and are very cheap. You can even use them to tie your hair, and thus, revamping the aesthetics of your luggage will practically become free.
You can use the ribbon to either tie a knot, or you can simply cut in and put it on the edges. Fluorescent colored ribbons make your luggage stand out and help in the easy identification of the bags.
4. Aesthetic Luggage Belts
Luggage belts are a great accessory which not many people use. It is the only way to look civil even if you have the bad habit of packing more than what is required. It holds together all your stuff in an organized way, while retaining the shape of the bag.
You can customize your luggage belts with some paint. You can also opt for the light colored options to brighten your otherwise dull luggage. They come at a very pocket-friendly price. If you have a knack to keep up with the luggage trends, buying one of these belts is a no brainer.
5. Adding a Big QR Code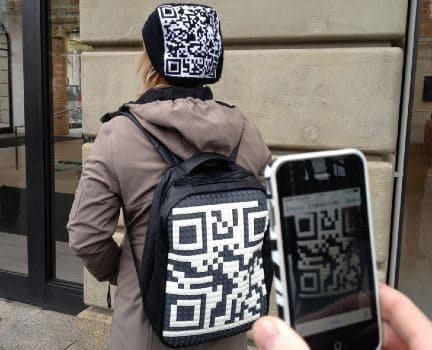 QR codes have replaced almost all the textual information. Most professionals just have a simple QR code on their business cards. You can use a QR code and link it to anything you want. A big QR code will catch everyone's eye and make you the talk of the town.
You can link it to your playlist and suggest some good music to people waiting in the check-in cue. If you are an artist, your portfolio just got a better place too. You can opt for brightly colored QR codes for easy identification too. Happy sharing.
6. Adding Good Zips and Carabiners
We usually do not pay a lot of attention to the zippers that our bags have. However, these zippers can turn into your worst nightmares. Bags full of clothes with broken zippers are as bad as it can get.
You can always replace your default zippers with a branded set. Many companies have launched quirky zippers that have NFC tags too. You can spot them from a distance and even personalize them. Sturdy zippers are a must if you love traveling.
You can also get a set of brightly colored, rough and tough carabiners. They can accentuate your luggage set and look nice.
7. Pins and Badges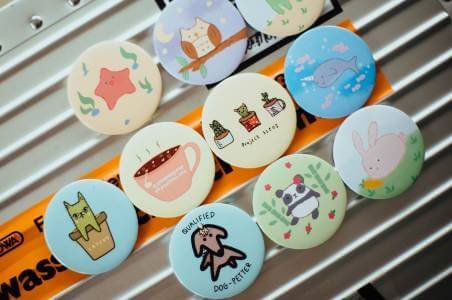 Using pins and badges can convert your bag into your mood board. You can combine all your preferences and fill the bag up with very little space to spare. Using pins and badges is usually chosen for smaller bags.
These pins and badges come in almost all the fandoms, and even if you are not able to find the best ones, you can customize them. They give your baggage a very playful look and can turn any boring black bag into a color-filled canvas.
8. Using Cloth Patches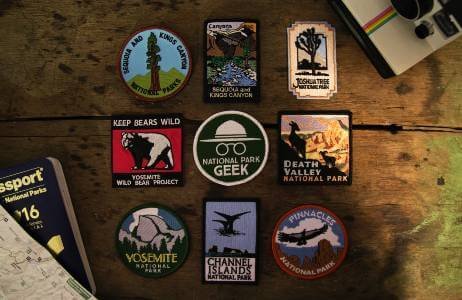 Using customized cloth patches adds to the vibe of your luggage, but that is not the only benefit it offers. These patches can be used to cover damages too. Cloth patches are a regular way to personalize your jeans and sweatshirts too.
If you spill some paint on your bag or if it gets ripped in transit, there is nothing to stress upon. Just sew a patch on and you are on your way. Various brands sell cloth patches in assorted pouches. If you are not keen to select the patches, they have your back.
In A Nutshell
All these tips and tricks will get you the limelight at any airport you set your foot in.
Your luggage is a blank canvas, and you can put anything at all onto it. These tips are reusable options, and you can mix and match them according to your taste to make your luggage stand out from the flood of dark suitcases on the airport conveyor belts.
Get ready and hype your look up to the next level. Some efforts, and you are all set to be in the crosshairs of paparazzi.