Last Updated: August 7, 2023
It may seem daunting trying to style a look with khaki chino pants. Are there colors you should stay away from?
Luckily for you, pretty much any color goes with khaki. The only color that can be difficult to style is khaki on khaki. Try pairing your khaki chinos with a brighter-colored shirt. You can pair that with neutral accessories for a complete look.
Are you looking for some more specific style ideas? Check out the rest of this article for formal and informal style inspirations!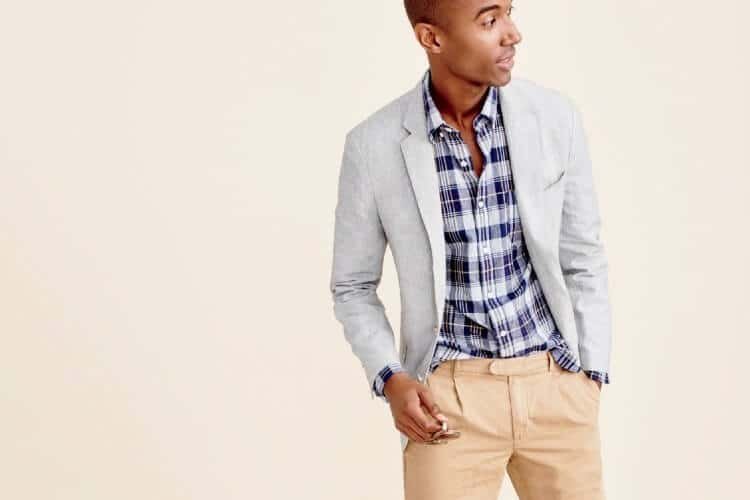 What Do Guys Wear with Khakis?
There are actually more colors than you think you can wear that go with khakis. That's one of the benefits of them.
The other benefit of khakis is you can dress them up or down depending on the occasion.
Are you going out for drinks with the boys? Wear a blue, short-sleeve button-down.
Have a meeting with the execs Tuesday afternoon? Add a gray blazer to make it more formal.
These are some other colors you can wear with khaki:
You have a lot of style options within those color choices too.
Khaki Chinos and Shirt Combinations
Chinos are straight-legged or tapered pants that are made even more versatile when they're khaki. Below are more details on how to wear each color with your chino pants.
1. Black Shirt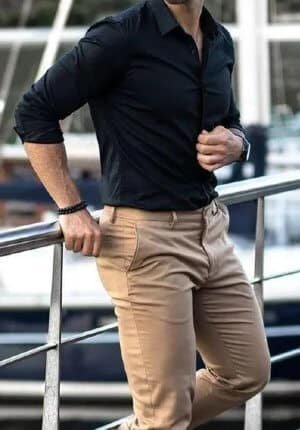 Black is a great thing to add to your wardrobe. It's a versatile color that can go with pretty much any outfit, even a black shirt with black pants is very acceptable these days. A black t-shirt with a pair of chinos and gray shoes make a great casual outfit.
2. White Shirt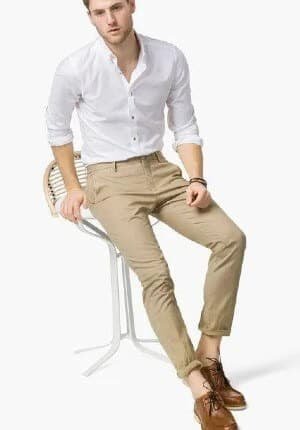 White is another staple for any wardrobe. White is a great neutral color that can pair well with many different colors. It's a great option if you want to add a pop of color with an accessory without it taking over the whole outfit. Try a white long-sleeve button-down with a red tie.
3. Blue Shirt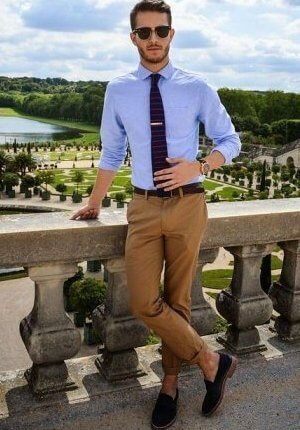 You might think that blue is just one color. But you aren't limited to just bright blue. You can also wear navy or blue stripes. A perfect outfit to try would be khaki chinos with a blue-striped t-shirt.
4. Olive Green Shirt
Olive green is a classic combo to go with khaki. It's typically a more informal combination, but there are some accessories you can add to make it more business casual. My favorite way to wear olive green with khaki chinos is a t-shirt with the sleeves cuffed.
5. Red Shirt
Red is very similar to blue in that it can be the main event of your outfit or just a hint of color, depending on how much you want to stand out. A darker red looks more formal, while a bright red is more informal.
6. Gray Shirt
Gray is a great neutral color to combine with pretty much all the colors on this list. It's a great way to take the focus off a bright color or create an overall neutral look. A gray sports coat is a staple for any businessman.
Top Khaki Chinos Outfit Ideas
Now that you know how each of the colors pairs with khaki, here are some khaki chino outfit ideas.
Try a blue t-shirt, a gray duck button-down, with some gray shoes for a great casual outfit.
A red and white striped shirt, chinos, and white sneakers are a great way to stand out.
Try a burgundy button-down with a dark gray sports coat for a more formal look. The darker colors are great for the fall and give a clean, polished vibe.
Another formal idea could be a navy sports coat with a white t-shirt for a business casual look.
A cool, casual look would be a black t-shirt, khaki pants and gray or brown loafers. Adding a coat can make it more formal.
When creating your outfit, the critical thing to remember is to think about the setting, your style, and what makes you the most comfortable. If you're more comfortable in t-shirts but want to wear them for a business meeting, then try combining them with a sports coat or a slim fit sweater.
A good formula to remember for color combinations is neutral, neutral, and a color. Khaki pants, a bright-colored undershirt, and a neutral overshirt is a classic combination. It can be used in countless ways, no matter the color combination.
What Color Does Not Go with Khaki?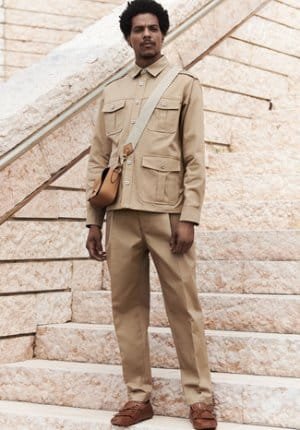 Really, there aren't many colors that don't go with khaki. However, there are some that might look funny depending on the situation you're in.
If you work in construction, khaki with safety colors (like orange, green, and pink) is totally acceptable. But it might look kind of funny if you walk into a business meeting wearing safety orange.
The only color that you definitely shouldn't wear with khaki chinos is more khaki. Unless you want to look like a zookeeper, then go all in!
If you're set wearing khaki on khaki, try combining it with some different colored accessories. Khaki shorts, a khaki button-down, and an olive green t-shirt would be a good look.
Final Thoughts

Whatever shirt color you choose to suit your khaki chinos, you should always strive to be comfortable. Wear something that makes you feel great and fits you right.
You will look great in anything if you always strive to wear what you like best. Remember the color options you can wear along with the outfit formula; you should be good to go.
If you ever feel stuck, just take a look at this list of outfit ideas for some inspiration.