Last Updated: August 16, 2023
Chinos are the most adaptable pant type, but they don't go with every shoe. In fact, finding the ideal fit may require some trial and error. Therefore, many people ask the question of what shoes can you wear with chinos?
The type of shoes to wear with chinos is determined by the dress code and the rest of your outfit, which includes the style, texture, and color of your pants. While practically any pair of shoes will look well with chinos, some designs and outfit concepts are inherently more fashionable and contemporary. Overall, when wearing chinos, males should opt for a pair of boots, loafers, white sneakers, or boat shoes.
Read on to learn more about chinos, what shoes you can wear with them, what footwear to avoid, and more.
What Are Chinos?
Chinos are a form of pants that originated in the American military. Due to their rough and harsh appearance, they were initially designed for soldiers. As a result, they are made of a unique cotton blend that is excellent for both appearance and utility.
Chinos aren't dressy, but they're also not laid-back. Actually, they're somewhere in the middle, yet they're appropriate for both formal and informal situations.
The footwear you choose can also affect the way your chinos appear. Overall, chinos allow you to select between a dressier and a more casual look. Therefore, different shoes can appeal to different styles and improve the overall appearance.
For example, a pair of loafers or dress shoes are appropriate for a more formal occasion; ideally, in a natural material like leather or suede. One can also pair their chinos with boat shoes or a basic sneaker for a more relaxed look.
When to Wear Chinos?
Chinos are less formal than typical dress trousers or slacks, despite the fact that they may be dressed up or down. These pants, on the other hand, are more formal than denim and can actually be worn in a variety of situations.
Chino pants are usually a good choice for guys who wish to blend style and comfort. Dress in chinos, similar to jeans, with shoes and a t-shirt for informal situations. With traditional white shoes, some guys choose to roll up their pant legs for a relaxed and comfortable cuffed look.
Overall, men who wish to maintain a casual business professional look should stick to khaki, black, and navy.
Best Shoes to Wear with Chinos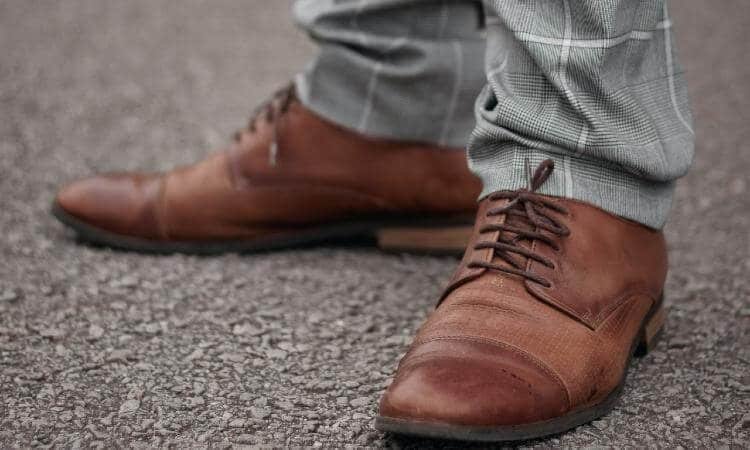 Sneakers
Chinos can be worn quite well with sneakers, especially white ones. When wearing sneakers with chinos, T-shirts and hooded vests can be used to bring down the look, whereas Oxford shirts and blazers can be used to dress it up. It's crucial to, however, pick the proper footwear to match the outfit's formality degree.
Sneakers are a fantastic casual option to wear with chinos since they're neither too casual nor too smart for the trouser style. Whatever sneakers you choose, they should all strive to soften the formality of your chinos while still keeping a sense of sophistication and polish.
Sneakers also allow you to experiment with unexpected color combinations in your footwear. These will add a finishing touch to your style, especially if you match them with the upper half of your outfit.
Boots

Chinos are a great match for a variety of boot types. However, the sort of boot you select should be determined by the type of event you intend to attend. Most boots, overall, have a crisp look to them and can be paired with a number of outfits.
Chelsea boots, for example, come in leather and suede types and are a fashionable choice for sophisticated casual or semi-formal occasions. These boots also look great with a suit when matched correctly.
Whereas Chukka boots are a contemporary spin on the traditional desert boot. These boots come in a variety of textures, such as suede or leather. As a result, they're a terrific choice for trendy guys who prefer to keep up with the latest fashion trends.
Cowboy Boots
Cowboy boots are a great way to give your outfit a little edge. They're also adaptable enough to be worn with a variety of outfits, including chinos.
However, chino pants demand a little more thought, mostly because there are so many various colors and designs to choose from. If you have a pair of light-colored, fitted chino trousers, you should be able to wear them with cowboy boots with ease. However, if your chinos are more loose in style and dark in color, they may not be as effective.
Loafers

For a casual to semi-formal appearance, chinos and loafers are a wonderful choice. They can both be dressed up or down, which makes them a good match. Decide which dress code you want to follow by looking at your shirt, jacket, and accessories.
Try a pair of suede or penny loafers, for example. These are popular shoes that are commonly worn for smart-casual outfits, yet they may also be dressed up. Leather loafers, on the other hand, come in a wide range of styles.
Formal Shoes
Dress shoes are an excellent way to dress up chinos. Oxfords, Derbies, brogues, and bluchers are examples of dress shoes. Overall, the kind of formal shoe you choose is totally up to you.
Dress shoes come in a variety of styles, ranging from smart casual to ultra-formal. Formal shoes can definitely be worn with chinos since the combo is far more frequently successful than not. Therefore, the key goal is to successfully combine chinos with dress shoes in terms of both formality and color.
Recommended Read: What Shoes to Wear with Khaki Pants?
The correct pair of chinos, matched with the proper pair of dress shoes, can look amazing. However, be careful with your pairings. For example, a pair of casual chinos paired with the finest black Balmoral Oxford shoes can, unfortunately, appear a little strange.
Boat Shoes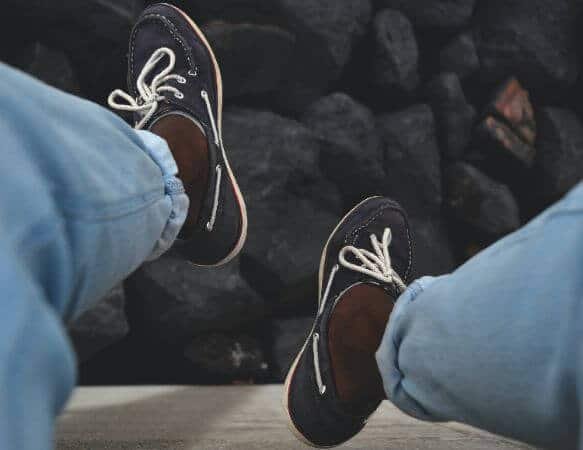 Boat shoes, like loafers, are a distinct form of shoe that lends themselves to a preppy look. Boat shoes and chinos look great on a boat or on the golf course, but they can also be worn in other semi-formal or smart-casual contexts. For example, pair faded red chinos with a linen jacket for a preppy look.
What Can Men Wear with Navy Chinos?
Canvas shoes, as well as casual shoes like loafers and boat shoes, look great with navy chinos. If the rest of your outfit calls for them, you can also match them with fancier shoes.
Fortunately, with navy chinos, you can wear almost any color. White, pastel and gray shirts, t-shirts, and jumpers look very good with darker jeans. Shades of blues are also ok, however, you should avoid anything that matches the trousers' colors too closely.
Can You Wear Chinos with Black Shoes?
If brightly colored shoes aren't your thing, a pair of black chinos are a great alternative. Since black is simple to accessorize and style, it's a smart idea to attempt a pair with your chino attire. As a result, be sure to include another black piece in your ensemble so that your shoes don't stand out and seem weird.
Shoes You Should Avoid Wearing with Chinos
Sandals or flip flops should not be worn with any type of trousers. While you may wear them to the beach or the pool, a pair of shorts rather than chinos is a preferable alternative in any case.
Overall, chinos are regarded as more semi-formal pant that would look odd with any type of open-toed shoe. So, take our advice and forgo the sandals. After all, chinos exude a smart-casual vibe, therefore, wearing sandals with chinos can, unfortunately, make you appear sloppy.
Similarly, you should also avoid sports or athletic shoes (like running shoes), because chinos are not sporty pants and it will just look off.
Final Thoughts
Chinos are a terrific pant option regardless of whether you wear them frequently or just want to test a pair. Overall, there are many nice shoes to pair with chino pants. For example, regardless of your style, a basic pair of sneakers, boots, loafers, or boat shoes would look great with your chinos.
Overall, the dress code and the rest of your outfit, which includes the style, texture, and color of your pants, define the sort of shoes you should pair with your chinos.
While almost any pair of shoes will go with chinos, certain styles and outfit concepts are intrinsically more fashionable and sophisticated.