Last Updated: September 21, 2023
The debate of whether black pants go with a black shirt has been around for years.
Some fashionistas claim that black pants and a black shirt should not be worn together. This creates a monochromatic look that can be quite harsh, particularly if the clothes are ill-fitting or of poor quality.
It is also important to avoid wearing too much black, as this can make you look like you are trying to blend into the background.
Instead, you should pair black pants with a white shirt or a light-colored sweater. This will help to break up the monotony of the outfit and will create a more flattering look.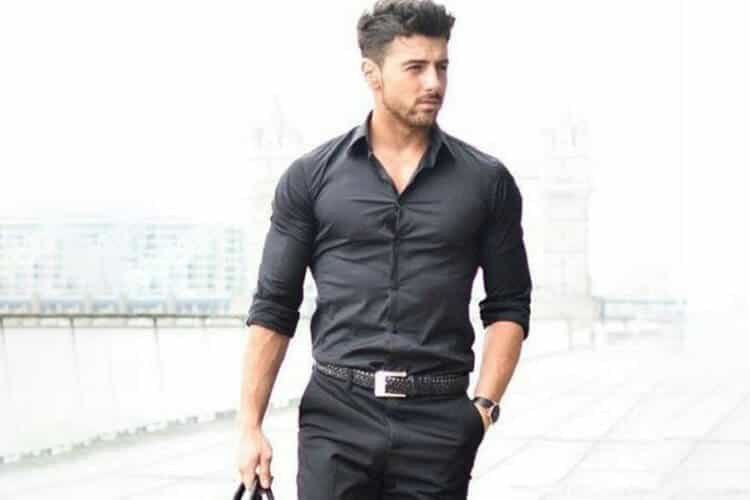 However, on the contrary, others say an all-black outfit is a classic and a great option especially for men.
So the answer whether black pants go with a black shirt really just depends on individual preference.
In this article, I look at ways how you can pull off black pants matched with a black shirt and how to use an all-black outfit to dress up or down to fit any occasion.
Is Black on Black OK to Wear?
In recent years, the trend of wearing black on black has become increasingly popular. While some people feel that this is a stylish and sophisticated look, others believe that it is inappropriate for certain occasions. So, is black on black acceptable to wear? The answer may depend on the specific circumstances.
For example, many workplaces have dress codes that prohibit employees from wearing dark colors. In contrast, there are plenty of social events where black clothing is perfectly acceptable.
Overall, it is important to use your best judgement when deciding what to wear. If you are unsure about whether or not black on black is appropriate, it is always better to err on the side of caution.
Black Shirt Black Pants Combinations
Black is always in style, and a black shirt and pants combination is a classic look that can be dressed up or down depending on the occasion. When choosing a black shirt, it is important to consider the fabric and the fit. A silk blouse will have a more elegant feel than a cotton tee, for example.
A tailored shirt will create a sharper silhouette than a loose-fitting one. Black pants are also versatile, but there are a few things to keep in mind when selecting them.
Avoid exaggerated wide-leg or skinny styles, as they can look dated or overly casual. Instead, opt for a straight-leg or slightly flared cut in a mid-weight fabric.
Make sure the pants are the right length – they should hit at the ankle or just above it.
With these simple tips in mind, you can easily pull off the black shirt and pants combination and create a timeless look.
1. Black Shirt and Black Pants with White Shoes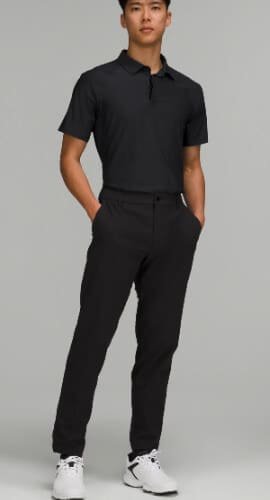 Wearing black from head-to-toe can be a surefire way to turn heads and make a fashion statement. But if you're not careful, it can also look like you're going to a funeral or trying to blend into the shadows. So how do you pull off the all-black look without looking like you're in mourning?
The key is to mix different textures and materials, and to add a pop of color with your shoes. For example, pair a black leather jacket with a black silk shirt and black jeans. Then add a pair of white sneakers to brighten up the outfit and give it some contrast.
By mixing and matching different elements, you can create an all-black ensemble that is stylish and unique.
2. Black Shirt and Black Pants with Brown Shoes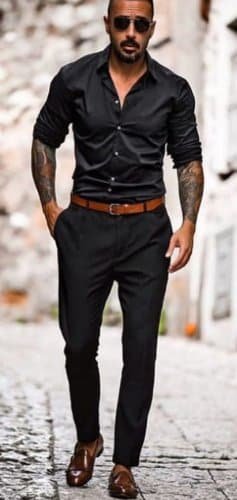 Pulling off the perfect outfit is all about striking the right balance. When it comes to black and brown, the key is to choose one as the dominant color and the other as an accent. For example, you could pair a black shirt with khaki pants and black shoes.
The shirt would be the focal point of the outfit, while the brown pants would provide a subtle contrast. To add a bit of visual interest, you could also choose a pair of brown shoes with interesting details, such as stitching or fringe. No matter what combination you choose, remember that simplicity is key.
Too many colors can look jarring, so it's best to stick to two or three complementary hues.
3. Black Shirt Black Jeans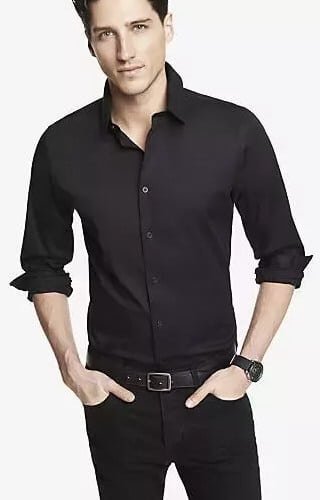 It's no surprise that black shirts and black jeans are a popular combination. While this look can be simple and elegant, it can also be edgy and modern.
The key to pulling off the black shirt and black jeans look is to play with different textures and silhouettes. For a more casual outfit, try pairing a fitted tee with relaxed-fit jeans.
To dress things up, try tucking in a button-down shirt into skinny jeans. Don't be afraid to experiment with different accessories, such as a pop of color or a statement necklace. With a little bit of creativity, you can easily find ways to make the black shirt and black jeans combination work for any occasion.
What Pants Go with a Black Shirt?
One of the great things about a black shirt is that it can be worn with a variety of different pants. For a more casual look, jeans or khaki chinos are always a good option. For something a little more dressy, black trousers can be paired with a black shirt.
The key is to choose pants that complement the style of the shirt. No matter what pants you choose, though, a black shirt is always sure to make a statement.
Which Color Shirt Should I Wear with Black Pants?
When choosing a shirt to wear with black pants, there are a few things to keep in mind.
Consider the occasion. A shirt that would be appropriate for a casual lunch with friends will likely not be appropriate for a job interview. Think about the message you want to convey. A button-down shirt conveys professionalism, while a T-shirt conveys casualness.
Take into account your personal style. If you tend to dress more conservatively, you might want to choose a shirt with a small print or neutral color. If you have a more eclectic style, you might want to choose a shirt with a bolder print or brighter color.
With these factors in mind, you should be able to find the perfect shirt to wear with black pants.
Is a Black Shirt and Black Pants Right for You?
While black is often seen as a somber color, it can be very versatile and flattering. Black shirt and pants can create a slimming effect, which is why they are often worn by people who are trying to look their best. They can also be used to create a variety of different looks, from sleek and sophisticated to edgy and punk.
Whether you're going for a job interview or a night out on the town, black shirt and pants can help you create the perfect outfit.