Last Updated: May 23, 2022
In the summertime, hoodies are often seen as out of place. With the warmer weather, many people opt for lighter clothing that doesn't cover as much of their body.
If you're attending a more casual event, like a barbecue or a day at the beach, then a hoodie is probably fine. However, if you're going to a more formal occasion, you might want to leave the hoodie at home.
In the summer, the weather is hot and the sun is shining. Most people pack away their heavy sweaters and hoodies and bust out the shorts and tank tops. But what about those who still want to wear their hoodies? Is it okay to wear a hoodie in the summer?
There's no easy answer to this question. It depends on a lot of factors, including where you live, what you're doing, and how you style your hoodie. In general, though, wearing a hoodie in summer can be perfectly fine – as long as you don't overdo it.
If it's a particularly hot day, or you're doing something that requires a lot of physical activity, it's probably not the best idea to wear the extra layers.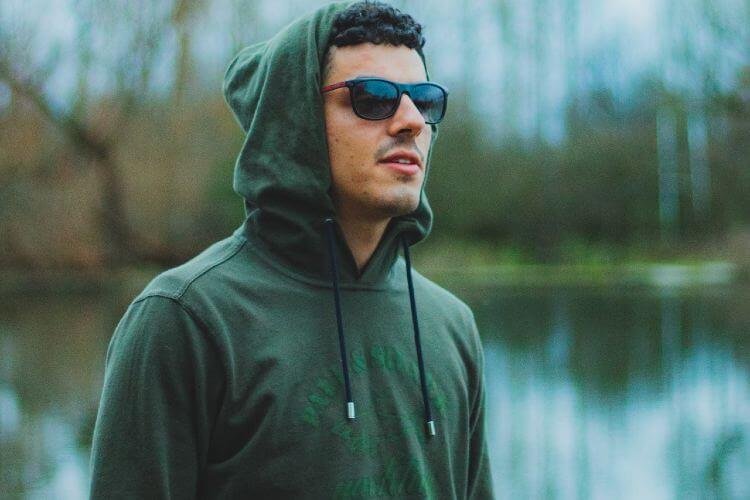 Can You Wear Hoodies in Summer?
The debate over whether hoodies are appropriate summer wear has been raging for years, with no clear consensus in sight. On one hand, hoodies are often made from heavyweight materials that can be quite hot to wear in warm weather. Furthermore, the hood itself can obstruct your vision and make it difficult to stay cool.
On the other hand, hoodies can be layered over other clothing to create a more versatile and stylish look. And if you choose a lightweight fabric, a hoodie can actually help you stay cool by providing shade for your head and neck.
In the summer months, hoodies can provide an extra layer of warmth when the temperature drops in the evening or early morning. They can also be helpful for protecting against sunburn or wind. However, it is important to choose a hoodie made from breathable materials such as cotton or linen. Otherwise, you may find yourself feeling too hot and sweaty.
Why Do People Wear Hoodies in Hot Weather?
Wearing a hoodie in hot weather may seem counterintuitive, but there are actually a few reasons why people do it. For one thing, hoodies provide sun protection. The hood can help to keep the sun out of your eyes, and the long sleeves can help to keep your skin from getting sunburned. In addition, hoodies can help you to stay cool.
The fabric of a hoodie is often quite thin, which means that it breathes well and doesn't trap heat the way that a thicker shirt would. Hoodies can provide a sense of privacy and security. In crowded places or when you're feeling vulnerable, wearing a hoodie can make you feel more protected.
Types of Hoodies That Are Good for Summer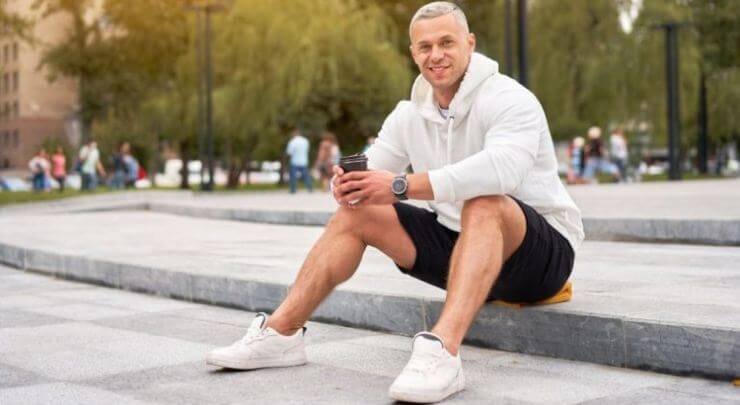 Hoodies are a great choice for summer wear because they offer both style and comfort. However, not all hoodies are created equal. That is why it's essential for a man to own several different hoodies.
For the best results in summer, look for hoodies made from lightweight materials such as cotton or linen.
These fabrics will help to keep you cool and comfortable even in the hottest weather. Choose hoodies with loose-fitting silhouettes and breathable details such as vents or mesh panels. And don't forget about the hood! A drawstring hood can help to shield your face from the sun, making it an essential feature for summer hoodies.
Additionally, hoodies with a kangaroo pocket in the front can be useful for holding essential items like keys or a phone. And if it gets too hot, simply roll up the sleeves for a more stylish look.
There are few different types of hoodies that are suitable to be worn in summer weather:
Zipped hoodies – they are great because you can easily unzip them for air to flow to your body. Style a zipped hoodie (no dark colors) with chino shorts and white sneakers and you are all set.
Short-sleeved hoodies – also a good option as your arms are free of the added warmth that a long-sleeve hoodie provides. They're suitable for work outs and best styled with sweatshorts and casually worn running shoes.
Oversized hoodies – because of the loose fit, they provide more room for comfort and breathability. You can choose a size or two larger than what your actual size is. It's also best to style an oversized hoodie (bright colors) with chinos shorts and a pair of white sneakers.
How to Wear Hoodies in the Summer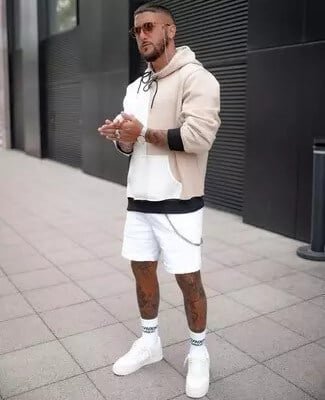 Wearing a hoodie in the summer might seem like a counterintuitive fashion choice, but with the right styling, it can actually be a great way to stay cool while still looking put-together.
To avoid looking too bulky, choose a fitted style and pair it with other slim-fitting pieces. For a casual look, team a hoodie with shorts or jeans.
When it comes to footwear, sneakers are always a good choice, but you could also try sandals or loafers for a more dressed-up look.
If it's done right, hoodies in the summer aren't weird
Wearing a hoodie in the summer can be a stylish way to stay cool and comfortable. The key is to choose the right fabric and cut. A lightweight cotton hoodie is a great option, as it will keep you cool while still providing coverage. For a more relaxed look, go for an oversized hoodie that hangs off the shoulders.
Pair it with shorts or cropped pants to show off some skin. If you're looking to make more of a statement, choose a brightly colored hoodie or one with an interesting print.
Wearing a hoodie in the summer is all about finding the right balance between comfort and style.