Last Updated: August 14, 2023
A men's slim fit top coat is a versatile and stylish outerwear option that offers a sleek and tailored look. It is designed to fit closer to the body, accentuating the masculine physique and providing a modern and sophisticated appearance.
A slim fit top coat can add a touch of elegance to any outfit. Its slim silhouette creates a streamlined look that flatters all body types, making it a popular choice among fashion-conscious individuals.
Additionally, it is perfect for layering during colder months, providing both warmth and style. Its tailored construction ensures a snug fit without compromising on comfort.
Key Features to Look for in a Top Coat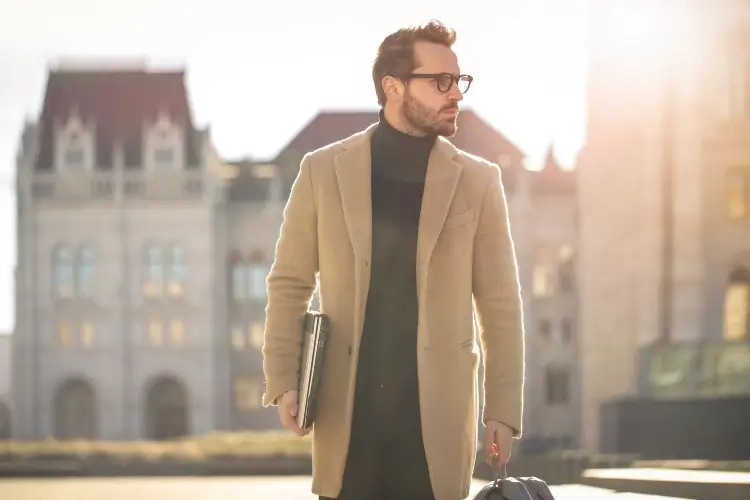 When searching for the perfect slim fit top coat for men, consider the following key features:
Material: Opt for high-quality materials such as wool or cashmere for durability and warmth.
Fit: Look for a slim fit that accentuates your body shape without feeling restrictive.
Length: Choose a length that suits your preference and complements your body proportions.
Collar and Lapel Style: Consider a classic notched collar or a stylish peak lapel for added sophistication.
Button Style: Pay attention to the button style, whether it's a single-breasted or double-breasted design.
Color: Select a versatile color like navy, black, or charcoal gray that can be easily paired with different outfits.
Where to Shop for Men's Top Coats?
There are several reputable retailers known for quality craftsmanship and attention to detail.
Here are the best to consider:
Macy's: Known for their great quality products and timeless designs.
Nordstrom: Offers a wide range of slim fit top coats with modern and stylish features.
Todd Snyder: Specializes in tailored outerwear with a focus on comfort and durability.
How to Style a Men's Slim Fit Top Coat for Different Occasions
A men's top coat can be effortlessly styled for various occasions.
Here are some styling tips.
Formal Events
Pair it with a tailored suit, a crisp dress shirt, and a tie for a polished and sophisticated look.
Casual Outings
Opt for a more relaxed outfit by combining your top coat with jeans, a sweater, and leather boots.
Business Meetings
Wear it over a tailored blazer, a button-down shirt, and dress pants for a professional ensemble.
Weekend Errands
Keep it casual by layering your coat over a hoodie or a sweatshirt, paired with jeans and sneakers.
Related: Slim Fit Overcoat for Men – Elevate Your Style
Tips for Proper Care and Maintenance
Follow these tips to ensure your coat stays in excellent condition:
Read the care instructions provided by the manufacturer and follow them accordingly.
Avoid excessive washing and dry cleaning to preserve the fabric's integrity.
Use a fabric brush or lint roller to remove any lint or debris from the coat.
Store your it in a cool, dry place, preferably on a hanger, to maintain its shape.
If necessary, have it professionally cleaned and pressed to keep it looking its best.
Frequently Asked Questions
Are slim fit top coats only suitable for slim individuals?
No, they are designed to flatter all body types. They enhance the silhouette and create a streamlined look, regardless of body size.
Can I wear a slim fit top coat over a sweater or a thick layer?
Yes, slim fit top coats are versatile enough to accommodate layering. Make sure to choose a size that allows room for additional layers without feeling too tight.
How often should I dry clean my top coat?
It's best to follow the care instructions provided by the manufacturer. Generally, dry cleaning once or twice a season should be sufficient unless there are visible stains or odors.
Expert Advice
When selecting a top coat, it's essential to prioritize fit, quality materials, and versatile styling options. Invest in one that suits your personal style and complements your wardrobe. Remember to follow proper care and maintenance practices to prolong its lifespan.
With the right slim fit, you can elevate your style and confidently embrace any occasion, be it formal or casual.
Now that you have all the essential information, it's time to find the perfect top coat that suits your taste and needs.