Last Updated: August 8, 2023
A slim fit leather jacket is a timeless wardrobe staple that every man should own. Not only does it provide a sleek and stylish look, but it also offers versatility and durability.
Whether you're heading to a casual outing or a formal event, a slim fit leather jacket can effortlessly elevate your style.
In this article, we will explore 10 must-have slim fit leather jacket styles for men.
Why Every Man Should Have a Slim Fit Leather Jacket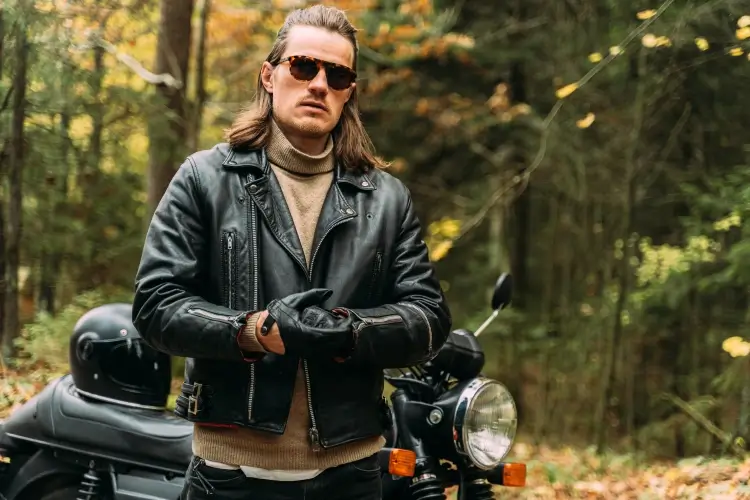 A slim fit leather jacket is more than just a fashion statement. It is a symbol of confidence and masculinity.
Here are a few reasons why every guy should own one:
Timeless Style
Slim fit leather jackets never go out of style. They have been a fashion staple for decades and continue to be a popular choice among men of all ages.
Versatility
A slim fit leather jacket can be dressed up or down, making it suitable for various occasions. Whether you're going for a casual look or a formal ensemble, a slim fit leather jacket can effortlessly adapt to your style.
Durability
Leather jackets are known for their durability. They can withstand wear and tear, making them a long-lasting investment that will serve you for years to come.
Protection
Leather jackets provide excellent protection against the elements. They can keep you warm during colder months and shield you from wind and rain.
Tips for Choosing the Perfect Slim Fit Leather Jacket
When choosing a slim fit leather jacket, there are a few factors to consider to ensure you find the perfect one.
Fit: The jacket should have a slim fit, accentuating your body shape without being too tight or restrictive.
Quality: Opt for jackets made from genuine leather to ensure durability and longevity.
Style: Consider the different styles available, such as bomber jackets, motorcycle jackets, or biker jackets, and choose one that suits your personal style.
Color: While black is a classic choice, don't be afraid to experiment with different colors like brown, navy, or even burgundy.
Details: Pay attention to the jacket's details, such as zippers, buttons, and pockets, to find a style that matches your preferences.
How to Style a Slim Fit Leather Jacket for Different Occasions
A slim fit leather jacket can effortlessly elevate your style for various occasions.
Here are some tips on how to style a slim fit leather jacket:
Casual Outings: Pair your slim fit leather jacket with a plain white t-shirt, dark wash jeans, and sneakers for a stylish yet casual look.
Formal Events: Layer your leather jacket over a dress shirt, tailored trousers, and dress shoes for a sophisticated and edgy ensemble.
Night Out: Combine your jacket with a fitted black turtleneck, slim-fit trousers, and Chelsea boots for a sleek and trendy look.
Business Casual: Wear your leather jacket with a button-down shirt, chinos, and loafers for a smart-casual outfit suitable for the office.
Recommended Read: Men's Slim Fit Overcoat: Elevate Your Style with the Perfect Fit
Exploring Different Colors and Finishes for Leather Jackets
While black is the most popular color for slim fit leather jackets, there are various other colors and finishes to consider.
Brown Leather: Brown leather jackets offer a more vintage and rugged look, perfect for creating a timeless and classic outfit.
Navy Leather: Navy leather jackets provide a unique alternative to traditional black or brown, adding a touch of sophistication and versatility to your wardrobe.
Suede Finish: Suede leather jackets offer a softer and more textured look, adding a luxurious touch to your outfit.
Distressed Finish: Distressed leather jackets provide a worn-in and rugged appearance, ideal for achieving a more casual and edgy style.
Maintaining the Quality and Look of Your Leather Jacket
To ensure your slim fit leather jacket remains in top condition, follow these maintenance tips:
Regular Cleaning: Use a leather cleaner or conditioner to remove dirt and maintain the jacket's shine.
Proper Storage: Store your jacket in a cool and dry place, away from direct sunlight and heat sources.
Avoid Moisture: Keep your jacket away from moisture as it can damage the leather. If it gets wet, let it air dry naturally.
Professional Repair: If your jacket has any tears or damages, seek professional repair services to maintain its original quality.
Where to Buy Slim Fit Leather Jackets for Men
When searching for the best slim fit leather jackets, consider the following reputable retailers:
Frequently Asked Questions
How should a slim fit leather jacket fit?
A slim fit leather jacket should fit snugly to accentuate your body shape without being overly tight or restrictive.
Can I wear a slim fit leather jacket with a suit?
While it is not traditional, wearing a slim fit leather jacket with a suit can create a unique and stylish look for certain occasions.
How do I remove stains from a slim fit leather jacket?
Use a specialized leather cleaner or seek professional help to remove stains from your slim fit leather jacket.
Are slim fit leather jackets suitable for all body types?
Slim fit leather jackets can flatter various body types, but it's essential to choose the right size and fit for your body shape.
Expert Advice
When purchasing a slim fit leather jacket, invest in quality. Genuine leather jackets are more durable and offer better longevity. Consider your personal style and the occasions you will be wearing the jacket for to choose the perfect style and color. Remember to properly care for your jacket to maintain its quality and appearance.
By following these tips and exploring different styles and finishes, you can find the perfect slim fit leather jacket that complements your style and enhances your wardrobe.