Last Updated: August 16, 2023
Gray is a staple for every wardrobe, no matter if you opt for lighter or darker shades. Since gray is a neutral color, what can you pair gray with? What color pants go best with a gray shirt?
You have a few options for how to mix colors or other neutrals with a gray shirt. How bold you go with your color choice will depend on your personality and your comfort level. You may play it safe in a more professional setting, then get creative with color combinations on your day off.
Below I'll explore in more detail how to pair gray shirts with the rest of your wardrobe.
What Does a Gray Shirt Look Good With?
The shade of grey you're wearing plays a role in what color bottoms you pair it with. As mentioned, the setting will also be a factor. You can pair gray with black or white bottoms, or even a dark blue or navy.
While some say you can't mix neutrals, you absolutely can. Every color in the rainbow and beyond will look nice when mixed with gray.
The only problem you may run into is which shades of gray you want to pair with a colored bottom. Going lighter on the top and darker on the bottom is easier on the eye, so that can be a good rule of thumb to follow if you want to play with mixing colors together but struggle to make a good match.
If you're looking for colors outside of neutrals to pair with gray, it can look nice with greens, such as dark forest green or even army green.
Light gray can also look nice paired with rich, saturated oranges and varied shades of pink. Dark gray shirts can pair well with burgundy and maroon, while lighter gray looks nice with a brighter red.
What Pants Matches With Gray?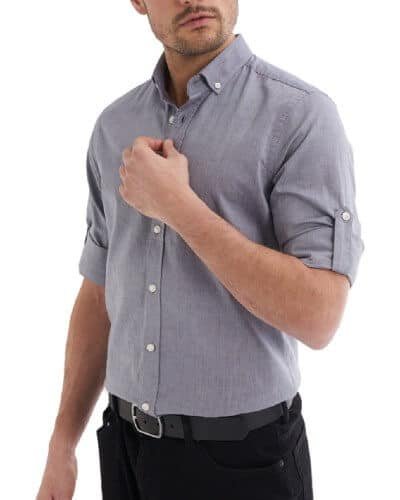 If you're wearing a lighter gray shirt for work, you can play it safe with a pair of navy or black pants. A crisp pair of white jeans makes the perfect outfit for the summer when you wear them with a light gray shirt. If you're going for a darker gray shirt, you have the same options for bottoms.
For more casual ensembles, you can go with the same neutrals as you would when you're dressing up for work. Grey also looks quite nice with a pair of beige or brown chinos or cargo pants, especially when you opt for the lighter shade range.
Recommended Read: Best Shoes to Wear With Chinos
For a more attention-grabbing option, pick a blue pair of pants to wear with your gray shirt. This can be light, dark, or somewhere in the middle. Gray and blue tends to be a gorgeous color combination, and you can get creative with how you incorporate shades in the mix.
Best Gray Shirt and Pants Combinations
A gray shirt is going to look effortlessly chic when you mix it with another neutral; either black, brown, navy, white, or even another shade of gray. You can also go with some colorful pants if you are looking for something more fun and stylish.
Gray also looks very nice paired with dark green pants, and can also look very nice with other shades of blue; not just navy.
What Color Jeans Go With a Gray Shirt?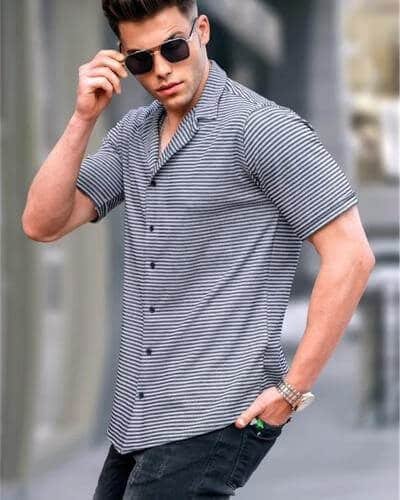 Gray tops of any style and shade are going to look fantastic against a nice pair of black or dark blue jeans. It's a classic outfit that takes minimal effort, but when each piece fits you well, it's going to look like you put a lot of thought into getting dressed.
If you're going with a lighter pair of blue denim, light gray is going to create a seamless outfit that looks polished. Dark gray can be a little bit harder to pair with blue denim. Darker shades will look nice with darker blue denim.
You can mix up your grays by pairing grey shirts with grey jeans as well. Opting for the same shades together can be a little bit boring. Lighter on top and darker on bottom looks best.
No matter the shade you choose, some ripped jeans with a gray tee and cool sneakers is a sexy day-off look.
What Color Shorts With Gray Shirt?
You can follow the same general rules with shorts as you do with pants and denim. You can even get creative with patterned shorts paired with a neutral gray shirt. Patterns are a great way to showcase your personality in your wardrobe. If you can pick a pattern with an element of gray that matches your shirt, you'll look like a style expert.
Top Gray Shirt Outfit Ideas For Men
1. With Black Jeans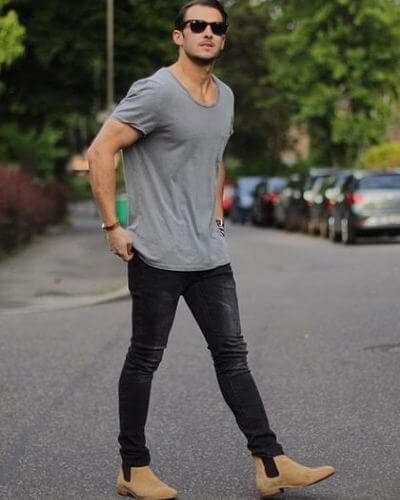 A well-fitting, high quality gray t-shirt paired with a pair of black jeans is an effortless outfit than any man can pull off.
You can also pair your tee with a pair of black or brown chinos instead of jeans, if you find them more comfortable. Throw on some sneakers for a casual day or a pair of black boots when you're looking to dress it up.
2. With Khakis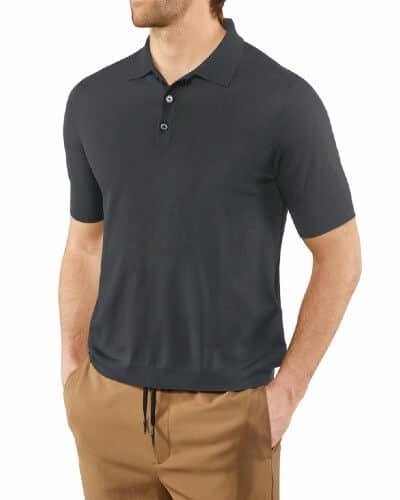 Another approachable weekend outfit idea can be a darker gray shirt with a pair of khakis. The two neutral colors look so nice together. It breaks the previously stated rule of going light on top and dark on the bottom, but fashion rules are so fun to break. Moreover, in this case, the outfit you get looks incredible.
Also Read: What Color Shoes to Wear With Khaki Pants?
3. With Navy Pants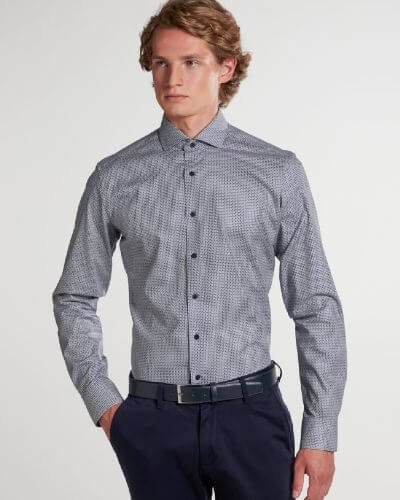 When you're getting dressed up, either for work or a formal occasion, consider pairing your gray dress shirt with a pair of navy blue pants. The contrast between these two colors is so inviting, and is much more on the cusp of style than opting for your basic black on black.
Final Thoughts
When it comes to neutral clothing, gray is often the underrated option even though it shouldn't be. You have a lot of creative liberty when mixing up your gray shirts with the rest of your wardrobe. As always, every outfit can look fantastic when you wear it with confidence.