Last Updated: August 4, 2023
Many people are trapped in a workplace rut, where they are forced to wear a safe colored tie and white shirt combination simply because they don't want to stand out among their peers. Others have rebelled against this boredom by opting for bright ties with loudly patterned shirts that can appear far more sickening than sweet.
Overall, shirts, ties, and suits can become routine. Nonetheless, with a little experimentation, the perfect shirt and tie combo can appear more trendy, modern, and coordinated with the appropriate patterns and colors. Therefore, depending on the color of your shirt, the color and pattern of your tie is vital to ensure you don't leave the house looking mismatched.
Continue reading to learn more about the best shirt and tie combinations, whether tie-color matters, what ties go best with suits, whether your tie should be darker than your shirt, and more.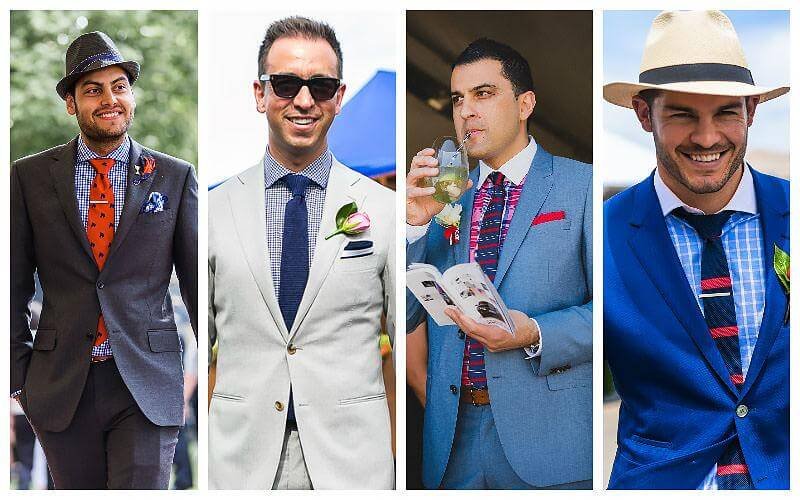 What Are the Best Shirt and Tie Combinations?
When picking the best tie to go with your dress shirt, choose two styles that complement each other rather than clash. The simplest method to do this is to wear a basic-colored tie.
However, if you want to be a bit more daring, and opt for a patterned tie, make sure the design on your tie is bigger, or at the very least bolder, than the colors on your shirt.
A basic yet stylish plain shirt serves as the ideal blank canvas for practically any quality silk tie, particularly ones with patterns.
Regardless of whether you're wearing a white, blue, pink or another colored shirt, a tie in a deeper shade of the same color is preferred.
Does Color Matter?
Always select a tie that is a darker color than your shirt for a traditional, conservative look. Therefore, as long as the tie is the darker of the two, you can wear a tie that is the same color as your shirt.
Similar colors can also work nicely together, but make sure the tones of your shirts and ties are diverse enough. For example, pair a powder blue shirt with a navy tie; the navy will pick up the light blue tones in your shirt and will look great because the two are so different.
Complementary colors must be carefully chosen since they are more difficult to combine.
Men's Dress Shirt and Tie Combos
1. White Shirt and Tie Combinations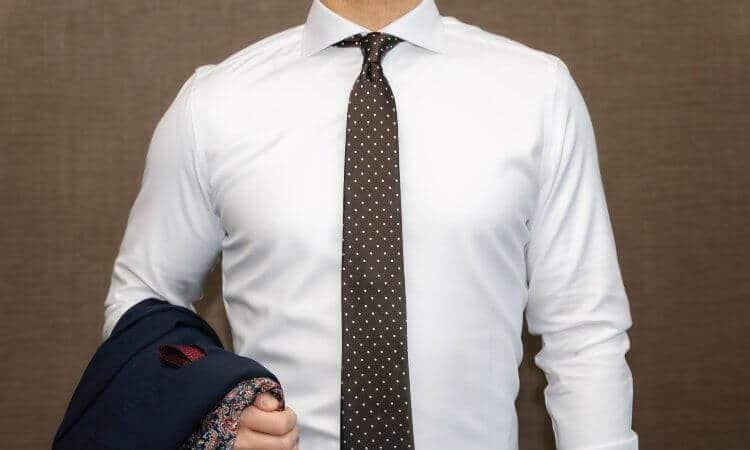 White is regarded, as a tone, for its adaptability since it pairs nicely with almost every color. Clean, sharp, and classic, white is regarded as the perfect shirt tone. Therefore, when it comes to combining white shirts with ties, you have a lot of options.
White shirts, whether paired with a preppy stripe, polka dot, or plain knitted tie, can serve as a blank canvas for practically any combination. Therefore, feel free to pair your more unusual designs with a white shirt without fear of clashing.
2. Blue Shirt and Tie Combinations
Blue shirts allow you to show off your color-matching skills. To best match a darker-colored tie, one should opt for a pale blue shirt.
There are several ties and blue shirt combinations to choose from. For example, wear a light-colored blue shirt with a burnt orange tie. At first thought, this may seem odd, but surprisingly these colors complement each other extremely well.
3. Striped Shirt and Tie Combinations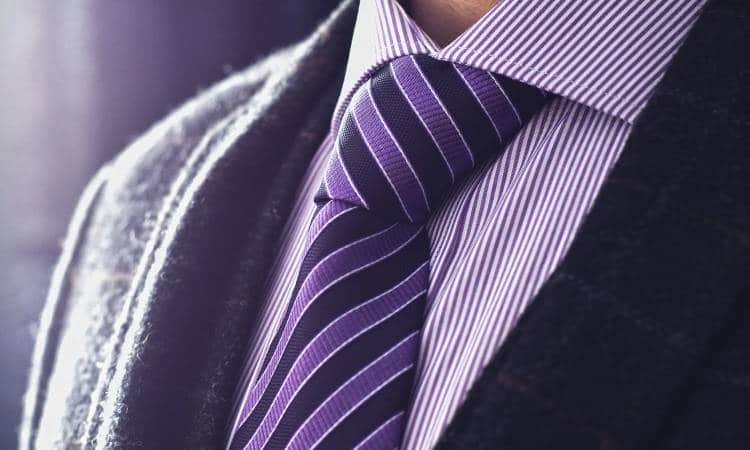 When wearing a striped shirt, plain ties are the more obvious option. If you want to try something other than a plain-colored tie, keep in mind that the scale of the patterns you combine in one outfit should always be varied. As a result, if you're wearing a thin striped shirt, your tie should have a more prominent pattern.
Wearing stripes on stripes is also fine as long as the stripes on the shirt and the stripes on the tie are of the same size. You can also wear ties with polka dots or paisley designs.
4. Checkered Shirt and Tie Combinations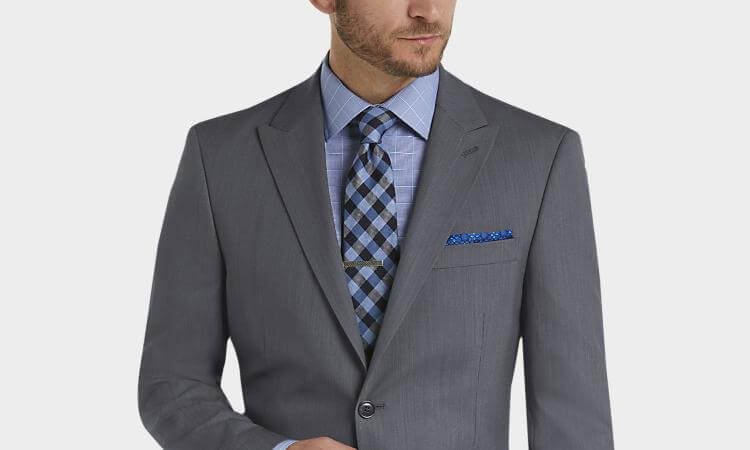 Combining a checkered shirt with a tie can be difficult, just remember that the design on your tie must be larger than the checkered pattern on your shirt.
If you're going to wear a striped tie with a checkered shirt, make sure the stripes are broad and prominent. When wearing a checkered shirt, also stay away from any paisley tie designs.
What Tie Goes Best with a Suit?
When pairing your suit with a tie, you should strive for a tie that is similar in tone to your jacket and pants. This, however, does not work with lighter outfits, in that case it should be darker. Evaluate each case on its own merits while maintaining a uniform color scheme.
If you're wearing a blue suit, for example, go with a navy tie rather than a green one. If you're wearing a grey suit, though, go with a black tie.
Recommended Read: Should You Wear a Belt With Your Suit?
Colors should always complement rather than conflict, so even if you choose the wrong tone, you won't seem out of place as long as the hue is correct.
Frequently Asked Questions
Should a Tie be Darker Than the Shirt?
Always select a tie that is a darker color than your shirt for a traditional, conservative look. That way, as long as the tie is a darker shade, you can wear a suit that is the same color as the tie.
Is it Ok to Wear a Black Tie with a Black Shirt?
When deciding what ties work with black shirts, it's essential to consider all of your alternatives and figure out which one is ideal for you. Since a black shirt will make whatever tie you wear stand out, many men choose to opt for a black-tie instead.
When you wear a black tie with a black shirt, you still look classy and crispy. On the other hand, if you opt for a bolder color, like lime green, you could look like Bobo the Clown with a vibrant loud tie.
What Shirt and Tie Combo is Best for a Wedding Guest?
Weddings can be a lot of fun but deciding what to wear may be difficult. You don't want to look like every other guy in the room, but you also don't want to draw attention away from the groom by making the day about your wacky tie. It's also important to choose the appropriate tie knot for the occasion.
Dressing in men's cocktail clothes allows you to be more casual while looking professional when paired with a blazer or suit.
What Color Shirt and Tie Should I Wear to an Interview?
The color of your tie, believe it or not, can frequently represent your perceived personality, which can be both favorable and detrimental during an interview. As a result, if you're going to the trouble of choosing a right fitted shirt and tie for your job interview, pay special attention to the color of your tie.
Blue is a popular color choice because it symbolizes perseverance and calm. If you wear a blue tie, your possible new employer might perceive you as a dedicated worker who refuses to accept no for an answer. Since you're establishing the first impression, it's also a good idea to wear this outfit with a white shirt to seem smart and tasteful.
Related: What to Wear on a Zoom Interview
What is the Best Shirt and Tie Combination for Black Suit?
Once upon a time, black suits and white shirts were thought to be the ideal color combination. Underneath the black suit, the white shirt seems pristine, giving the wearer the impression of being a movie star.
As a result, the best-colored ties to wear with a black suit and a white shirt are red, blue, and grey. A striped gold, black, or brown tie would also be appropriate. In fact, the color range for this combination is so broad that plaid and paisley ties would work as well.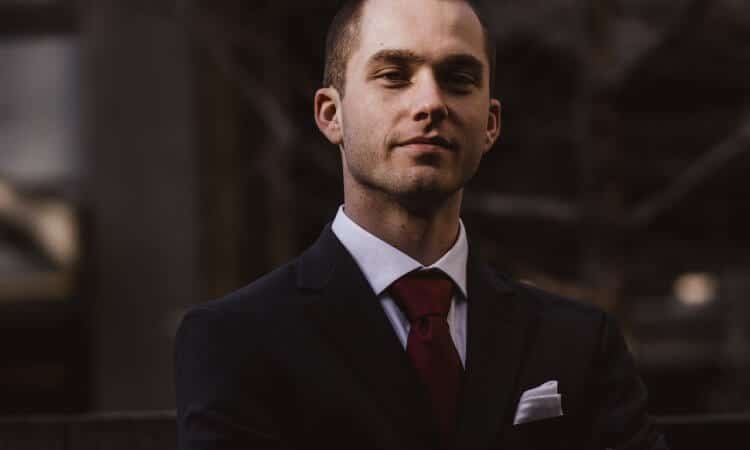 Final Thoughts
Shirts, ties, and suits can all get monotonous over time. However, with a little creativity, the correct shirt and tie combination can be made to seem more fashionable and appealing when matched with the right patterns and colors. As a result, depending on the color of your shirt, you should choose the color and pattern of your tie carefully to ensure you don't leave the home looking mismatched.
One should choose a shirt and tie that complement one another rather than clashing. Wearing a plain colored tie is the simplest way to do this. However, you don't have to wear a white shirt all the time.
The goal is to find a few go-to looks that complement your skin tone and particular style.