Last Updated: August 15, 2023
The blazer was once part of a suit, often ignored by those who didn't need to dress up for work. Now that the way men wear a blazer has changed so drastically, they've made their way outside of the office into the everyday wardrobe.
Blazers are truly adaptable to any aesthetic or personal preference in terms of style, and there are so many ways you can incorporate a blazer into the wardrobe you currently have. The style of blazer that resonates with you can also be mingled with casual dress, formal wear, and weekend wear.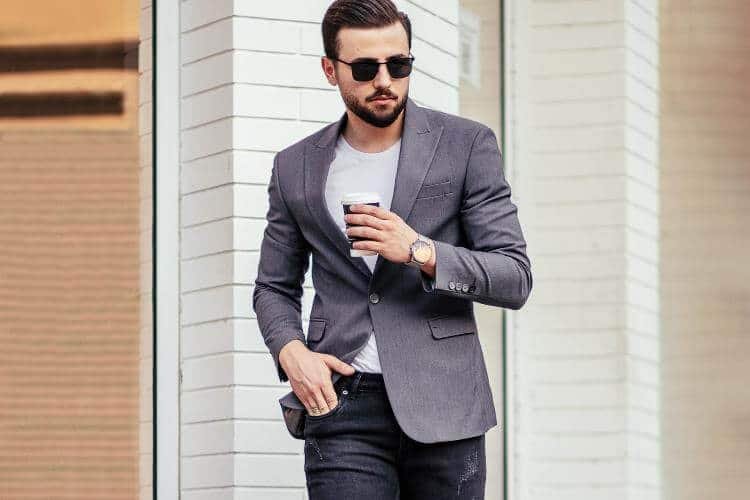 For some, blazers may be intriguing, but maybe you can't quite figure out how to pull one off. Thankfully, it's quite difficult to go wrong with how you style a blazer that has a solid structure and fits you well.
What to Wear With a Blazer
Blazers can go with just about anything you own. From your favorite pair of jeans to your black shirt, a blazer can add refinement to an outfit unlike any other garment. The cut of the blazer will also play a role in what you may choose to wear it with to feel put together.
For example, a tailored, classic three button or one button blazer can work well with dress shirts, but also pulls together a casual ensemble well. A boyfriend style blazer or one with a boxy, oversized fit tends to work best with casual outfits, such as athletic wear, loose jeans, or even shorts.
Casual Blazer Outfits
Blazers can definitely make a casual outfit come together nicely despite their previous function for business wear. Blazers are also designed in more casual structures than they once were, often using more breathable fabrics and looser silhouettes.
A modern blazer adds some warmth to a modern sweatshirt and jogger combo, adds a cool vibe to a t-shirt and bike shorts, or a nice tee and shorts regardless of gender. Opt for an open blazer to create a more effortless, carefree look.
Blazer and T-Shirt
A go-to outfit for just about anyone who likes the idea of a blazer but doesn't want to feel stuffy is a blazer, some good denim, and a quality t-shirt. This outfit can look good on literally anyone. It's a perfect balance between looking put together but approachable.
Your t-shirt choice doesn't matter; blazers look cool over band tees, vintage tees, graphic tees, and patterned tees, as well as your everyday neutral crew neck or v-neck t-shirts. Paired with a nice pair of slacks or chinos, you can look put together without feeling too dressed up.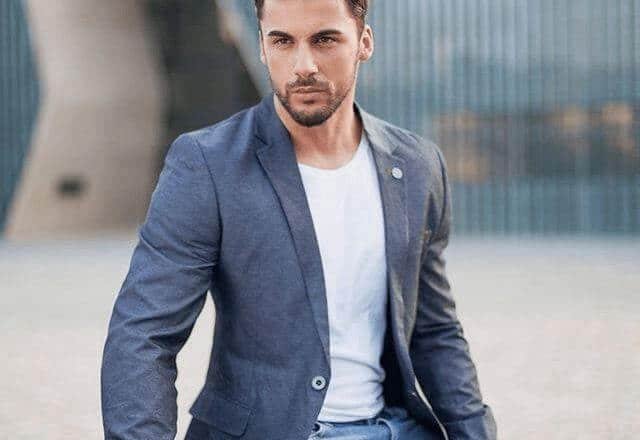 Shirts to Wear With Blazers
Blazers can be worn with a variety of shirt styles. Of course, a buttoned up one always looks nice with a blazer, so long as there's room under the blazer to allow the shirt to fit underneath it. Your basic collared shirts, turtlenecks, or rolled necks also look nice under blazers.
Blazers can also work over your most basic tees and tanks. They look great over a tucked in shirt. If you're wearing a more streamlined silhouette, be sure your shirt isn't much longer than the hem of the jacket.
When to Wear a Blazer
You can wear a blazer anywhere and any time. Of course, they work well in most workplaces, so long as you don't work a job where you might get messy or have to be super active.
They can also look nice when going out, perhaps on a date, a night out with friends, or an event. They can also be worn with casual pieces for a weekend running errands.
Frequently Asked Questions
Blazers can be an enigma for some who aren't used to wearing them. You might be concerned about what situations are appropriate for blazers, and which aren't. Plus, working blazers into our wardrobe based on current trends may make you nervous, despite how much you might love the trend.
How to Wear a Blazer For Wedding?
You can dress up a nice, patterned blazer with a pair of complementary pants and a neutral shirt. Alternatively, a blazer works nice when it matches one of the colors within a patterned shirt, tucked in nicely to some well-fitting dress pants.
A nice, black blazer can also be draped across the shoulders as an extra layer for your formal dress. Suits aren't often worn at weddings anymore unless they are super formal, so you don't have to worry about the blazer complementing your shirt and tie combination; just look for colors that work well together.
How to Wear a Blazer With Jeans?
A blazer paired with jeans creates a cool juxtaposition between everyday wear and what was once considered formal wear. A well fitted blazer with a pair of dark, straight leg denim and a nice shirt is even considered work appropriate in some workplaces. Jeans paired with a white tee and a patterned or colored blazer adds some personality to an effortless outfit.
Recommended: How to Wear Chelsea Boots with a Suit
Blazers can even add some structure to an outfit with baggy jeans. Just be sure the shirt underneath is more fitted to avoid having the outfit appear sloppy.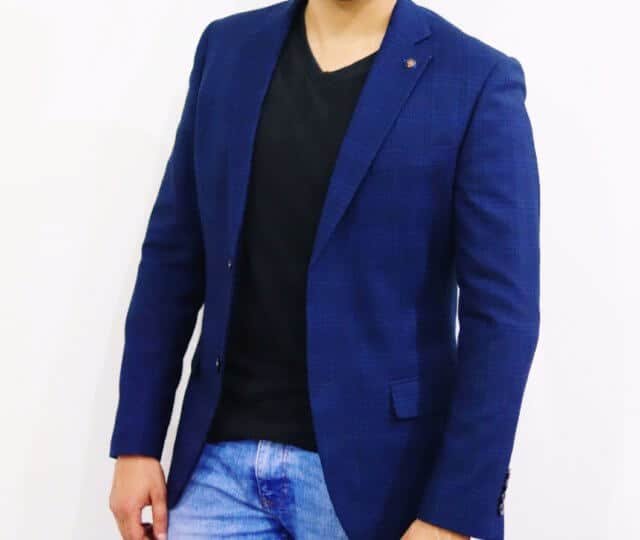 How to Wear a Blazer With Nothing Underneath?
Sorry guys, but this combination is only suitable for women.
So for all the females out there, if you're dressing up for a night out and want to try something risque, you can try a blazer with either just a bra underneath, or nothing at all. A low cut blazer with buttons showcase your decolletage and cleavage quite nicely.
In order to avoid a wardrobe malfunction, it's worth using some double sided tape along the neckline and along the chest to keep the blazer in place.
Can You Wear a Blazer With Anything?
Blazers can work with just about any type of outfit. The key is to make sure your blazer fits you very well unless it's an oversized blazer, in which case you need to just ensure the style is proportionate to your body.
Blazers can look out of place when worn with sloppy outfits, that don't fit well, or outfits that are full of unintentional rips and holes. While they do add a sense of refinement to an ensemble, they can't make everything look polished.
Are Blazers Too Formal?
There are some blazers that can make an outfit appear more formal than others, but generally speaking, blazers are no longer considered formal-only attire. What you wear with your blazer is really going to determine how formal it ends up looking once you're dressed.
Final Thoughts
Blazers are no longer saved for business meetings and formal events; they have become an everyday staple that can pull together your existing wardrobe into new, creative outfits. You can truly have some fun with how to wear a blazer so you don't lose your own unique sense of style when getting dressed.
A blazer in a neutral color that fits your body well, even if it has to be tailored, is going to take you so far in terms of how you can wear it.
Once you have one of those, you can have much more fun with adding interesting shapes, patterns, and colors.