Last Updated: August 4, 2023
Chelsea boots have long held the crown as the king of formal men's footwear. These boots are here to stay with their slim fit around the ankle, comfortable elasticated side panels, and wide array of materials and colors. But can you wear Chelsea boots with a suit? And if so, how?
Yes, you can wear Chelsea boots with a suit. They are one of the best footwear options if you're looking to elevate your look but keep it classy. Slim suit pants look best with Chelsea boots, give a more streamlined appearance. Choose boots that match the color and style of your suit.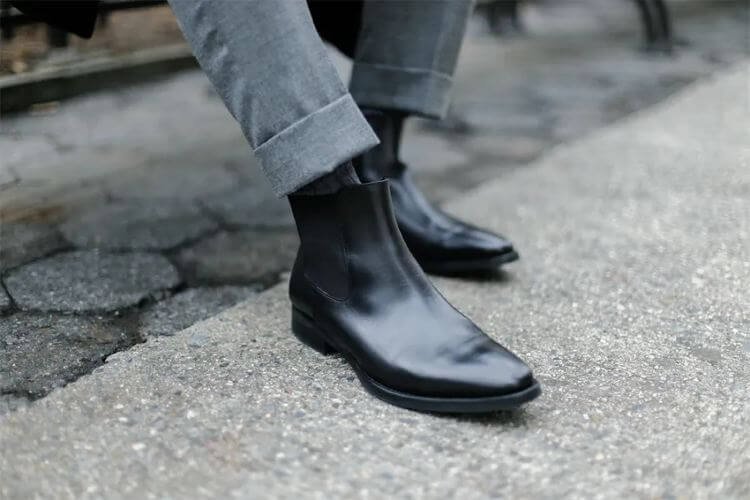 In this article I'll answer all your questions about Chelsea boots and suits – when and how to wear them, and how to choose the best boots for your suit.
Can Guys Wear Chelsea Boots With a Suit?
You absolutely, guys can wear Chelsea boots with a suit. This classic menswear combination has been around for a long time, so score some style points by adding a pair of Chelsea boots the next time you find yourself in a suit.
Chelsea boots are the iconic footwear of 1960s Britain and are closely associated with the mod movement and bands like The Beatles and The Rolling Stones.
Chelsea boots teamed with a stylish suit add a sophisticated and slightly retro flair to your outfit. To really pull off this look, make sure you are matching your boots to the rest of the outfit. Consider the boot material, color, and any other style points that can help you elevate your outfit.
Is it OK to Wear Boots With a Suit?
In general, yes, it's okay to wear boots with a suit but make sure your boot choice compliments the rest of your outfit. If you are wearing a well-tailored and slim fitting suit, then stay away from chunky boots that look like you've just come off a construction site. I'm all for fashion freedom, but with a suit there are limits.
Boots that are a neutral, or complimentary color can easily be added to a suit. The material of your boots isn't as important as the condition of your boots. Whether leather, suede, or fabric – keep your boots cleaned, polished, and camera ready.
The best outfit in the world is all too easily ruined by scuffed up boots.
Can Chelsea Boots Be Formal?
Chelsea boots are often categorized as 'dress boots', meaning they are the boot version of dress shoes – footwear designed to be worn as part of a formal outfit.
Although it's not uncommon to see Chelsea boots being worn with jeans, and by women sometimes with dresses or leggings, they ultimately serve as a classy final touch to a formal suit.
How to Wear Chelsea Boots With a Suit
Your boot choice depends on your suit style and the type of event you are attending. If the event requires official formal wear, then opt for a traditional black leather Chelsea boot.
To elevate your look even further, consider investing in a patent leather pair for an added touch of sophistication.
Less formal or work environments are where you can experiment with your boot and suit pairings. Try a brown leather boot instead, with or without leather embellishments, but be careful not to combine brown leather with a black suit. Black and brown isn't a particularly attractive color combination and runs the risk of looking unstylish.
A final consideration for your boot and suit outfit is the fit of your suit. Chelsea boots look great with a slim fit suit and slightly shorter legs. The suit leg needs to be wide enough at the bottom to just about fit over the top of your boot.
Don't be tempted to tuck your pants into the boots though!
Best Chelsea Boots and Suit Combinations
If making the right boot choice still seems a little daunting, don't worry! I've got you covered. Here's a quick guide to the best Chelsea boot and suit combinations:
1. With Black Chelsea Boots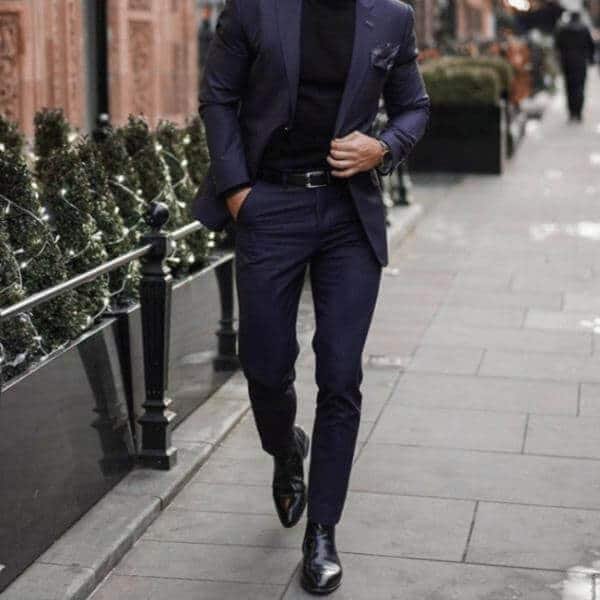 Black Chelsea boots are a timeless classic and can work brilliantly with most suit styles. Aim for black, blue, or gray suit colors. Although brown and black is generally considered a fashion faux-pas, the look can work if the shade of brown is significantly lighter than the black boot.
2. With Brown Chelsea Boots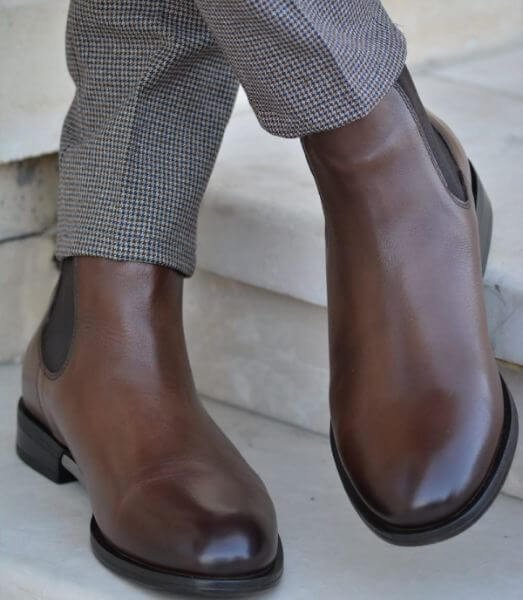 Brown Chelsea boots are best paired with brown, blue, and gray suits. If your suit has added colors, for example tartan or paisley prints, then a brown Chelsea boot makes the perfect finishing touch.
3. With Suede Chelsea Boots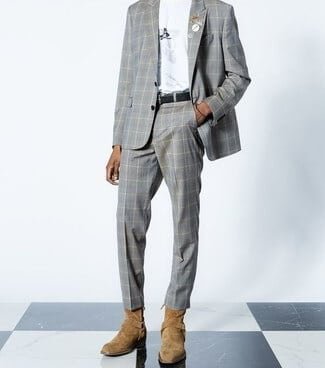 Matching suede Chelsea boots to your suit follows the same color conventions as for brown and leather boots. The key difference here is instead around formality. Although suede Chelsea boots can look very elegant, they are usually best kept out of very formal events.
How Do Men Usually Wear Chelsea Boots?
Although Chelsea boots are considered a dress boot, their fans sport them at all kinds of events – from formal occasions, to work settings, and even a night out.
No matter the occasion, the styling of these boots is pretty similar. You will usually see men in their 40s wearing Chelsea boots with slim fitting pants (whether jeans or suit pants) with a slightly shorter inner-leg length that grazes the ankle, rather than reaching down towards the floor.
At a wedding or other formal event men will usually wear black leather or patent leather Chelsea boots polished to a high shine. The boots should compliment the suit without distracting the eye.
In a less formal setting, such as the office or a night out, a lot of men prefer a brown leather or suede Chelsea boots with chinos or jeans.
Final Thoughts
So, you can definitely wear Chelsea boots with a suit. They are literally made to be worn with suits and offer an excellent opportunity to elevate your outfit.
Chelsea boots can be very formal, or more appropriate for a day in the office. The secret is to make sure your boots are well maintained, fit perfectly, and compliment the color of your outfit.