Last Updated: August 4, 2023
Men slim fit chino pants have become increasingly popular in recent years due to their versatile and stylish nature. Whether you're dressing up for a formal event or going for a casual look, these pants offer the perfect blend of comfort and sophistication. The slim fit design enhances your silhouette, giving you a modern and tailored appearance.
One of the key reasons why men's slim fit chino pants are the perfect choice for any occasion is their versatility. They can be easily dressed up or down depending on the event. Pair them with a crisp button-down shirt and dress shoes for a formal look or opt for a casual approach by wearing them with a t-shirt and sneakers.
Additionally, these pants are available in a wide range of colors and patterns, allowing you to express your personal style. From classic neutrals like black, navy, and khaki to bold shades like burgundy and olive, there is a color to suit every taste and occasion.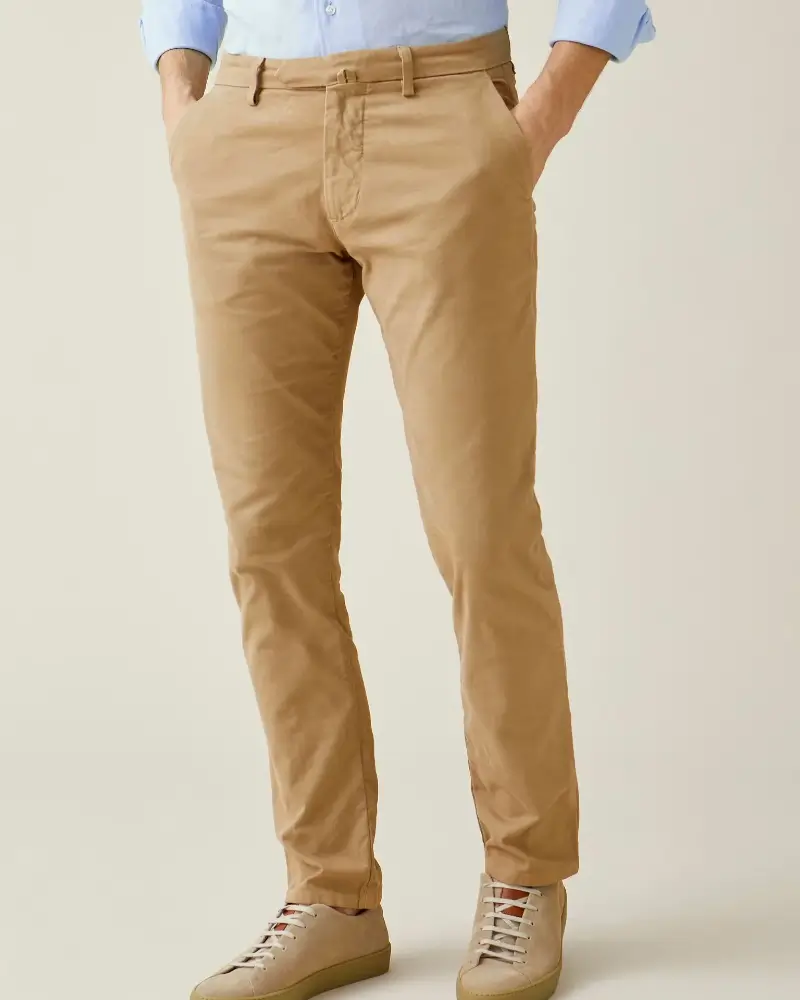 When it comes to fabric, chinos are known for their lightweight and breathable qualities. This makes them ideal for year-round wear, keeping you comfortable in both warm and cooler temperatures.
How to Choose the Right Size and Fit for Chino Pants
Choosing the right size for slim fit chino pants is essential to ensure they flatter your body shape and provide optimal comfort.
Here are some tips to help you make the right choice:
Measure your waist and inseam: Use a tape measure to accurately measure your waist and inseam. This will help you determine the correct size to order.
Check the size chart: Refer to the brand's size chart to find the best size for your measurements. Remember, different brands may have slightly different sizing, so always check the specific measurements for each brand.
Consider the rise: The rise refers to the distance between the waistband and the crotch. Opt for a rise that is comfortable for you, whether it's a low-rise, mid-rise, or high-rise.
Try them on: If possible, try on the pants before buying to ensure the fit is right for you. Pay attention to how they sit on your waist, hips, and thighs.
Remember, it's important to choose a slim fit that is neither too tight nor too loose. The pants should hug your legs without restricting movement.
Best Colors and Patterns to Elevate Your Men's Slim Fit Chinos Collection
When it comes to elevating your chino pants collection, the right colors and patterns can make all the difference.
Classic Neutrals
Black, navy, and khaki are timeless options that can be easily paired with a variety of tops and shoes. They are versatile staples that every man should have in his wardrobe.
Bold Colors
If you want to make a statement, consider adding chinos in bold colors like burgundy, olive, or mustard. These vibrant hues can add a pop of color to your outfits and make you stand out.
Subtle Patterns
For a touch of sophistication, opt for chinos with subtle patterns like pinstripes or checks. These patterns add visual interest without being overpowering.
Texture
Experiment with textured chino pants, such as those with a slight sheen or a brushed finish. These textures can add depth and dimension to your overall look.
Recommended Read: What Color Shirt Goes With Khaki Chino Pants?
Remember to consider your existing wardrobe and personal style when selecting colors and patterns. Choose options that complement your other clothing items and reflect your individual taste.
Top Fashion Tips on Pairing Slim Fit Chinos with Other Wardrobe Staples
Pairing chinos with other wardrobe staples is a great way to create stylish and versatile outfits.
Here are some fashion tips to help you make the most of your pants:
Smart Casual Look: For a smart casual look, pair your chinos with a button-down shirt and a blazer. Complete the outfit with dress shoes or loafers.
Casual Cool: For a more laid-back look, team them up with a graphic t-shirt and sneakers. Layer with a denim jacket for added style.
Business Casual: To achieve a business casual look, combine your chinos with a tailored shirt, a v-neck sweater, and oxford shoes.
Summer Vibes: During the warmer months, opt for a lightweight linen shirt and boat shoes to pair with your chino pants. This combination offers a cool and breezy summer look.
Remember, the key is to experiment and have fun with different combinations. Don't be afraid to mix and match colors, patterns, and textures to create unique and personalized outfits.
How to Care for and Maintain Your Chinos to Keep Them Looking Sharp
To keep your chino pants looking sharp and in excellent condition, proper care and maintenance are essential.
Read the care label: Always follow the care instructions provided by the manufacturer. This will ensure you don't accidentally damage the fabric.
Wash with care: Machine wash them on a gentle cycle with similar colors. Avoid using harsh detergents or bleach that can cause fading or damage.
Hang to dry: Instead of using a dryer, hang your pants to air dry. This helps to maintain their shape and prevents shrinkage.
Iron with care: If necessary, iron them on a low heat setting. Be sure to use a pressing cloth to protect the fabric from direct heat.
Store them properly: When not in use, store your chinos in a cool and dry place. Hang them or fold them neatly to prevent wrinkles.
By following these care instructions, you can keep your chinos looking crisp and stylish for years to come.
Where to Shop for High-Quality and Affordable Chino Pants
When it comes to shopping for high-quality and affordable chinos, there are several options available.
Online Retailers: Websites like Amazon, ASOS, and Nordstrom offer a wide range of chino pants in different colors, patterns, and price ranges. Online shopping provides convenience and allows you to compare prices and read customer reviews.
Department Stores: Visit your local department stores, such as Macy's or Bloomingdale's, for a variety products from different brands. You can try them on in-store and take advantage of any ongoing sales or promotions.
Boutiques and Specialty Stores: Explore boutique shops or specialty stores that cater to men's fashion. These stores often carry unique and high-quality pieces that you may not find elsewhere.
Outlet Stores: Check out outlet stores or factory outlets for discounted prices on branded products. You can find great deals on past season styles without compromising on quality.
Remember to consider your budget, preferred style, and the level of quality you desire when choosing where to shop for your chinos.
FAQs
What are slim fit chino pants?
Slim fit chino pants are a style of pants that are tailored with a slimmer fit through the legs. They are typically made from chino fabric, which is a lightweight and breathable cotton twill.
Can men's slim fit chinos be worn for formal occasions?
Yes, men's slim fit chinos can be dressed up for formal occasions. Pair them with a tailored blazer, a dress shirt, and dress shoes to create a sophisticated and polished look.
Are slim fit chinos suitable for all body types?
Slim fit chinos can flatter a variety of body types. However, it's important to choose the right size and fit to ensure they accentuate your best features and provide comfort.
Expert Advice
When it comes to slim fit chino pants, we recommend investing in high-quality options that offer a good fit and durability. It's important to choose a pair that suits your personal style and can be easily paired with other wardrobe staples.
Remember to always follow the care instructions provided by the manufacturer to maintain the quality and appearance. With proper care, they can last for years and continue to elevate your style.