Last Updated: September 21, 2023
Jeans are a classic staple of every wardrobe; denim trends come and go, but a solid pair of jeans can take you through every era of fashion. If jeans are so necessary in every wardrobe, why are jeans so uncomfortable?
Jeans are not supposed to be uncomfortable, but they can be when they're new or when they're the wrong size. Pure denim can be very stiff until it gets worn out. That said, a change in your preferred style or brand, as well as a couple of fashion hacks, can help you make your jeans much easier to wear.
If you love denim but just can't seem to find a pair that feels as good as they look, there may be something you can do before swearing off jeans forever.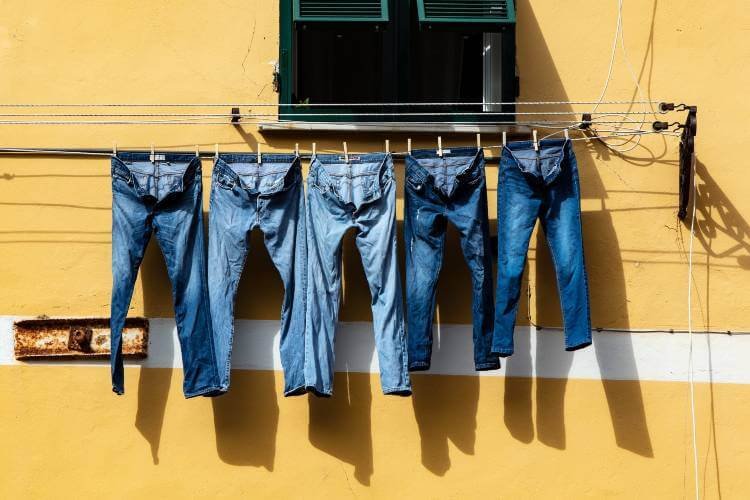 Reasons Why Jeans Are Uncomfortable
Flexibility
Jeans come in a variety of cuts and rises, not all of which are going to fit every body comfortably. Denim isn't as flexible as other fabrics, so it's not going to automatically mold to the contours of your body like other fabrics. It can take some activity in your jeans to get the material to warm up a bit, which will make them fit your body better.
Mixed with other fabrics
Cheaper denim may be mixed with more elastic fabrics in order to give them stretch, but sadly, this stretch doesn't usually snap back. This can lead to the shape being lost, causing your jeans to fall and stop fitting in certain places, especially if they are form fitting jeans.
Rips
Denim with a lot of rips can also dig into your legs in uncomfortable areas.
Bad fit
Jeans can also be uncomfortable when they don't fit. If you find yourself between sizes, you might opt for the smaller size in the hopes that they'll stretch out, when you should go up in size and get them tailored.
The rise
The rise in denim may also not suit your body type; some people may find low rise or high rise digs into their sides more than others.
Why Does Everyone Wear Jeans When They Are So Uncomfortable?
When denim pants, or jeans, first came to market, they were actually coveted for their stiff, durable shape. This was because they were working pants before they became the everyday classic that they are now. Now, denim is considered something that everyone should have as part of their after work or weekend wardrobe.
A quality pair of jeans can be incredibly versatile, making for a staple that can be dressed up or down with items you already have in your wardrobe. Some may want to incorporate them into their wardrobe to conform to style trends, or to have fewer pieces in their wardrobe that they can style in more ways.
How To Make Jeans Comfortable
As fashion has become more comfort-centric recently, jeans are being made with better quality stretch materials mixed in with classic denim. This helps them conform to the body more naturally and makes them easier to wear before you're able to stretch them out.
Styles are also becoming looser; the skinny jean isn't the top choice anymore, and more relaxed, comfortable styles are in.
You may have to try on various cuts to see what style complements you and your personal style the best. When you try on jeans, you should move around, squat in them, and sit in them to see how they feel during movement. You should also try different rises to see how they sit on your body, as you don't want them digging into your waist or hips.
You don't need to wash your jeans after every wear, but you do need to wash them. Use some fabric softener to help loosen and soften the fabric, so they'll be more comfortable when you wear them next.
Letting them air dry can also stop the fabric from condensing in high heat from the dryer.
Which Jeans Are Most Comfortable?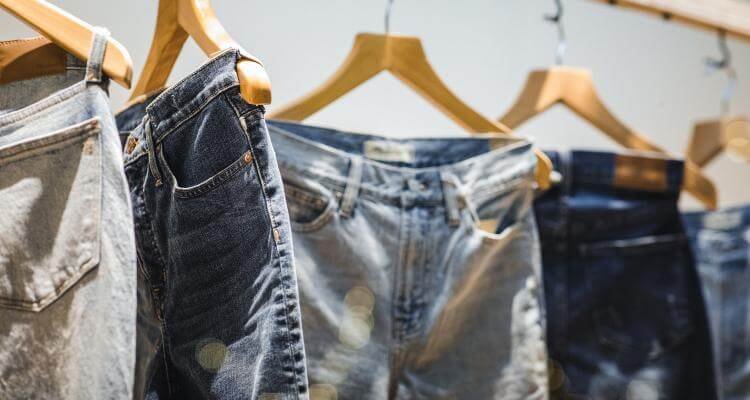 Jeans made with raw denim tend to be the most stiff and uncomfortable to wear. Denim that has been treated or manipulated in some aspect before being turned into jeans tends to have more give in the beginning before you have a chance to wear them in. Lightweight denim that is thinner is also easier to wear than heavy denim.
If you're a fan of the skinny style, a straight leg denim can be just as sleek without feeling like a second skin. They will still be form fitting and will hug your curves nicely, but without the potential restriction of movement.
Denim blends are also on the rise, where denim is combined with a softer, more flexible fabric in order to make them stretchier and more comfortable. Quality denim brands are opting for this strategy as well, so you don't have to sacrifice longevity for comfort.
Pants That Are More Comfortable Than Jeans
If you still want that effortless, casual vibe that denim gives off but don't want to wear jeans, you can opt for a pair of chinos. Chinos fall in between jeans and cargo pants, and can be as versatile as denim in terms of how you can wear them to be dressier or more laid back.
Joggers are also being made to look more polished than your old-fashioned sweatpants, making them much more acceptable to wear on a day off with a nice t-shirt or matching sweatshirt.
Final Thoughts
Jeans really don't have to be uncomfortable. However, if you don't love jeans, putting in the effort to search for a pair that feels good may not be worth it to you. Once you do end up finding a brand or a cut that you enjoy, you should stick with those rather than playing into fleeting trends.
Otherwise, there are cute pants that can be swapped with denim when you just can't find a pair that feels comfortable.