Last Updated: June 8, 2022
With the weather warming up, now is a great opportunity to take a closer look at men's shorts. While wearing shorts, there is actually a proper length one needs to determine to order to make sure that your shorts appear the most flattering. The fit and length of your shorts, just as with trousers, are crucial to the overall aesthetic.
5″, 7″, 9″, and 11″ are the most frequent lengths for men's shorts. Overall, your entire measurement will be determined by your height.
Men's shorts, however, should never reach beyond the knee, no matter how confident or insecure you are. The absolute maximum length for shorts should be around the top of your kneecap, with the optimal length being 1″ to 3″ above the knee.

Continue reading to learn how to choose the length of your shorts, how men's shorts should fit and more.
How Long Should Shorts Be For Men?
When it comes to shopping for clothes, one of the most perplexing decisions guys have to make is what length their shorts should be. Is there such a thing as too short?
Unlike pants, where the proper length is decided by the length of your legs, the right length for shorts is determined by the type of style you want to achieve, with a little bit of your height added in. In the same way that the inseam determines the length of your pants, the inseam determines the length of your shorts. Shorts, on the other hand, are substantially shorter than pants.
Shorts come in a variety of lengths, including 5 inches, 7 inches, 9 inches, and 11 inches. While other sizes, such as 6 inches or 10 inches, may be offered in some stores, the four listed above are the usual shorts lengths that can be found almost anywhere.
How to Choose the Length of Your Men's Shorts?
When picking a length for shorts, one should have two main considerations.
The first consideration should be your height. For example, if you're short, you'll want to stay away from the lengthier 11-inch inseam. Alternatively, unless you're quite confident in your legs, you might want to skip the 5-inch shorts if you're above 6′ tall.
The second factor to consider is your level of self-assurance. If you're okay with showing off your thighs, go for a 5-inch inseam pair. However, don't wear anything that will make you uncomfortable.
Shorts, nevertheless, should never reach beyond the knee, with the ideal length being 1″ above the kneecap.
5-Inch Shorts
7-Inch Shorts
9-Inch Shorts
11-Inch Shorts
How Men's Shorts Should Fit
Men's shorts should fit easily and comfortably around your waist, much like your jeans. Your shorts should fit snuggly enough where you also shouldn't need a belt to keep your shorts in place. If your shorts include belt loops, you can still wear one, but you shouldn't have to tighten it so tight that you feel any form of discomfort.
Of course, you should avoid also wearing shorts that are excessively tight around the hips, since this can restrict your movement and cause pain. Even if they fit at the waist, most shorts are excessively tight around the hips for men with larger hips.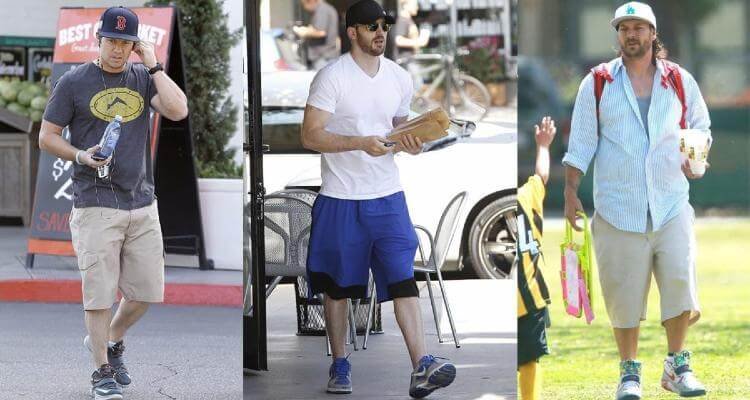 When Are Shorts Too Short for Guys?
Men's shorts should come to a point just above or slightly above the knee. It's also acceptable to go a few inches above the knee. This implies no more than 9″ shorts for most males. However, many men, especially those who aren't particularly tall, look best with 7″ shorts.
While most average-height guys like a 7-inch inseam, if you're 6 ft tall or taller, you may instead opt for a pair of shorts with a 9″ inseam.
How Short Can Guys Wear Shorts?
Men wearing short shorts, unlike women, have certain dangly features that make them difficult to wear. Wearing shorts that are at least five to seven inches long is a good idea unless you want to get arrested for indecent exposure. These shorts are long enough to hit above the knee but not so short that they seem like trunks.
Maybe teenagers and younger guys can pull of a 3-inch inseam shorts, but it would definitely look weird on guys in their 40s to wear anything shorter than 5 inches.
Anyway, the amount of thigh you choose to show comes down to confidence.
Final Thoughts
When it comes to clothes shopping, one of the most baffling selections that men must make is the length of their shorts. Shorts are commonly available in four different lengths: 5 inches, 7 inches, 9 inches, and 11 inches.
Your height will determine the majority of your measurements. Men's shorts should never sit below the knee.
I've found that 7" is a pretty great length, perfect for shorter guys. If you are way taller than 6 feet then 9" is the way to go, unless you want to show off your thighs.
I still recommend testing out different lengths to find what you're comfortable with.