Last Updated: May 23, 2022
Are you looking to have your pants tailored but don't know where to start? You'll want to know what to expect the first time you go, common phrases, and how to find a quality tailor!
You'll want to find a local, quality tailor. You can ask friends and family or search online for the best options. Make sure to research and read reviews. Then, wash and dry your clothes before you go. It's a good practice to wear the shoes you plan on wearing with the pants to the tailor.
This article covers everything you'll need to know about getting your pants tailored. It should only take about a week for your order to finish, but you'll still want to plan ahead.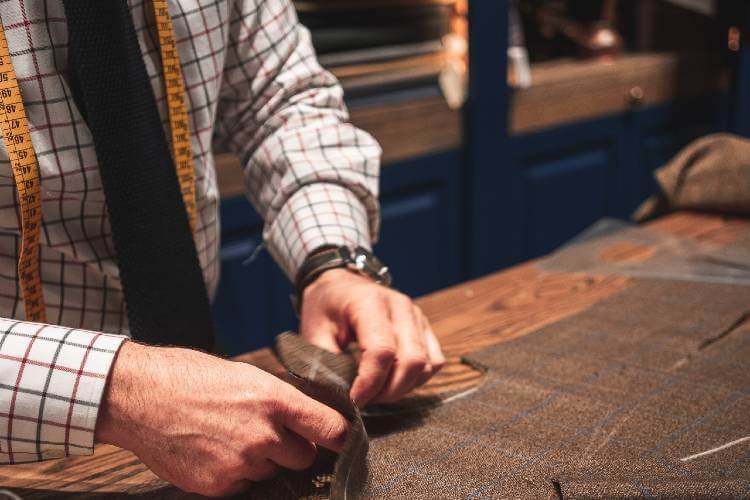 Can You Get Any Pants Tailored?
Professional tailors can adjust any type of pants too big for you. They can easily bring them in, making them fit you much better. They can take in any pants easily if you don't want to change their style completely.
Most of the time, tailors can cinch pants in about two sizes. This process includes taking in the waist, sides, and hemming to create a better fit. Adjusting two sizes is a general rule, so ask if you want to bring the pants in more than that.
Depending on the pants, the tailor might also be able to make the waist larger. There's typically enough material in the waist of a pair of pants to make them about two inches bigger. However, it's easier to bring in pants than bring them out.
Overall, you can have any pants you want altered. A professional will consider your unique body shape. At the same time, tailors ensure that your trousers look great, feel comfortable, and have a natural balance.
Is it Worth it to Get Pants Tailored?
It's worth getting pants tailored, especially if you plan on using them for a long time or want to look your best for an important event. Plus, they'll fit you more comfortably, so you're sure to appreciate the tailor's work.
It can also save you money if you were going to throw the pants out and buy a newer, costly pair. When it comes to pants, most alterations will cost between $15 and $80. As a general rule, you won't want the adjustments to cost more than the pants themselves.
It's not worth tailoring cheap or fast-fashion pants, however. These items will likely wear out, or you'll get rid of them after a few years anyway. It usually isn't worth the money unless they're classic items you know you'll keep for many years to come.
In short, it is definitely worth taking your favorite pants to the tailors! Your body might've changed recently, or you accidentally bought an important pair a few sizes too big. Hemming isn't very expensive, so it's worth it for most people to go for a tailoring service.
What to Know Before Visiting a Tailor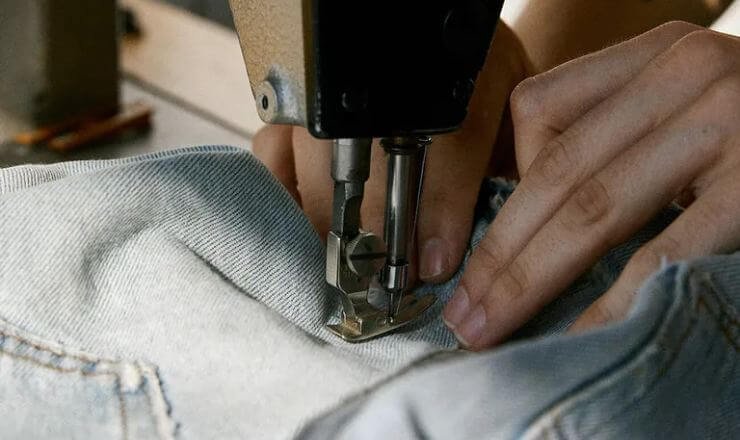 You'll want to know a few things before visiting a tailor. You must wash and dry your pants before going – even if you just bought them. That way, the pants can shrink before any alterations are made.
You'll also want to know how you want your trousers to fit before you go. You can find plenty of inspiration in magazines or online. Collect a few images to show your tailor to help them better understand your vision.
Next, you must listen to the tailor. They understand the construction of clothing very well. What changes you want might not be possible, so don't argue!
Some adjustments require more work. It can be very expensive if one has to disassemble the pants to make them look how you want. Ask how long the work will take before they start.
How to Choose a Quality Tailor
You should start by asking around. If you know someone who's hired a tailor before, you can also ask if they'll share their experience with you. Vintage resellers also usually have high-quality tailors they turn to, since these pieces need a good eye for design and a careful hand.
Next, talk with the tailor in person or over the phone. You'll want to make sure that you're comfortable around them for long periods while they pin your clothes to adjust them later.
Lastly, you'll want to ask if you can view a sample of their work. You can expect similar quality in your own project. You also don't need to worry about offending them – this is their business, after all. They likely have plenty of samples already prepared for you to view.
What Can Be Altered on Your Trousers
There are plenty of adjustments that a tailor can make to your trousers. They can lengthen and shorten pants, change the waistband, adjust the creases, and even add more belt loops. Each tailor will have different amounts of experience accomplishing certain tasks, so they may offer different services at their store.
This table includes a few possible alterations and how challenging it is to make those adjustments
| | |
| --- | --- |
| Type of Alteration | Difficulty Level |
| Hemming | Easy |
| Lengthening inseam | Easy |
| Bringing in or out the waist | Easy |
| Replace missing button | Easy |
| Pant leg tapering | Easy |
| Fix zipper | Easy to medium |
| Adjusting pants creases | Medium |
| Lowering waistband | Hard |
| Taking out pleats | Hard |
| Reducing more than two sizes | Medium to hard |
This table doesn't include everything that a tailor can do of course. If you have something very specific in mind, it's best to discuss your options. They can take your measurements and get a better idea of your unique body shape.
How Much Does it Cost to Get Pants Tailored?
Many easier alterations cost under $30, while tougher ones tend to cost about $50. The most challenging alterations can cost $100 or more.
From the above you can get a general idea of how much your tailoring job will cost you. However, tailors in different areas can charge more or less for several reasons. Your adjustments might also take more or less work than expected.
So, it's best to ask for a quote to avoid any surprises. You can call ahead of time and describe what you want done. They may ask you to bring in the pants to view them in person. It's good to ask for a quote and get a written receipt when you agree to the price.
You'll spend way less than $100 getting your pants or jeans tailored most of the time. However, it's good to set a budget so you don't accidentally spend too much.
Final Thoughts
There are plenty of reasons you might want to get your pants tailored, especially if you want to keep them for a long time. You can have any trousers tailored, and there are many alterations that a professional can make.
Overall, having tailored pants makes them fit and look a lot nicer. You're sure to feel confident when you see the final results in the mirror.