Last Updated: August 8, 2023
When it comes to men's fashion, there's a trend that has been gaining popularity – rugged fashion. Combining style and practicality, rugged fashion allows men to embrace their adventurous side while looking effortlessly cool. Whether you're an outdoor enthusiast or simply want to add some edge to your wardrobe, rugged fashion is the way to go.
So, what exactly is rugged fashion? It's all about embracing a rugged and masculine aesthetic through clothing and accessories. Think durable fabrics, earthy tones, and functional details. From rugged boots to weather-resistant jackets, there are plenty of ways to incorporate this trend into your everyday style.
Now, let's dive deeper into the world of men's rugged fashion and explore why it's a trend that you should be following.
Why Rugged Fashion is the Trend to Follow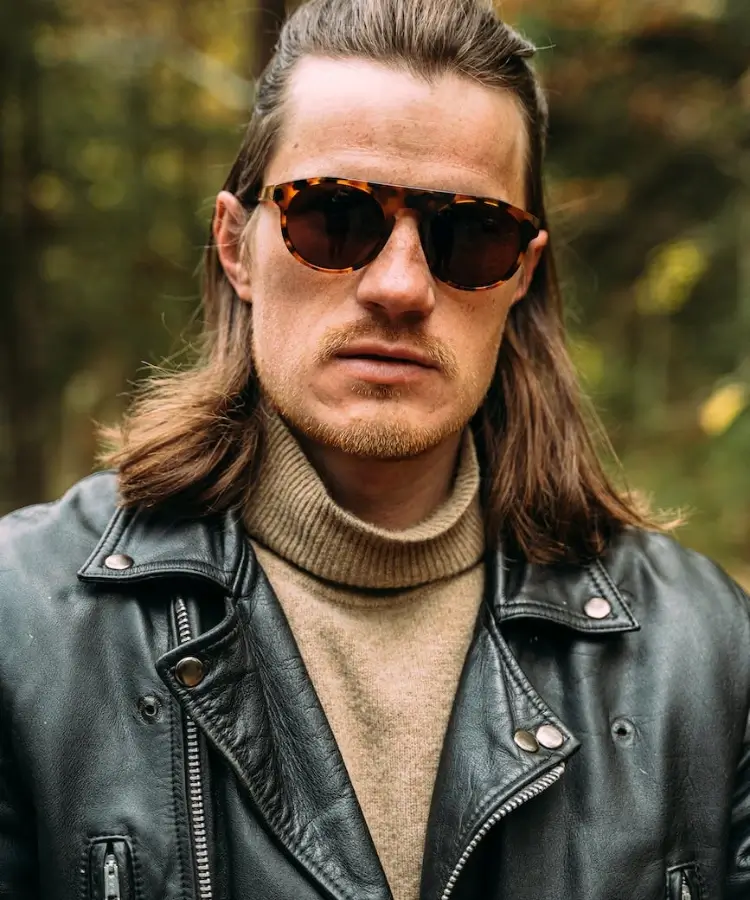 Rugged fashion has become increasingly popular in recent years, and it's easy to see why.
Here are a few reasons why you should consider embracing this trend.
Whether you're heading out for a hike or grabbing drinks with friends, rugged clothing can be dressed up or down to suit any occasion. From casual flannel shirts to rugged denim jeans, these pieces can easily transition from day to night.
There's something undeniably cool about a man who can rock a rugged look. The rugged aesthetic is associated with adventure, strength, and independence, making it the perfect choice for those who want to stand out from the crowd.
Unlike fast fashion trends that come and go, rugged clothing is designed to withstand the test of time. With durable fabrics and quality craftsmanship, investing in rugged pieces means you'll have a wardrobe that lasts for years to come.
Essential Elements of Rugged Fashion
Durable Fabrics
Opt for clothing made from sturdy materials like denim, canvas, leather, and flannel.
Neutral Color Palette
Stick to earthy tones such as khaki, olive green, navy blue, and brown for a rugged and masculine look.
Layering
Layering is key to achieving a rugged aesthetic. Combine different textures and garments to create depth and visual interest.
Functional Footwear
Invest in sturdy boots or sneakers with good traction for outdoor activities.
Practical Accessories
Choose accessories like belts, hats, and scarves that not only enhance your look but also serve a purpose.
Must-Have Rugged Fashion Accessories for Men
Accessories play a crucial role in completing any outfit, and when it comes to rugged style, there are a few key accessories that every man should consider:
Rugged Boots: A staple in any rugged wardrobe, a pair of sturdy boots adds both style and practicality. Opt for leather or suede boots with a rugged sole for a versatile and timeless look.
Weather-Resistant Jacket: Protect yourself from the elements while maintaining a stylish appearance with a weather-proof jacket. Look for options made from durable materials like waxed canvas or nylon.
Leather Belt: A rugged outfit isn't complete without a trusty leather belt. Choose a thick and durable belt with rugged detailing like distressed edges or metal hardware.
Durable Backpack: Whether you're heading to the office or embarking on a weekend adventure, a durable backpack is a must. Look for one made from sturdy materials like canvas or leather, ideally with multiple compartments and adjustable straps for maximum versatility, to carry your essentials during outdoor adventures.
Sturdy Watch: Opt for a watch with a durable strap and features like water resistance and shock resistance.
Leather Wallet: A quality leather wallet, such as an alligator wallet, not only adds a touch of ruggedness but also ensures durability and longevity.
Trendy Hat: A rugged hat like a beanie or a panama hat not only protects you from the elements but also adds style to your outfit.
Now that you have an idea of the essential accessories, let's explore how you can style for different occasions.
Rugged Outfits for Different Occasions
Rugged style can be adapted to suit various occasions, from casual outings to formal events.
Here are some styling tips to help you nail the rugged look for any situation.
Casual Outings: For a laid-back, everyday look, pair a plaid flannel shirt with dark denim jeans and rugged boots. Layer with a weather-resistant jacket and accessorize with a leather belt and a beanie for added warmth and style.
Outdoor Adventures: When heading out for a hike or camping trip, opt for functional yet stylish clothing. Wear a moisture-wicking base layer, durable cargo pants, and a waterproof jacket. Don't forget to complete the look with a wide-brimmed hat and a backpack to carry your essentials.
Formal Events: Yes, rugged fashion can be dressed up too! Opt for a tailored blazer in a neutral color, paired with a crisp white shirt and rugged dress pants. Finish off the look with suede Chelsea boots and a leather briefcase for a sophisticated yet rugged ensemble.
Now let's explore some of the best brands that offer high-quality rugged clothing and accessories.
Top Brands for High-Quality Mens Rugged Fashion
When it comes to finding top-notch rugged fashion pieces, these brands are worth considering:
These brands are just a few examples of the many options available. Explore different brands to find the ones that align with your personal style and preferences.
To fully understand the impact of rugged fashion, let's take a look at some iconic figures who have embraced this trend.
From the Runway to the Streets: Rugged Fashion Icons
Many fashion icons have been spotted rocking rugged clothes both on and off the runway. These individuals have effortlessly mastered the art of incorporating rugged elements into their personal style. Let's take a closer look at some of these influential figures:
David Beckham: The former footballer is known for his rugged yet refined style. Often seen sporting leather jackets, rugged boots, and distressed denim, Beckham effortlessly combines rugged elements with tailored pieces.
Chris Hemsworth: The Australian actor embodies the rugged aesthetic both on-screen and off. With his muscular physique and beard, Hemsworth's style often features earthy tones, flannel shirts, and rugged outerwear.
Lenny Kravitz: The rockstar's style is the epitome of rugged coolness. Kravitz is frequently seen wearing leather jackets, distressed jeans, and chunky boots, exuding an effortless rock 'n' roll vibe.
These fashion icons serve as inspiration for incorporating rugged style into your own wardrobe.
Frequently Asked Questions
What exactly is rugged fashion?
Rugged fashion is a style trend that embraces a rugged and masculine aesthetic through clothing and accessories. It typically includes durable fabrics, earthy tones, and functional details.
How can I incorporate rugged fashion into my everyday style?
To incorporate rugged fashion into your everyday style, start by investing in key pieces like rugged boots, weather-resistant jackets, and flannel shirts. You can also experiment with layering and accessorizing to add rugged elements to your outfits.
Can I wear mens rugged fashion in the city?
Absolutely! Mens rugged fashion can be adapted to urban environments by pairing rugged pieces like a denim jacket or rugged jeans with more polished items like a crisp white shirt or leather shoes.
Can rugged fashion be dressed up for formal events?
Yes, rugged fashion can be dressed up for formal events. Opt for tailored pieces like blazers, dress pants, and quality leather shoes to create a sophisticated yet rugged ensemble.
Expert Advice
When it comes to embracing rugged fashion, it's important to find a balance between style and functionality. Invest in high-quality pieces that can withstand your adventurous lifestyle, but also don't be afraid to experiment and add your personal touch to the rugged aesthetic. Remember, confidence is key!
Final Thoughts
Whether you're exploring the great outdoors or simply navigating the streets of the city, make sure you're dressed for the occasion with the right rugged fashion essentials.
Now that you have a better understanding of what rugged fashion means, it's time to unleash your inner adventurer and elevate your style with rugged pieces that make a statement. Have fun exploring different brands, experimenting with various looks, and embracing the rugged trend!