Last Updated: August 3, 2023
The old adage that 'life begins at 40' has never been more true because the milestone represents moving away from the impulses of youth and embracing the maturity that comes with life experience. Knowing how to dress to best represent yourself is part of this process.
A 40-year old man should dress to convey confidence and style by following simple rules such as keeping it simple, buying clothes that fit, avoiding 'dad jeans', investing in a quality suit, and thinking twice about the sneakers.
If you don't know where to start regarding dressing your age with style and confidence, this article has everything you need. This includes an overview of men's fashion after 40, tips and trends to help guide your decisions, and a set of guidelines to help you make the best fashion decisions for you.
How Should Men Dress in Their 40s?
Before we get into specific details about what 40 year old men should wear, here are some good rule-of-thumb tips to help you understand the thinking behind the advice for men who want to successfully dress their age.
Know the difference between fashion and style
Invest in the details such as accessories and shoes
Find a style icon you admire and emulate their wardrobe
Make the style work for you, your lifestyle, and your personal preferences
Men's Fashion After 40
If you work as a professional, you're most likely to reach your peak income potential between the ages of 40 and 49. When you're in this age bracket, you're probably past having to pay exorbitant child-care fees, and you have a handle on your mortgage.
Most likely, this means that you will have the spare cash in hand to ensure that the quality of your wardrobe reflects how you want the world to view you and how you want to feel about yourself.
Men's fashion after 40 is categorized by maturity, considered decisions, style over substance, and classical pieces. This means that although you will be guided by fashion trends, it is important to know who you are, what your style might be, and how you want to represent yourself to the world.
Most importantly, your fashion should make you feel comfortable, seen, and admired.
Have Classic Pieces for Every Occasion
You don't need to renovate your house for a bigger wardrobe to make sure that you are prepared for every occasion. If you keep it simple with a few key pieces that can be mixed and matched, you will never have to do a last-minute run to the department store to make sure you have the perfect outfit.
Here are some options:
Pants
Dark blue denim
Dark (charcoal, black, or gray) chinos
Dark (black or gray) woolen trousers
Shirts
Several plain or neutral T-shirts with minimal logos/writing
At least two button-down shirts in light colors (white, light blue)
2-4 casual shirts in any color or pattern (make sure they fit properly though)
Tops
A woolen sweater
A cotton sweatshirt
Shoes
White or neutral simple sneakers
Boots (preferably chelsea boots, as they can be worn with a suit)
Leather casual loafers
Brown lace-up formal shoes
Jackets
Formal Wear
A single-breasted dark suit
A white dress shirt
1-2 ties in your favorite color or pattern (to allow for some shirt and tie combinations)
Accessories
Quality watch
Baseball cap
Matching socks
Lifestyle-specific
Of course, you will also have clothes that you wear for a specific purpose, like pursuing your hobbies or working out.
Keep it Simple
When you have a chance to go out after work and on the weekend, your best strategy is to carefully coordinate your key pieces so that they give you a set of no-fuss options for any situation.
This means that you need a simple, good-quality T-shirt or polo top that you can dress casually with a blazer and dark jeans, or dress up with woolen pants or chinos.
For a personalized touch, think about a colorful pair of socks or a scarf in cooler weather, or your beloved baseball cap.
With a simple and flexible style, you will have no trouble dressing for a day on the golfing green or watching your children play soccer. You will even be able to head out to a classy bar afterward.
Know Your Style
It doesn't matter how well you emulate the fashion icons of the day, if the style doesn't suit you or your lifestyle, it won't look good and you're unlikely to feel comfortable.
Make the wardrobe your own. If you like a certain color, there's no reason why you can't incorporate it into your look, just don't let it overwhelm you.
If you are in the midst of a mid-life crisis, you might have the tendency to try to relive the glory days of your youth.
But you must resist these urges at all costs.
You are allowed to express yourself in your clothes but, because you are over 40, you also need to make considered choices to reflect your maturity.
Aim for cool, not crass.
Buy Clothes That Fit
It doesn't matter whether you're thin, muscular, or carrying more pounds than you would like, it's important you buy clothes that fit you as you are, not how you were five years ago or how you want to be once you start hitting the gym.
As we age, our proportions change and we all need to dress in a way that compliments the shape and proportions of our bodies.
Many men over 40 might not even know what size they are, having spent many years buying straight off the shelf or online.
The good news is that you can easily determine your perfect size:
Go to the mall and select a top and some pants in the size you think you are
Take one size smaller and one size larger as well
Try them all on
If you don't feel comfortable bringing a friend to help you, take a picture of yourself in the mirror.
It's all about balance. When you choose your correct size, you will be able to move freely without your clothes being too big.
Avoid the 'Dad Jeans'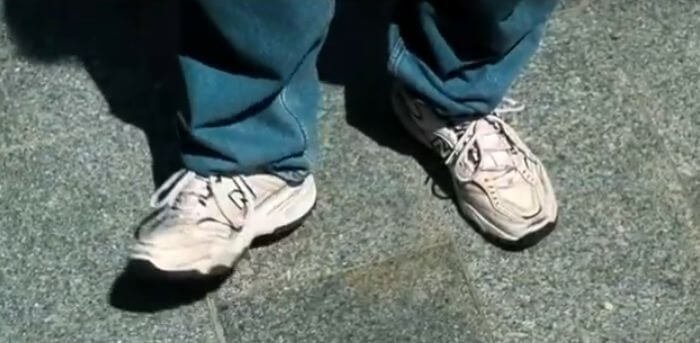 When you have spent most of your life enjoying the effortless style and comfort of a pair of trusty jeans, it might come as a surprise to learn that even this classic fashion icon can be worn in the wrong way.
As with many fashion tips, the devil is in the detail. In this case, you need to pay attention to the jeans' size, style, and even brand.
A great place to start is with a well-known brand like Levi's which provide a detailed size chart to help you figure out what size and style best suits your body type.
If you're still unsure, stick with the classic Levi's 501, with a straight leg in your correct size. For the larger men, the Levi's 541 is also a great option.
What to avoid when buying jeans:
Light blue and stonewashed
Styles that are too loose below the knee
Pants that are too long and pool at the ankles (if you have to, fold rather than scrunch)
Pants where the hem is too short
Think Twice About the Sneakers
Nothing in fashion signals the slow descent into middle age than a large and bulky white sneaker. Unless you're a fashion-forward millennial with the cool clout to pull it off, this sneaker should be avoided at all costs.
This doesn't mean that you need to forgo casual comfort altogether. Take the opportunity to be creative with your footwear and try a low-top leather sneaker or a pair of street shoes.
Invest in a Quality Suit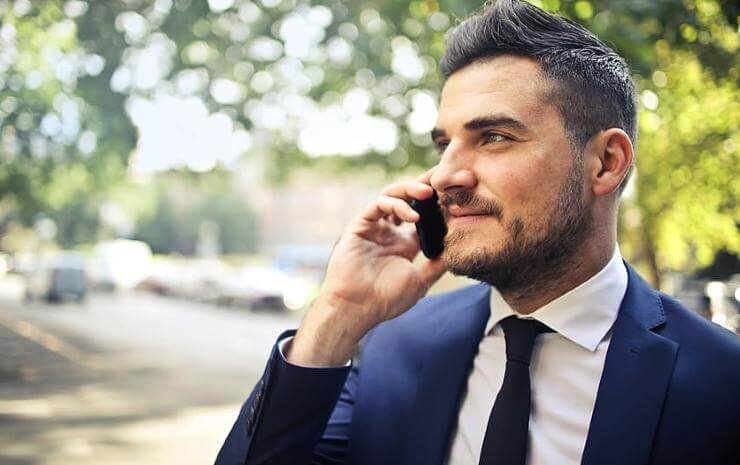 With weddings to attend, school graduations, and important business presentations to manage, investing in a quality suit in your 40s is a no-brainer.
Not only will you look sophisticated and mature, but a quality suit will go a long way to make you feel confident enough to make the best man's speech or presentation to your clients.
If you have the funds, why not consider splashing out on a tailored suit for the ultimate glam-up?
Mind Your T-Shirts
Most of us will admit to having more T-shirts than we need, probably because they represent an emotional or important event or stage in our lives.
Don't worry. This is not a de-cluttering article and I'm not advising you to throw anything out.
But you should consider whether wearing your favorite bootleg concert T-shirt from when you were 19 years old is a good idea for lunch out with the family.
Recommended Read: What Color Pants Go With a Gray Shirt?
If you don't trust yourself to choose classy logo tees, or you're not sure what constitutes a confident rather than an awkward vintage tee, your best bet is to stick with a plain, well-fitted t-shirt in a neutral color like gray or even navy.
Mix Casual and Formal
Don't be afraid to mix your so-called 'casual' clothes with your more 'formal' wear. Not only does this practice increase your wardrobe combination possibilities, but you can tailor your look to make your casual clothes more formal and your formal wear more accessible.
Don't Forget Your Hair and Beard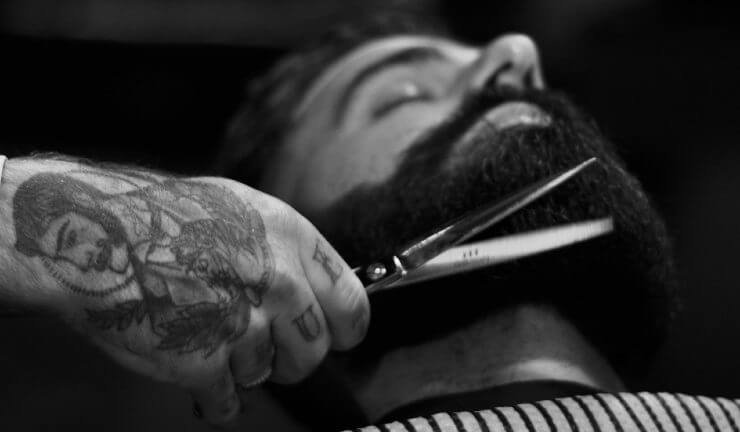 If you're keen on dressing appropriately for a man in his 40s, it is likely that you care about your overall appearance, and that includes the hair on your head and on your face.
Taking care of your hair
By now, you should know what haircut suits your face. If you don't, ask a barber to help you and once you know what it is, stick to it.
If you have a receding hairline, consider a stylish shave that highlights your face rather than detracts from it with a poor haircut.
With your haircut always trim and sharp, you never have to worry that it's taking away from your overall look.
Taking care of your beard
It doesn't matter whether you're sporting a discrete mustache or a beard that has taken several years to grow, it is important to keep it maintained to a style that suits you.
Talk to your barber or watch an online tutorial about how to sculpt it to suit your face. They might also have some suggestions for treatments and moisturizers to prevent ingrown hairs, dandruff, and odor.
What Not to Wear After 40
Before I finish, it's a good idea to include a list of fashion faux-pas to avoid at all costs.
Do not wear chunky white sneakers unless you are actively exercising and wearing workout gear
Stay away from heavy, ironed, and light-colored jeans
Avoid double-denim at all costs. This means that if you are wearing denim pants, leave the denim jacket in the closet, and vice versa
Leave the joke T-shirts for the younger generation
Pay attention to your accessories. Ditch the old-fashioned briefcase and embrace a laptop bag that you can wear on your back or sling over your shoulder.
Think twice about the cheap watch, unless it has sentimental value. Investing in a quality timepiece will add quality to any wardrobe.
Watch this video from Crazy, Stupid, Love to see what I mean.

In the end, it is all about confidence
Dressing for fun, business, and casual while you're in your 40's is all about confidence and the maturity of knowing what works best for you. Remember, you're never too old to care what you look like.
If you have ever asked yourself 'how can a man look good at 40?', this article shows that by following a few simple rules, you can easily present yourself with style, class, and individuality.