Last Updated: August 16, 2023
Men's white jeans are a versatile wardrobe staple that can elevate your style and give you a fresh and trendy look.
In this article, we'll explore stylish white jeans outfit ideas that will help you create a fashionable and statement-making look.
How Can Men Rock White Jeans for a Casual Day Out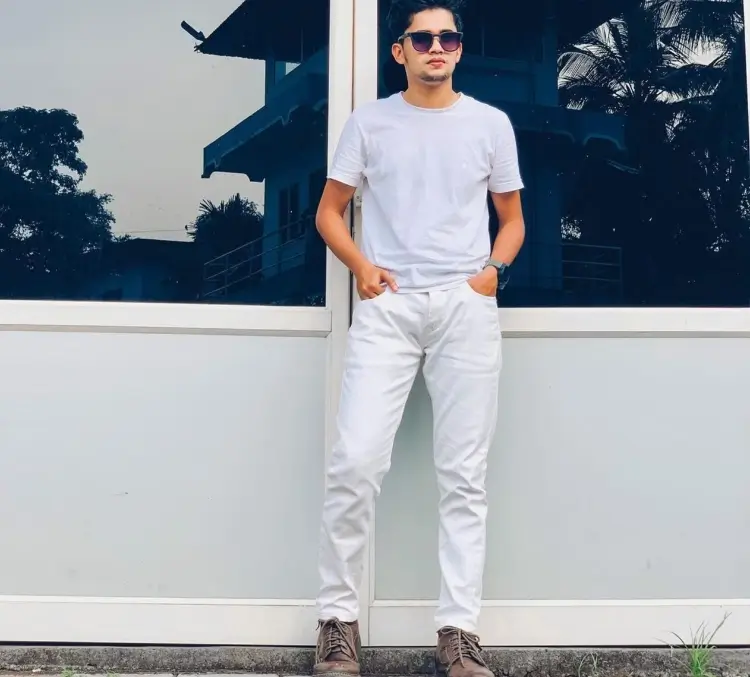 When it comes to dressing up for a casual day out, white jeans can be a go-to choice for men. They exude a laid-back yet polished vibe that is perfect for various activities.
Here are some tips on how to rock white jeans for a casual day out:
Pair your white jeans with a graphic t-shirt and sneakers for a cool and effortless look.
Add a denim jacket and a pair of loafers to elevate your casual outfit.
Opt for a chambray shirt and boat shoes for a preppy and relaxed vibe.
Try a monochromatic look by pairing your white jeans with a white t-shirt and white sneakers.
Accessorize with a statement belt and sunglasses to add an extra touch of style.
5 Essential Accessories to Complete Your White Jeans Outfit
Accessories are important in completing your outfit with white jeans and adding that extra touch of style.
Here are 5 essential accessories to consider:
A stylish belt can accentuate your waistline and add a pop of color or texture to your white jeans outfit.
A statement watch can elevate your overall look and showcase your personal style.
A pair of sunglasses not only protects your eyes but also adds a cool and sophisticated vibe to your outfit.
A classic leather wallet or a trendy cardholder can add a touch of elegance to your overall look.
A stylish backpack or messenger bag is both functional and fashionable, allowing you to carry your essentials in style.
Choosing the Right Shoes for YourWhite Jeans
The right pair of shoes can make or break your overall look.
White sneakers are a classic and versatile choice that can be paired with almost any outfit.
Loafers are a great option for a more sophisticated and dressy look.
Boat shoes are perfect for a preppy and nautical-inspired outfit.
Chelsea boots or desert boots can add a touch of ruggedness and style to your white jeans ensemble.
For a formal occasion, opt for dress shoes such as oxfords or brogues.
Choose shoes that not only complement your white jeans but also suit the occasion and your personal style.
Top 3 Shirt Styles to Pair with White Jeans
Choosing the right shirt to pair with your mens white jeans is essential for creating a well-coordinated and stylish outfit.
Here are the top 3 shirt styles to consider.
1. A crisp white button-down shirt is a timeless and classic choice that complements white jeans perfectly.
2. A chambray shirt adds a touch of texture and a casual yet polished vibe to your ensemble.
3. A striped or plaid shirt can add a pop of color and pattern to your outfit, creating a stylish and eye-catching look.
Experiment with different shirt styles to find the ones that suit your personal style and create the desired effect.
From Day to Night
Men's white jeans are incredibly versatile and can easily transition from a day to night look.
Here are some tips on transforming your white jeans outfit:
For a casual day look, pair your white jeans with a graphic t-shirt and sneakers. To transition into the night, swap the t-shirt for a crisp button-down shirt and add a blazer.
Accessorize with a statement watch and a stylish belt to elevate your overall look.
Choose shoes that suit the occasion, such as loafers or dress shoes for a more formal setting.
Experiment with layering by adding a denim jacket or a leather jacket for a stylish and edgy look.
Mix and Match: Experimenting with Colors and Patterns
Don't be afraid to experiment with colors and patterns when styling your mens white jeans. Mixing and matching different elements can create a unique and eye-catching look. Here are some ideas to get you started:
Pair your white jeans with a bold and vibrant colored t-shirt or polo shirt for a statement-making look.
Add a patterned shirt, such as floral or geometric prints, to create an interesting and dynamic outfit.
Experiment with different textures, such as a suede jacket or a linen shirt, to add depth and dimension to your ensemble.
Consider incorporating accessories in complementary colors or patterns to create a cohesive and stylish look.
Remember to balance the colors and patterns to create a harmonious and visually appealing outfit.
FAQs
Q: Can I wear white jeans year-round?
A: Yes, white jeans can be worn year-round. They are not limited to any specific season and can be styled for different occasions.
Q: How do I keep my white jeans clean?
A: To keep your white jeans clean, follow the care instructions on the garment label. It is recommended to wash them separately and avoid using bleach, as it can cause yellowing.
Q: Can I wear white jeans to a formal event?
A: While white jeans are generally considered more casual, they can be worn to certain semi-formal events. Pair them with a dress shirt and dress shoes to elevate your look.
Q: What colors go well with white jeans?
A: White jeans can be paired with a wide range of colors. Neutral tones such as black, grey, and navy work well, as do pastel shades and vibrant hues.
Q: How do I choose the right fit of white jeans?
A: When choosing white jeans, opt for a fit that flatters your body shape and provides a comfortable yet stylish look. Consider the rise, waist, and leg style to find the perfect fit for you.
Expert Advice
When it comes to creating a stylish men's white jeans outfit, it's important to consider your personal style, the occasion, and the overall desired look. Experiment with different combinations, colors, and accessories to create a look that reflects your individuality.
Choose high-quality white jeans that fit well and maintain them properly to ensure they last for a long time. With the right styling and confidence, you can rock mens white jeans and create a trendy and fashionable look.