Last Updated: June 17, 2022
Many firms and companies have modified their hiring processes as a result of technological improvements and COVID-19 pandemic. Consequently, hiring managers are turning to technology to pre-screen applicants and conduct video interviews.
Whether you're being interviewed via Zoom or another video-based platform, you should dress professionally and prepare as if you're being interviewed in person. Consider the company's culture as well as what seems professional and appropriate for the position you've applied for.
Continue reading to learn more about what to wear for a zoom interview, professional video conference attire, what colors look best, what colors to avoid and more.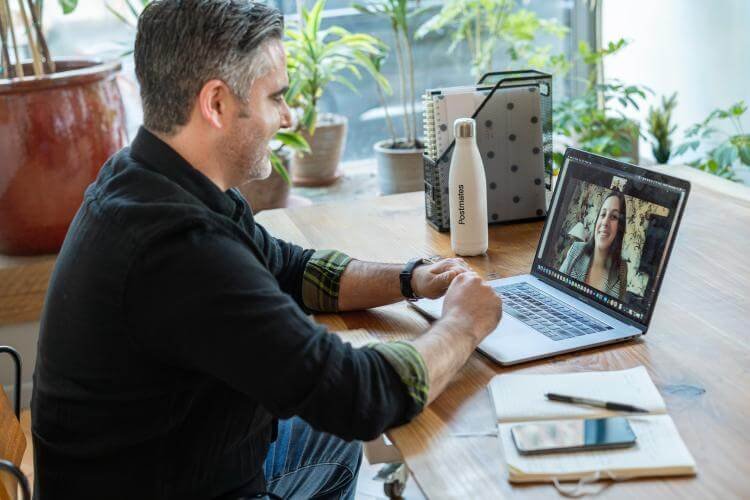 Zoom Interview Attire
In general, you should dress for a Zoom interview the same way you would for an in-person interview, which can vary in formality based on the industry and job you are applying for. It's vital to keep in mind, however, that your video interview is your first actual impression with the hiring manager and everyone else you meet throughout the interview.
Even though you're on camera, your appearance will convey the same message as if you were interviewing in person. Therefore, for both in-person and video interviews, solid colors are the best option. When it comes to selecting the proper hue for your video interview, however, you must take into account your webcam as well as your setting.
You may need to alter the colors you wear depending on your camera. For example, depending on the quality of your camera and how you're lighted during the interview, you could be better off with a deeper gray than a lighter shade if you've chosen grey.
Don't know where to begin? Check out the company's website and social media pages. What are the outfits in the photos? That's a solid representation of how you'll be expected to dress on a daily basis.
Tips for What to Wear to a Zoom Job Interview
1. Dress Professionally
Overdressing for an interview is typically better than underdressing. Even if the work environment at the company is more casual, you can normally dress professionally without fear of standing out because you will not be in close contact with that setting during the video interview.
A more professional wardrobe will, overall, make you seem more polished on Zoom. It can also assist you in making a better first impression by exhibiting your interest in the position.
2. Avoid Wearing Any Extreme or Flashy Colors
When performing a virtual interview, you should opt to avoid any bright, loud, or flashy colors. Keep them neutral so they don't merge in with your surroundings.
For example, if the video buffers, a complex pattern can, unfortunately, appear wacky. Small patterns can cause a geometric distortion effect depending on your camera, internet connection, and your interviewer's webcam and connection.
In a nutshell, little patterns might appear on your clothing as a funky looking "wave" pattern. Though it is unlikely to be a deal-breaker, it can be annoying to the recruiter.
The same goes for a white shirt on a light-skinned person against a white backdrop. These colors can make you blend into the background too much and make it difficult for the recruiter to notice you.
3. Adjust Your Lighting Prior to Commencing the Zoom Call
Unless you're applying for a career as a cinematographer, your hiring manager is unlikely to expect you to have flawless lighting during your Zoom session. However, dressing your best is pointless if you don't have adequate lighting.
Play around with the lighting in your shot and make sure the sun isn't blinding. Close the drapes or throw blankets over your lamps to reel in any bright lights. You can also bring in some lamps for warmer tones.
4. Remember to Wear Pants!
Wear pants, even if you believe the recruiter can't see your lower half. Unfortunately, people often forget this obvious tip. Even for a video interview, your bottom half must be dressed. You might believe that you can get away with shorts or pyjamas, but there have been far too many horror stories about a misaligned camera, someone pulling back from a desk, or someone rising up without thinking to grab something.
For example, there once was a half-dressed reporter on Good Morning America who had his naked legs exposed on national television.
So just to be safe, wear pants! After all, you don't want to start out by violating the company's harassment policy right off the bat.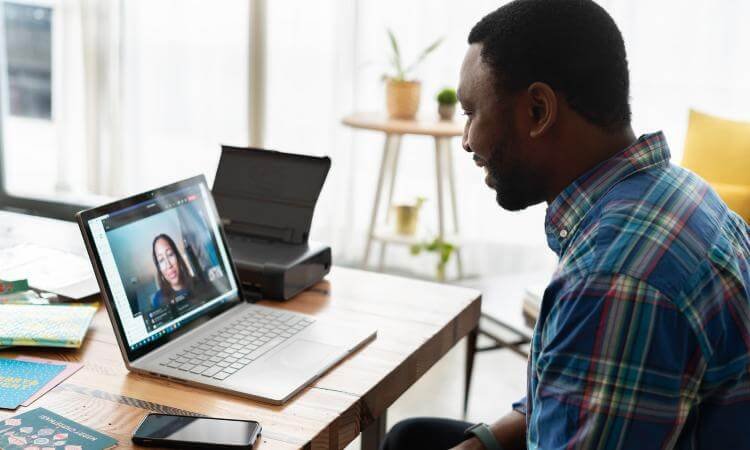 What Color Shirt Looks Best on Zoom?
Color psychology is the theory that the colors we see have an effect on our moods and perceptions. Though there aren't many studies on the issue, color psychology is something to think about when you decide what to wear for your video interview.
The colors you choose can have an unexpected influence on how hiring managers view you as a candidate. While the color of your shirt or tie should have no bearing on whether or not you are employed, it can have a subtle impact on how the interviewer perceives you.
To help interviewers form a favorable impression of you, it's advisable to wear one of four "neutral" colors to a Zoom presentation:
blue – indicates that you are self-assured, dependable, and a team player
black – denotes authority, sophistication, and exclusivity
gray – denotes independence, rationality, and analysis
or white – denotes safety and organization.
What Colors Should I Avoid Wearing for a Zoom Interview?
Though no color is strictly forbidden in an interview, the colors brown, orange, red, yellow, green, and purple are linked with more negative connotations. As a result, these colors should only be used sparingly or avoided altogether.
While it's ok to wear some color in your interview attire, keep it modest. For example, consider adding a dash of color to your ensemble to make a statement without going overboard.
You can also "think soft" and use light or pastel colors. For example, if yellow is your favorite color and it makes you feel confident and strong, go ahead, and wear it. However, choose a shade of yellow that resembles a sunrise rather than a garish yellow.
How to Set Up Your Background for a Zoom Interview?
Considering online interviews are frequently performed at home, you will be required to exhibit a portion of your living area throughout the session. As a result, seek a neutral space that appears professional, such as a home office or a kitchen table.
Make sure to clean up the area surrounding you before your interview, so that your setting is clean and professional. Also, clear up any clutter and eliminate any objects that may appear in the video, as well as anything that may obstruct your ability to communicate with the hiring manager or recruiter.
Finally, open the webcam on your computer or device to verify the view behind you before logging into Zoom. If something on the screen appears unprofessional or is obstructing your eyesight, get it out of the way or adjust your seating posture to get the greatest possible view.
Final Thoughts
When it comes to dressing for a Zoom interview, think about the company's culture as well as what looks professional and appropriate for you. Although you'll want to apply some extra considerations to avoid blending in with your surroundings or seeming too crazy if the video is delayed, the technique is similar to dressing for an in-person interview.
Solid colors are the greatest choice for both in-person and video interviews. When it comes to choosing the right color for your remote interview, you must consider both your webcam and your location.
Overall, a more professional wardrobe will make you seem more polished during a Zoom call and can even help you make a better first impression by displaying your enthusiasm for the job.