Last Updated: August 14, 2023
When attending a country concert, it's important to dress the part. The right outfit can enhance your experience and make you feel like a true country music fan.
Tips for Finding the Perfect Country Concert Attire

1. Start with a plaid shirt
Plaid shirts are a staple in country fashion. Opt for a classic plaid pattern in colors like red, blue, or green.
2. Pick a pair of well-fitted jeans
Jeans are a must-have for any country music gig. Choose a pair that fits well and is comfortable to wear throughout the event.
3. Add a cowboy hat or a trucker cap
Complete your country look with a stylish hat. Whether it's a traditional cowboy hat or a trendy trucker cap, it will add an extra touch of authenticity to your outfit.
4. Consider a denim jacket
If the weather is cool, a denim jacket can be a great addition to your outfit. It adds a rugged element to your look.
Remember, comfort is key. Choose clothing that allows you to move freely and enjoy the music without any restrictions.
Key Elements of Men's Country Concert Attire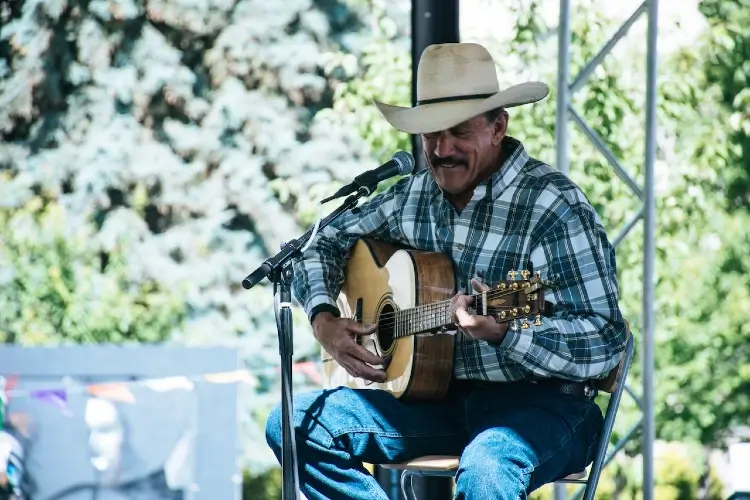 Country concert attire for men is all about embracing the western charm and ruggedness.
Here are the key elements you should incorporate into your outfit:
Western-inspired shirts: Look for shirts with pearl snap buttons, embroidery, or western-style yokes. These details add a touch of authenticity to your attire.
Bootcut jeans: Bootcut jeans are a classic choice for country fans. They look great with cowboy boots and give you a stylish and timeless look.
Leather belt with a buckle: A leather belt with a decorative buckle is an essential accessory for men's country style. Choose a buckle that reflects your personal style.
Sturdy boots: Cowboy boots or leather boots are the go-to footwear options for country music concerts. They not only complete your outfit but also provide comfort and support for a long night of dancing and singing along.
By incorporating these key elements into your outfit, you'll be able to showcase your love for country music with style.
Top Fashion Trends for Country Concerts
Country fashion is ever-evolving, and it's important to stay updated with the latest trends.
Here are some of the top fashion trends for men attending country gigs:
Double denim: Embrace the denim-on-denim trend by pairing a denim shirt with jeans. It's a stylish and effortless look that works well.
Graphic tees: Show off your favorite country music artists or bands with graphic tees. Look for tees featuring vintage-inspired designs or concert tour logos.
Plaid vests: Layering is a great way to add depth to your outfit. Consider wearing a plaid vest over your shirt for a fashionable and functional look.
Embroidered jackets: Embroidered jackets with western-inspired designs are gaining popularity in the country music scene. They add a unique and artistic touch to your attire.
Remember, the key is to have fun with your outfit and express your personal style while staying true to the country concert aesthetic.
Choosing the Right Footwear

The right footwear can make or break your country festival experience.
Here are some tips to help you choose the perfect footwear:
Cowboy boots: A classic choice for country enthusiasts. Look for boots with a comfortable fit, sturdy construction, and a style that complements your outfit.
Leather boots: If cowboy boots aren't your style, opt for a pair of leather boots. They offer a rugged and stylish look while providing comfort and support.
Work boots: Work boots with a worn-in look can add a touch of authenticity to your country attire. They're comfortable and can withstand the demands of a long night of dancing and walking.
Sneakers: If you prefer a more casual look, you can opt for sneakers. Choose a pair that complements your outfit and provides adequate comfort for standing and dancing.
Remember to break in your footwear before the concert to avoid discomfort or blisters.
Accessories to Enhance Your Country Look
Accessories play a crucial role in completing your attire.
Here are some accessories that can enhance your look:
Statement belt buckle: A statement belt buckle can be a conversation starter and add a unique touch to your outfit. Look for one that reflects your personality or showcases your favorite country music artist.
Bandanas: Bandanas are versatile accessories that can be worn around the neck, as a headband, or even as a face mask. Choose a bandana in a color or pattern that complements your outfit.
Leather wristbands: Wristbands made of leather or other rugged materials can add a touch of edginess to your look. Go for wristbands with embossed designs or metal accents.
Aviator sunglasses: Complete your look with a pair of aviator sunglasses. They not only protect your eyes from the sun but also add a cool and stylish element to your outfit.
Accessories should complement your outfit without overpowering it. Choose accessories that enhance your personal style and add a touch of uniqueness to your look.
Dos and Don'ts
When it comes to country concert fashion, there are some dos and don'ts to keep in mind:
DOs
Do embrace plaid shirts and denim as staples in your attire.
Do opt for comfortable and well-fitted clothing that allows you to move freely.
Do add accessories like cowboy hats, trucker caps, and statement belt buckles to enhance your look.
Do consider layering with vests or jackets for added style and functionality.
DON'Ts
Expert Advice
According to country music fashion expert, John Smith, "The key to rocking the country concert attire is to embrace the western charm and ruggedness. Look for clothing and accessories that reflect your love for country music and make you feel confident."
Smith suggests, "When choosing your outfit, focus on comfort and functionality. You want to be able to move freely and enjoy the concert without any wardrobe restrictions."