Last Updated: August 14, 2023
If you are looking to embrace country style, you have come to the right place. Country style for men is all about embracing a rugged, outdoorsy aesthetic that exudes charm and masculinity.
Whether you live in the countryside or simply want to infuse some rustic vibes into your wardrobe, these essential tips will help you master the country style look.
How to Incorporate Country Style into Your Wardrobe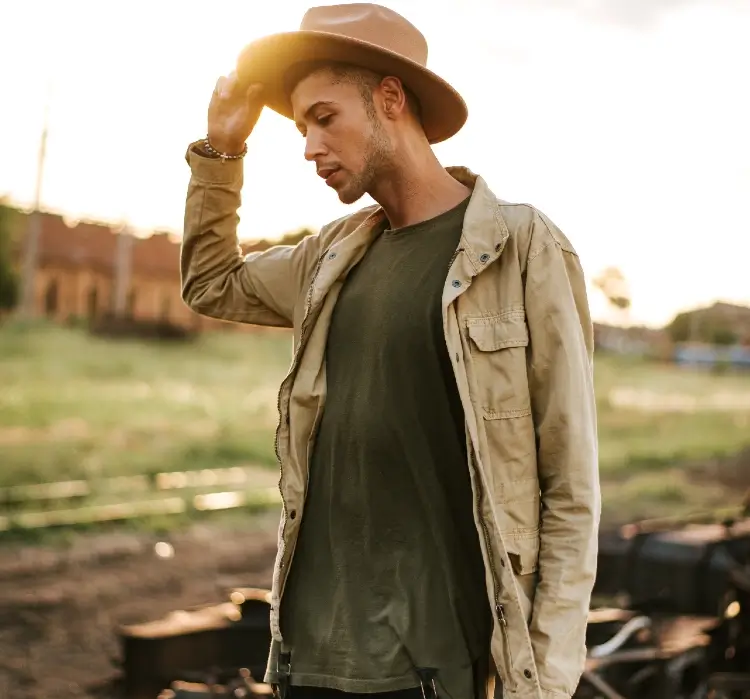 When it comes to incorporating country trends, it's all about embracing classic pieces with a rugged twist.
Here are a few key tips to keep in mind:
Invest in high-quality denim jeans and rugged pants.
Opt for plaid shirts and flannel button-downs.
Add layers with cozy sweaters and cardigans.
Accessorize with leather belts, suspenders, and hats.
Choose earthy tones and natural fabrics.
By incorporating these into your wardrobe, you'll be well on your way to achieving the perfect country style look.
The Key Elements of Men's Country Style
Country or western style is characterized by a few key elements that define the aesthetic.
Here are the essential elements:
Rugged fabrics like denim, flannel, and leather.
Classic patterns such as plaid and gingham.
Functional and practical clothing like work boots and denim jackets.
Emphasis on layering for both style and functionality.
Accessories like hats, belts, and scarves to complete the look.
The Best Country-style Accessories for Men
Accessories play a major role in completing the country look.
Here are some must-have accessories for men:
Leather belts with rustic buckles.
Wide-brimmed hats for added style and sun protection.
Bandanas or neckerchiefs for a touch of rugged charm.
Statement watches with leather or woven straps.
Sturdy leather wallets for a timeless touch.
These accessories not only add personality to your outfit but also enhance the western style aesthetic.
Country-inspired Hairstyles
Your hairstyle can greatly contribute to your overall country look.
Here are a few country-inspired hairstyles to consider:
Messy, textured hair with a slightly unkempt look.
Longer hair with natural waves or curls for a bohemian vibe.
Undercut or fade with a well-groomed beard for a modern country look.
A hat-friendly hairstyle, such as a low ponytail or swept-back style.
Experiment with these hairstyles to find the one that best complements your personal style and embraces the country aesthetic.
Selecting the right footwear for a country look
Choosing the right footwear is essential to complete your country-like ensemble.
Here are some popular options:
Work boots or hiking boots for a rugged and practical look.
Cowboy boots for a classic Western-inspired style.
Loafers or boat shoes for a more refined country look.
Canvas sneakers or slip-on shoes for a casual and comfortable vibe.
Leather sandals for a laid-back, summer country fashion.
Consider the occasion and your personal style when selecting the right footwear to complement your country-inspired outfit.
Top country fashion influencers to follow for inspiration
Looking for some style inspiration? Check out these top western style influencers:
Country Gents – A popular Instagram account featuring country-inspired outfits and accessories.
Dale Brisby – An influencer showcasing rugged and masculine looks, Aside from riding bulls, Dale brings comic relief to ranch life with plenty of attitude.
Country Gent – A stylish influencer sharing tips and outfit ideas for country enthusiasts.
Follow these influencers for daily inspiration and discover new ways to incorporate country style into your wardrobe.
Expert Advice
When it comes to embracing country style, remember to stay true to your own personal preferences. Experiment with different elements and find what works best for you.
When rocking the country style look, wear it with pride and embrace the rugged charm it brings.