Last Updated: August 15, 2023
Baggy jeans are back in style, and it's not just for the nostalgic '90s fashion lovers.
The resurgence of baggy jeans can be attributed to several factors.
Firstly, comfort has become a top priority for many people, and they provide that relaxed and unrestricted feeling.
Secondly, the fashion industry is constantly evolving, and what was once considered outdated is now considered trendy again.
Lastly, loose jeans offer a unique and individualistic style that sets them apart from the slim-fit jeans that have dominated the fashion scene for years.
With their loose-fitting design, baggy jeans offer a breath of fresh air in a world of tight-fitting pants. They allow for ease of movement and are perfect for those who value comfort above all else.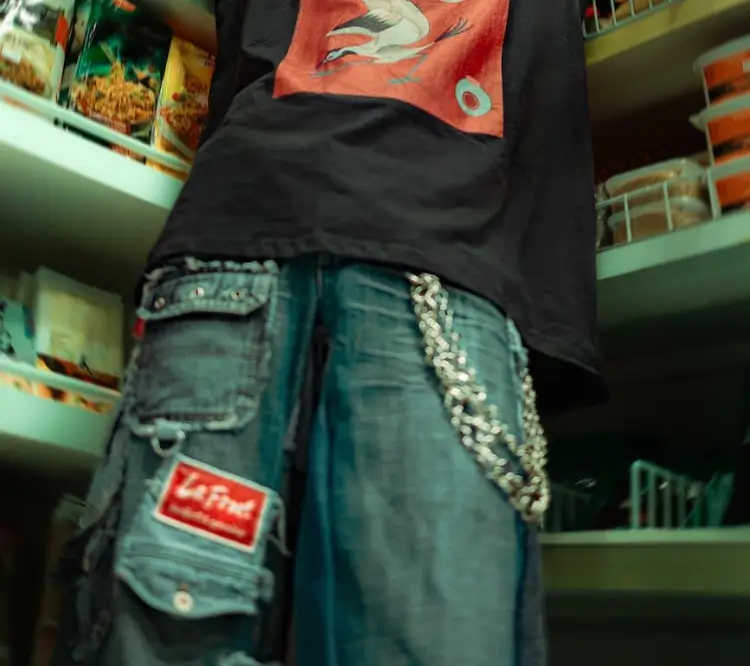 Baggy jeans provide the ideal combination of style and comfort, no matter if you're running errands, hanging out with friends, or going for a casual night out.
How to Choose the Perfect Pair of Baggy Jeans for Men
When it comes to choosing the perfect pair, there are a few key factors to consider.
Here are some tips to help you make the right choice:
Fit
They should have a relaxed fit without being overly loose. Look for a pair that provides enough room in the thighs and calves while still maintaining a flattering shape.
Length
The length is important for achieving the right look. Opt for a length that hits just above the shoes or slightly below the ankles for a stylish appearance.
Material
Choose a high-quality denim fabric that is both durable and comfortable. Avoid fabrics that are too stiff or rigid, as they can restrict movement and hinder comfort.
Color
Classic blue or black denim is always a safe and versatile choice. Consider your existing wardrobe and personal style when selecting the color.
Remember, finding the perfect pair of jeans may require trying on several options. Don't be afraid to experiment and find the fit and style that suits you best.
Baggy Jeans Men's Outfit Ideas for a Casual Look
Baggy jeans are incredibly versatile and can be styled in numerous ways for a casual look.
Here are some outfit ideas to inspire you:
1. T-Shirt and Sneakers
Pair your baggy jeans with a classic white t-shirt and clean white sneakers for a laid-back and effortless look.
2. Hoodie and Boots
For a cozy and stylish outfit, team them up with a comfortable hoodie and a pair of rugged boots.
3. Denim Jacket and Converse
Create a denim-on-denim ensemble by wearing a denim jacket over a simple t-shirt with your jeans. Complete the look with Converse sneakers for a touch of casual cool.
4. Sweater and Chelsea Boots
Elevate your jeans with a chunky knit sweater and sleek Chelsea boots. This combination strikes the perfect balance between comfort and style.
These outfit ideas are just a starting point. Feel free to mix and match different pieces from your wardrobe to create unique and personalized looks.
Combining Baggy Jeans with Stylish Tops for a Trendy Ensemble
Baggy jeans can be easily elevated with the right choice of tops.
Here are some stylish options to consider:
Fitted Button-Down Shirt: Pair your loose-fitting jeans with a tailored, fitted button-down shirt for a polished and sophisticated look. Tuck in the shirt and add a belt to define your waistline.
Oversized Sweater: Create a cozy and trendy outfit by pairing your jeans with an oversized sweater. This combination exudes a relaxed and effortlessly stylish vibe.
Graphic T-Shirt: Add a pop of personality to your outfit by wearing a graphic t-shirt. Opt for bold prints or statement logos to make a fashion-forward statement.
Denim Shirt: Double up on denim by wearing a denim shirt as well. To avoid a monotonous look, choose a lighter or darker shade of denim for the shirt.
Experiment with different combinations to find the perfect balance between comfort and style. Remember, confidence is key when pulling off any outfit.
Accessorizing to Elevate Your Outfit
Accessorizing your jeans can take your outfit to the next level.
Here are some ideas to enhance your look:
Statement Belt: Add a belt to cinch your jeans at the waist and create a more defined silhouette. Opt for a bold buckle or unique design to make a statement.
Chunky Watch: A chunky watch can add a touch of sophistication and masculinity to your outfit. Choose a timepiece that complements your personal style.
Baseball Cap: For a sporty and laid-back look, put on a baseball cap. This accessory adds a casual and cool touch to your overall ensemble.
Stylish Sneakers: Get a pair of trendy sneakers. Opt for high-top or retro-inspired designs to add a fashionable element to your outfit.
Remember, accessories should complement your floppy jeans without overpowering it. Choose pieces that reflect your personal style and enhance your overall look.
Tips for Maintaining and Styling Baggy Jeans for Men
When it comes to maintaining and styling your loose jeans, here are some useful tips:
Washing: Follow the care instructions provided by the manufacturer to maintain the quality and color of your pants. Avoid excessive washing to prevent fading and wear.
Ironing: Iron them using the appropriate settings to remove any wrinkles and creases. Be cautious not to apply too much heat, as it can damage the fabric.
Rolling: Experiment with rolling the cuffs for a more relaxed and casual look. This technique works particularly well with ankle-length jeans.
Layering: Embrace layering by adding jackets, cardigans, or vests over your trousers. This adds depth and dimension to your outfit, allowing you to create different looks with the same pair of jeans.
By following these tips, you can ensure that your oversized jeans stay in great condition while allowing you to explore various styling possibilities.
FAQs
Are baggy jeans only suitable for casual occasions?
While baggy jeans are often associated with casual wear, they can be styled for various occasions. Pair them with a tailored blazer and dress shoes for a smart-casual look or opt for a more formal fabric like corduroy or tweed for a dressier vibe.
Can baggy jeans flatter different body types?
Yes, baggy jeans can flatter different body types. For those with a slim physique, choose a slightly tapered pair to avoid looking overwhelmed by the loose fit. For those with a larger build, opt for wider-legged ones for a balanced and proportionate appearance.
What is the best way to tuck in a shirt when wearing baggy jeans?
To achieve a polished and put-together look, tuck in your shirt neatly and evenly around the waistband. Use a belt to secure the shirt in place and prevent it from bunching or becoming untucked throughout the day.
Expert Advice
Baggy jeans are a great addition to any man's wardrobe. The key to pulling off this look is finding the right fit and pairing them with the right tops and accessories. Remember to balance the loose-fitting jeans with more fitted tops to create a well-proportioned silhouette.
Experiment with different styles and washes to find the ones that suit your personal style the best. Don't be afraid to step out of your comfort zone and try different combinations. Fashion is all about self-expression, so have fun with your outfits!