Last Updated: May 23, 2022
When getting ready for an event – whether it be a formal occasion or a hot date – you may find yourself wondering the age-old question: belt or no belt with a suit?
As fashions have changed over time the answer to this question has changed too and depends on the type of suit you are wearing and the formality of the event you are attending. Formal events and suits do not need a belt, less formal events and trousers with belt loops do need a belt.
In this article I'll go into this question in more detail and help you work out what kind of belt to add to your outfit so you always look your best.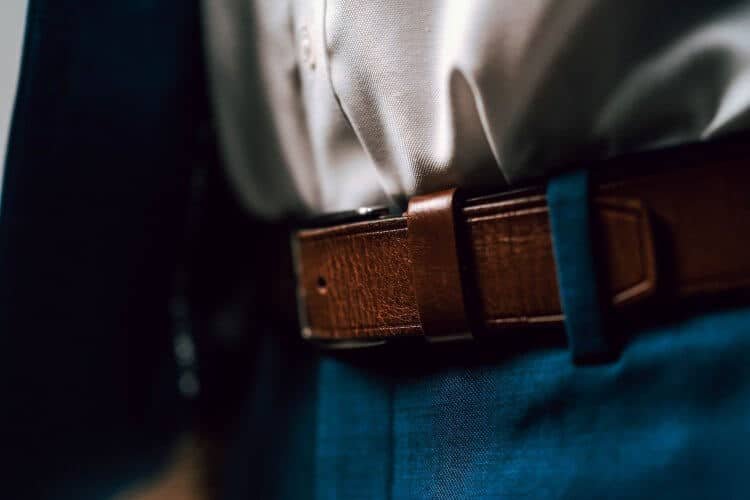 Why and When You Should Wear a Belt With Your Suit
If your trousers have belt loops, then lacking a belt will be noticeable and could make your outfit look incomplete. Belts are great for accessorizing, adding a personal touch to a plain suit. Belts make up for an absence of tailoring, so they also serve the practical purpose of holding your trousers at the correct point on your hips.
If you are attending a semi-formal event, or one where a normal suit with belt loops will do, then wear a belt.
Also, always wear a belt with the suit jacket and jeans combination.

When Not to Wear a Belt With Your Suit
If you don't have belt loops, then don't wear a belt. Your waistband could move around under the belt, making you look disheveled, or it could distort the shape of your trousers.
If you have no belt loops, but suspender attachments, then use them! Suspenders are there to hold your trousers up and provide your outfit with some structure. Never team a belt with suspenders – it will look too busy and may distort the line of your trousers. Not a great look!
Best Type of Belts to Wear With a Suit
Wear a belt that compliments your outfit – a suit can go from good to great with the correct accessorizing and a belt is the best place to start. The best option is usually a leather belt that matches, or complements, your shoes. Brown or black leather are classics for a reason – they look good!
Don't be tempted to have a "one size fits all" attitude towards belts. Fabric belts are fine for an informal setting but shouldn't be worn at an event, and brown belts shouldn't work with black shoes and vice versa.
Do You Wear a Belt With a Wedding Suit?
This depends on the suit, but generally no.
If you are wearing a tuxedo or tails, then you should definitely not wear a belt. The trousers should fit you perfectly without the need for a belt to hold them in place.
Wedding suits are all about showing off the perfect tailoring of your outfit, and a belt detracts from this.
Final Thoughts

As you can see – the question of belts is nuanced and depends on several factors including the type of event, the type of suit, and the presence of belt loops. If you are going to wear a belt, make sure it complements your outfit and if you are going belt-free then check the dress code before leaving the house.