Last Updated: May 23, 2022
Sweatpants are comfy and cozy – everything you need for a day in. But is it okay to wear them when you leave the house?
Here's the deal.
While wearing sweatpants in public is generally okay, there's a time and a place for your casual attire. If sweatpants are a must-have for your everyday wear, there are a few things you can do to avoid the just-rolled-out-of-bed look.
So do you have to ditch your sweatpants completely? Nope! This article will be your go-to guide for the when, where, why, and how, to wearing sweats in public.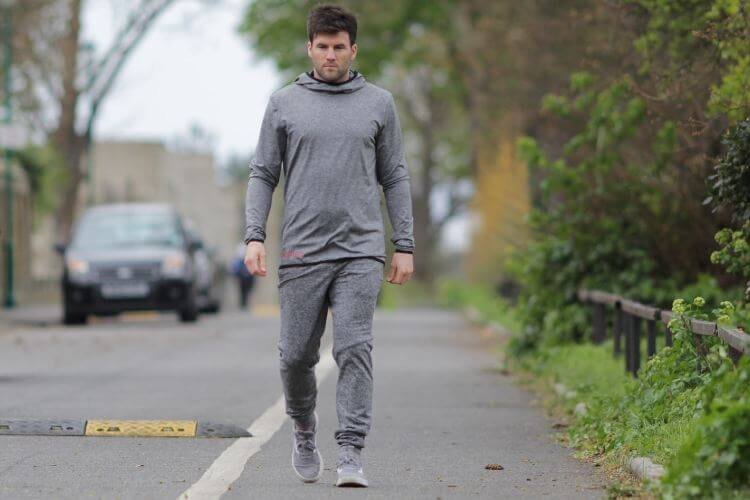 Is Wearing Sweatpants in Public Wrong?
There are a lot of different opinions when it comes to wearing sweatpants in public. The simple answer is no, it's not wrong to wear sweatpants in public. But there are some key dos and don'ts when it comes to wearing sweatpants out of the house.
Sweatpants are popular among all age groups, but they're not always the appropriate attire to go out in. They're made to be comfortable and casual, and they're not something you wear to impress. In fact, many people view them as lazy and unprofessional.
A quick trip to the grocery store or walking your dog is an ideal time to throw on a pair of your favorite sweatpants, that is socially acceptable. But a job or a date? Leave the sweats at home.
Is it OK to Wear Sweatpants to School or Work?
Knowing your audience is crucial when deciding whether or not sweatpants are okay to wear in public. Are you really going to get that promotion if you walk into your boss' office in a pair of joggers? Even with a tie, that might not cut it.
When it comes to work, you're going to want to be a little more practical. After all, this is how you bring in the cash! Ditch the sweatpants for a pair of slacks or trousers. On a casual work day, jeans or chinos should be your go to. Sweatpants and work don't mix.
Now, walking through any high school or college campus you'll see a ton of students wearing sweatpants, carrying coffee and rushing to class. Are sweatpants ideal for the classroom? Not really, especially if you're trying to prepare yourself for your future job. But, there's some leeway here.
College students especially are up late studying, rushing to classes, and just trying to get by. The skill to master in college is getting ready and leaving your dorm within five minutes of waking up. So, when it comes to school, we'll cut you some slack.
Can You Wear Sweatpants Anywhere?
At this point, you can probably guess the answer. It depends entirely on where you're going, who you're seeing, and the impression you're trying to leave.
Here's a list of places or events and whether or not you can wear sweatpants there.
First date – dress to impress
Coffee shop – as long as it's not a date or work meeting
School – skip them if you're meeting with a professor
Now that you know where you can and can't wear your sweats, let's get into how you should wear them.
Is it Okay to Wear the Same Pair of Sweatpants Every Day?
We're all guilty of wearing the same pants for several days without washing them, but if you're wearing the same sweatpants you might want to revisit your wardrobe.
If you're going to wear the same sweatpants every day, the same rules apply as with other pants. Are they clean? Do they have stains on them? Do they smell?
And the golden rule: if you wear them to bed every night, don't wear them out in public.
Unless you're only wearing them to the gym, going out in sweatpants everyday probably isn't the best idea. On days when comfort is going to be your best friend, the perfect pair of sweatpants is fine for long days doing lawn work, remote work, cleaning the house, running errands, etc. Otherwise, pick another pair to put up with for a day or two.
After all, every pair of pants deserves some love. Don't let the nice pair of jeans you splurged on lay forgotten in the back of your closet.
How Should Sweatpants Fit
There's no right or wrong when it comes to how your sweatpants should fit. It all depends on how you want to look. The baggy fit is perfect for a day inside or when you're running late to class.
If you want to look a little nicer on your casual sweats day, a pair of slimmer athletic sweatpants are what you want. And for a little extra pizazz, skip the gray sweats.
Once you've found your perfect fit, style them with some sneakers and you'll be good to go!
Final Thoughts

Sweatpants can be tricky to navigate in the fashion world, but now that you know the ins and outs of how and where to wear them, you can go out in your sweatpants without worrying.
Who said comfort and confidence can't go hand in hand?