This post contains affiliate links, so we may receive a small commission on any purchases through these links. See
Our Affiliate Policy
for more info.
Last Updated: December 12, 2022
When it actually comes to choosing the very best material for our hardside luggage, it's actually tricky. How many people are actually aware of what their hard suitcases are made out of? How many of them actually bother to find out and then choose wisely?
Most travelers pick their suitcases based on a few common traits. These could be the carrying capacity, the design of the luggage, and how easy it would be to actually carry it around. Who's going around saying that they need a hard case that's been made out of a particular material? Barely anyone.
So now, let's have a look at that. It's important to know about the best hard case luggage materials because the next time you are making a purchase, you will have some extra information. Whoever you buy it from won't be aware that you know this stuff. This will let you get a good deal and pick out a good product.
Best Material for Your Hard Case Luggage
1. Aluminum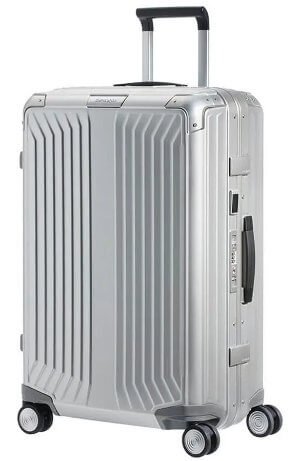 Using aluminum as the material for hard case luggage is a practice that has been around for a long time now. They also tend to be the most expensive pieces of luggage. So if you're looking to pick up an aluminum suitcase, be ready to shell out a little extra money than normal.
There is a luggage maker known as Rimowa. They are specialized in Aluminium luggage that you can have a look at. Mind you, the prices are a little steep.
Aluminum works well to protect the things you have inside your suitcase. It's hard, robust, and can't be broken into or tampered with easily. It's considered a premium choice when it comes to the best luggage material.
It can withstand very high-temperature conditions and is waterproof as well. So you can be assured that your possessions are safe.
On the flip side, Aluminium can get scratched and roughed up on the outside a lot. This can give a very worn outlook. They also tend to be a lot heavier than other luggage materials.
You can get similar protection at cheaper rates. However, aluminum luggage has a stylish look. People get it for the way it looks more than anything else.
2. Polycarbonate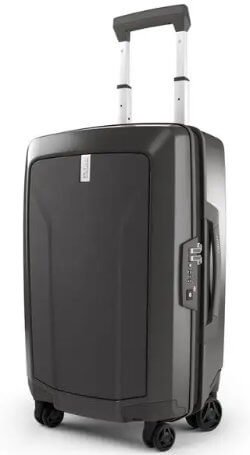 This material is a kind of thermoplastic polymers that are molded for the purpose of creating hardcovers. These cost a lot less than aluminum but still offer very good protection.
The greatest thing about this material is its uncanny ability to preserve itself after damage. It's claimed that many have tried to use hammers, pipes, and even shotguns to try and damage it. To no avail.
The reason it is able to be, so damage resistant is thanks to its flexibility. Whenever any damage is inflicted on the material, it is able to flex itself in a way to absorb the blow. Then it comes right back to normal immediately.
You could drop your luggage from a great height or even have something heavy fall on it. Your possessions and your suitcase are going to be just fine. Any dent you find on it can just be pushed right back out.
Another thing about polycarbonate, it's very light. They aren't heavy suitcases that you need help lugging around. They are also very resistant to scratches and other such damage. They come with in-built UV protection, so you can expect the color of the luggage to remain vibrant for a long time.
They come in a large variety of colors and designs, so you have a wide range of options to choose from. In short, polycarbonate is an excellent material for your hard case luggage.
3. Polypropylene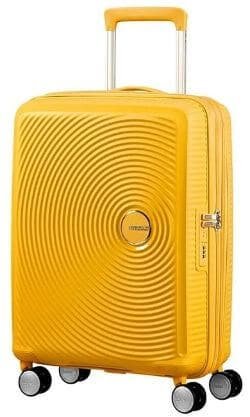 Polypropylene, also known as polypropene, is another kind of thermoplastic polymer. These are the lightest variants among all the thermoplastics.
Weight is never going to be an issue when it comes to polypropene suitcases. It's basically made out of an oil-based structure. They are light, flexible, and easy to handle.
The thing about polypropylene hard cases is that they are very flexible, but not as much as polycarbonate products. Nowadays, you will find a lot of luggage made out of this very material as they offer convenience to the users.
If you're looking for lightweight luggage that can offer you a reasonable amount of protection for your possessions, polypropylene is ideal for you. However, if you are expecting a lot of damage, this may not be the way to go.
4. Acrylonitrile Butadiene Styrene or ABS
ABS is the lowest priced material that you can find in the market for your hardside luggage. It is created by the combination of the three elements in its name: Acrylonitrile, Butadiene, and Styrene.
It isn't costly to manufacture, so you can find it being used as the material to make a lot of lower-priced hard case suitcases. When you look at the bigger and more well-known luggage brands, you won't find them using ABS for their products.
It isn't a very strong material. It has been known to be prone to damages and cracks while in use. While traveling, if you plan to check your baggage in on a flight, its better you don't use an ABS suitcase. You can use them as hand baggage or for less strenuous purposes.
If you are planning to travel a lot and are looking for a very good, durable option that protects your luggage, ABS isn't a very good choice.
Conclusion
These are the four best and most commonly used materials while manufacturing hard case luggage. You can see that some of them may not be the right choice for you. Always ensure that you pick a very strong piece of luggage. While you travel, you may not always be the only one to handle it.
For example, baggage handlers at airports can be very rough with their process. So it's always best to be safe by choosing luggage made out of a material that's tough and highly damage-resistant. I hope this article helps you when you buy your next suitcase.