This post contains affiliate links, so we may receive a small commission on any purchases through these links. See
Our Affiliate Policy
for more info.
Last Updated: April 27, 2022
Luggage tags may seem like unnecessary small accessories, but they're of utmost importance when it comes to securing your luggage and making it easy to identify in case it gets misplaced.
Your luggage tags should include your basic information such as your full name, contact number, and email address. You want to make sure your luggage tag contains enough information for the airlines to identify that it belongs to you in case of a misplacement.
Read on to find more detail on what you should and shouldn't add on your luggage tags, what to write on tags for children's luggage, what type should you buy, and so on.
What to Put On a Luggage Tag for Checked and Carry-on Luggage?
For both checked and carry-on luggage, you should add the following information on the luggage tags:
1. Name
Make sure to add your full name on the luggage tag with the correct spellings as written on your airline ticket. If you're travelling within a group, such as with family, and have multiple suitcases, you can add the name of one family member on all of the respective tags.
2. Contact Number
Add your contact phone number with the country code on all your luggage tags. It's a good practice to add a secondary number of a trusted friend or relative, in case you're travelling to an area where there would be limited cellphone access.
3. Email Address
You can also add the email address for an alternative way for the airlines to contact you in case they can't reach you through your cell number.
4. Hotel and Destination Phone Number
For an added layer of security, it is recommended that you add the hotel or destination contact number as well. This is also particularly helpful if you end up forgetting your luggage at the hotel or destination and want to leave them with something to help you retrieve it.
5. Picture
You can add a picture of yourself and of your fellow travelers on the respective luggage tags. If any member of the group is separated, it will be easy to identify them from afar through the picture.
What Should I Put on Luggage Tags for Children's Luggage?
Avoid writing the name of the child on the luggage tag, as you want to keep the child's identity protected for security reasons. Write your own name and contact details instead so the airlines can reach out to the parent in case the child or the luggage gets lost.
If your kid's luggage includes multiple bags, attach tags to each and every one of them for an added layer of security.
What Not to Put on Luggage Tags?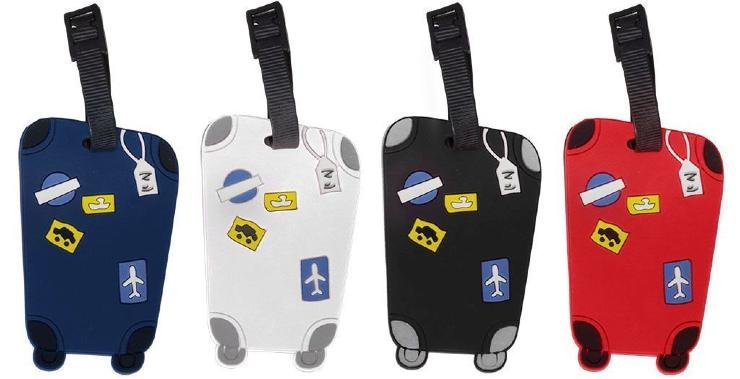 As a general rule of thumb, you want to make sure you're not adding extremely personal information that may lead to security risks in case your luggage gets stolen or misplaced. It is recommended that you do not add the following information:
Home Address
If your luggage gets stolen, and the luggage tags mention your home address, it will be very easy for the thieves to track down your location and break into your house – which isn't something you'd want. You can add an office address, however, if you really want to add one.
A Friend's or Relative's Address
It's okay to add the contact number of a friend or relative, but similar to how risky it is adding your own home address, avoid mentioning the address of a friend or relative.
Home Telephone Number
Always add your cell number on the luggage tag – avoid home phone numbers as they can be reverse searched by potential thieves, making it easy for them to locate your home address.
Where to Attach Luggage Tags?
You should attach your luggage tags both on the exterior and interior of the suitcase, for double-layered protection. If the tag on the exterior somehow tears apart or comes off, there will still be one on the inside to keep your bag identifiable for the airlines.
Attaching to the Exterior
The best areas for attaching a tag to the exterior of the luggage is the lock (if it has one) or the top or side handles. Some suitcase designs have luggage tag holders included, which makes it easier to attach it in a way that's durable and secure – you could consider investing in a suitcase like that.
Attaching to the Interior
When it comes to the interior, make sure you attach the luggage tag at a place where it will be visually prominent, such as the zippered mesh pocket. It will remain safe in there and will be more noticeable for the airlines in case the luggage gets lost or misplaced.
What Type of Luggage Tags Should You Get?
While shopping for luggage tags, there are mainly two things you might want to consider:
In case you forgot to get a luggage tag on the way to the airport, you can get some for free at the check-in desks. However, note that these aren't usually that durable as they're made from cheap and regular cardboard.
If you're going on multiple and long flights, you might want something more durable such a luggage tag made of leather or plastic. There are even metal luggage tags available in the market, which are very functional as they don't have any risk of being squished or deformed.
You can also consider smart tags or luggage trackers to add to your suitcase, so that you know where it is at all times.
Form follows function. You should consider the durability and functionality first, but apart from that, you may also want to consider the aesthetics. Choose something that will accentuate the character and personality of your suitcase and add some extra oomph to it.
Do You Have to Use Luggage Tags?
You don't have to use luggage tags of course, but it's always better to be safe than sorry. they prove to be of great help if, under any unforeseen circumstances, your luggage gets stolen, lost or misplaced.