This post contains affiliate links, so we may receive a small commission on any purchases through these links. See
Our Affiliate Policy
for more info.
Last Updated: September 24, 2021
Whether it is a hike, a flight, or water adventures, duffel bags are your best friends if you love to travel. They are light, convenient, and less demanding than traditional suitcases. These dry bags are made out of fabric that is either natural or synthetic and are usually available in different sizes and storage capacities.
Waterproof duffel bags are the easiest way to keep your gear dry. A waterproof backpack can keep your belongings safe when you travel long distances and in changing weathers. Some are also multipurpose and can be used as gym or sport bags.
Before considering any of them, you have to know the difference between a water-resistant duffel bag and a waterproof one. Although both of them are very effective and capable of keeping your luggage dry, there is a major difference between the two. Water-resistant bags can save your stuff in rainy conditions, however, if there is a possibility of dropping the bag in the water, the waterproof duffel bag is your only safe choice.
There are multitude styles, designs, and sizes of duffel bags available, lets look at some of the best options for you in the waterproof category.
Best Waterproof Duffel Bags – Top 10 Picks

Skog Å Kust is your best bet when it comes to waterproof duffel bags. It has extra large room for all your big and small items and features a roll top closure making it completely waterproof. The backpack straps can be adjusted in 3 different ways.
This waterproof duffel bag also comes in various color and size options (40, 60, and 90 liter storage available). The company also guarantees a full refund within 90 days of purchase, if you are unsatisfied. In the list of best waterproof duffel bags this one will be your safest option when thinking of buying one that will last you a lifetime.
PROS
Roll down top that rolls 3 to 4 times before you can clip it shut
500d pvc and watertight welded seams of high frequency
2 inner and 2 outer zippered pockets
3 ways to carry it: carry handles, wear it with shoulder strap, attach to luggage
IPX-6 waterproof protection
Padded velcro grip
Outer pockets lined by reflective trim
Transparent window for your ID
CONS
Even though your gear will stay dry, accessing it will take longer
Cor Surf waterproof duffel bag keeps your belongings safe and dry in water, rain, snow, or even hail. It is both dirt and waterproof. This duffle bag is not just completely waterproof but is also extremely versatile. It has padded and detachable shoulder strap which makes it not just your ideal travel duffel bag, but can also very easy be used as your gym bag.
Thanks to its webbing straps this bag can also be attached to your vehicles (boats, kayaks, and more). It is also extra large with 60 liter storage space, which measures 24 inches (length) x 2.1 inches (width) x 14.2 inches (height). It is available in 2 colors (green and black).
It has one pocket with zipper closure on the interior and one on the exterior. The interior pocket is for small items and the exterior pocket is for items you require faster access to.
PROS
Sonically welded seams keeping your stuff dry
Compression straps on both the ends
Velcro handles making it easy carry
Webbing straps and D-rings
Multipurpose due to its adjustable and padded straps
User friendly design
CONS
Can't be worn as a backpack
The Gonex is made of PVC which is highly durable and makes it fully waterproof. Designed with a lot of thought this bag has a great design. It has sturdy straps and haul handles making it easy to carry the bag. It has outlets to hold your ski items (gloves, helmet) or even your wet clothes. The adjustable straps let you carry the bag in different ways.
The dry bag is available in multiple colors. The two storage capacity options are 60 and 80 liters.
This waterproof duffle bag is not just convenient for water sports but is also great for outdoor activities. If you are looking to invest in something sleek, long lasting, and multipurpose this backpack should be your way to go.
PROS
Made of durable fabric
Multipurpose and convenient
Rolling top closure making it 100% waterproof
Adjustable shoulder straps
Transparent card compartment for identity purposes
CONS
Only one main compartment
Earth Pak's waterproof duffel bag is one the most durable ones on this list. Meant to last you many years, this bag has watertight protection and thermo welded seams. It has one major compartment and two mesh pockets on the inside.
Meant to keep your belongings safe and dry this bag is also collapsible and expandable depending on storage requirements.
The Earth Pak is available in 3 different colors and 2 different sizes of 50 and 70 liters. It has anchor points which help the bag attach to boat, kayaks, or rafts. If you are planning on some extreme water adventures this bag should be your choice.
PROS
Roll top closure
Adjustable and removable shoulder straps
Nylon zipp pockets
1000D PVC MOLLE System on both sides
2 mesh pockets for extra storage
Reflectors on side panels
4 D-rings
CONS
The strap stitching can be a concern
The Arxus waterproof duffel bag is made of durable and tear resistant fabric. It is lightweight and easy to carry. This duffel bag is only available in one size but can be folded and unfolded according to your requirements. Upon unfolding it can carry up to 25 liters of your gear. The folded dimensions of the bag are 7 x 7 x 1.5in / 18 x 17 x 4.5cm. The unfolded dimensions are 18 x 12 x 6in / 45.5 x 30 x 15cm.
It is a available in different colors and can also be used for many different purposes.
Due to its detachable straps it can be carried in a variety of ways. It has 2 zippered pockets and 3 mesh pockets. It is convenient, portable, and multipurpose. Due to its design the Arxus waterproof duffel is also a great choice for your flights and can be used for travelling, camping, road trips, and more. It can also be used by both men and women.
PROS
Portable & convenient
Lightweight, it only weights 0.75lbs or 0.34kg
Made of durable oxford fabric
Foldable and adjustable design
Unisex and multipurpose
CONS
Very wrinkly
Available in only one size
No welded seams
Navis Marine's duffel bag is durable yet versatile. Thanks to its padded straps this bag can be worn in 3 different ways. It can be used for flights, water activities and short trips. This waterproof bag is convenient and multipurpose. It has one exterior pocket and one main compartment. It also contains separate compartments for you to store both your dry and wet clothes without any hassle.
Available in different storage capacities of 30 liters, 40 liters, 50 liters,60 liters, and 70 liters. This backpack made of 100% Nylon Oxford comes in just one color. This product is an ideal pick if you are looking to invest in a bag that can be used at different occasions.
PROS
Made of highly durable Nylon Oxford fabric
Bag can be carried in 3 different ways
Separate compartments for clean and wet/dirty clothes
Large top entry
Adjustable shoulder strap
CONS
Top pockets don't have good weather-resistant zippers
Not many pockets
The Element Equipment Trailhead is another great waterproof duffel bag to consider. It has side handles on all four sides and shoulder strap that can be removed and adjusted. Altogether it has four pockets. One of the pockets is weather-resistant due to its D-zipper flag. The other 3 pockets are present internally.
PROS
4 side handles
Available in 3 different sizes: 30, 50, and 85 liters
Removable padded shoulder strap
CONS
Might not protect your gear from water entirely
If you love night adventures this backpack duffel is made for you. With highly visible pvc and emergency whistle buckle your travel won't stop even at night. Not only the Overboard Pro Visis is completely waterproof due to its Fold Seal System, it also has high frequency welded seams and 60 liter capacity.
This bag is not only waterproof but will also keep your gear protected from sand and dirt. Capable to resist any season it has 4 D-rings making it easier to attach items to it. With pvc that helps it float in water, this bag is also a perfect pick if you are into water sports. When you pick this one you pick both durability and safety.
PROS
Fold Seal system keeps everything in the bag 100% waterproof
Highly visible pvc tarpaulin
Can float in water
Large dry/ wet main compartment
High frequency welded seams
4 D-rings for attachment purposes
Internal mesh pocket
CONS
Available in only one, large size
Clasps to connect the strap can't easily be attached as they are too small for the attachment hook
The NRS DriDuffel Bag comes in 2 colors. Its zippered compartments and durable design keeps your gear dry and safe. This bag is built to survive rough terrains making it abrasion resistant. It has one main compartment and webbing chains to attach other items to the bag. Aluminium fasteners and TIZIP MasterSeal zippers make this duffel completely water-resistant. It also has a removable shoulder strap and carry handles.
Available in 3 different storage capacities of 35 liters, 70 liters, 105 liters. It should be your pick if you are the hardiest adventurer.
PROS
Removable shoulder straps
Aluminium fasteners and TIZIP MasterSeal zippers
Webbing chains
CONS
Not many pockets available
Made of 420D honeycomb polyester the BB Bags&Backpacks' duffel bag is a multipurpose and sturdy one indeed. This unisex bag can be used to carry all your travel, gym, and sports gear. It is lightweight and has plenty of space to keep your belongings. This bag also has many pockets for efficient storage and is extremely durable due to its high-quality fabric and solid YKK zippers.
The straps are also very carefully thought out. The bag has 3 zipp pockets altogether to keep everything inside dry and safe. The bag also has separate compartments for your shoes and smaller items.
When empty it can also be folded to a very small size of 11.8 x 12.6 inches., which makes a great extra bag for your next trip. It unfolds to 11x15x27 inches with storage capacity of 80 Liters.
PROS
Made of 420D honeycomb polyester
Separate shoe compartment
27inch expandable and foldable space
Padded shoulder and straps for hand carry
Multipurpose and convenient
CONS
Not many pockets available
Few Specifications to Consider With Duffel Bags
A duffel bag can last you a lifetime only if you purchase the right one. That is why we will break down things that are important to consider before you pick any waterproof duffle bags.
Size and Capacity
Most of the duffle bags come in various sizes which can hold different amount of capacities. It is essential to know your travel conditions and requirements to know which product to pick. Average duffle bags have a storage of 25-50 liters which can work perfectly fine for weekend getaways or short trips. These bags are also better suited if you will travel by airplane and can then be replaced with your traditional carry ons. However, you need to make sure that you don't exceed airline's specified carry on weight which will lead to excess baggage fees.
However, if you are travelling for a longer period of time, maybe taking a road trip or adventuring through woods and water a larger duffel bag, up to 70 liters, will be much better suited.
Material
The material plays an important role in deciding its longevity. Duffel bags are available in a variety of materials like Nylon, Oxford fabric, or other polyesters. A good duffel bag is both durable and light. It is important that the material is strong enough to withstand harsh weather conditions and keep your gear dry at all times. The material should also keep your items safe inside.
Carry Options
A multipurpose duffle bag will present you with various ways it can be carried depending on the situation. It should be convenient and easy to carry. The deciding factor for your choice of carry options should be how long will you be carrying it for.
A duffle bag with webbing straps would be a great option if you love and enjoy water related activities. If you are more of a conventional traveller (with frequent flights) a duffle bag with rolling wheels or one that can slide on your luggage handle or has easy carry handles should be your pick. If you are someone who is purchasing this bag for a multitude of reasons, rather than just one, backpack straps that are adjustable and removable should be your way to go.
Weight
Since weight is not only an issue at the airport but also causes inconvenience while travelling long distances, it is important that your bag isn't heavy on its own. Wheeled duffel bags usually weigh more than non-wheeled ones. Having a bag that is light as a feather before you start filling it should be your ideal pick.
Pockets and Compartments
Packing is not always easy. It gets hard deciding what to keep and what you can easily do without. It is also difficult to pick which item goes where if your bag doesn't have proper compartments. Thus, an optimum number of pockets and compartments is a more convenient bet in such a situation. Having proper compartments helps you pack and unpack faster.
Having proper pockets and compartments not only makes your item sorting and access easy but you can also have the right space for each of your belonging. If you are going to travel somewhere without any access to clean your clothes it is essential to have a separate compartment for your used or wet clothes. If you travel with your electronics or other important documents (like passport) a bag that has smaller and safer compartments will be your necessity. Thus, selecting a bag according to your travel requirements should be your priority and which will help make your experience smoother.
Water Resistance
If you travel in changing weather conditions or regularly indulge in water sports it is important to invest in a good waterproof duffel bag. These bags keep your gear safe and protect it from harsh weathers.
It is important to know that water resistant doesn't mean that the bag is fully waterproof. That is why your choice of bag should depend on how extreme the rain, weather, and water conditions are going to be around you. A water resistant bag might help you keep your stuff dry only if you are travelling and exploring on dry land with not a lot of water interaction around. But, if you are someone who is especially fond of water a water resistant bag just won't be enough, only a 100% waterproof one will fulfil your requirements.
Another thing to keep in mind while purchasing a waterproof duffel should be that bags with zippers usually are water-resistant only and don't help keeping your belongings completely dry. Thus, if waterproof bags are what you are aiming for, your choice should be one that has a roll-top closure instead with multiple rolls to ensure complete safety of your belongings.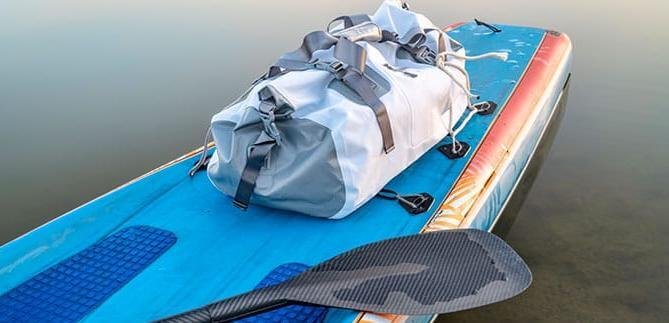 Frequently Asked Questions
Are there any size requirements for duffel bags that can be carried in an airplane?
Like any other luggage item, these bags too have a certain amount of weight allowed after which you'll have to pay excess baggage fees. That is why it is important to make sure that your duffel bag doesn't weigh a lot on its own making it harder and inconvenient for you to travel. The luggage weight is usually specified by the airline you are traveling by.
What are the most important features in these bags?
The compartments, size, weight, and the material of which the bag is made of are some of the key features. You should select your backpack keeping in mind your travel requirements and the features that align and will facilitate to make your travel easier and smoother.
Is duffel bag counted as a carry on?
Yes, depending on the size specifications of the airline's carry on bag it can very much be used as a carry on during conventional travels.
Are duffel bags or suitcases better for travelling?
Even though it depends on your duration and destination of the trip. Duffle bags are still a very smart option to choose for your next trip. They are lightweight, adjustable, and have many pockets. They are also easy to carry and can be carried in multiple ways. These bags, thanks to their highly resistant and durable material, are also a safer alternative for your gear than your traditional suitcases. If you invest in the right bag it can really last you a lifetime.
Difference between waterproof and water resistant?
These two terms sometimes confuse users, that is why is important to understand that waterproof and water resistant do not mean the same thing. A waterproof duffel protects your gear from water 100%, however a water resistant bag doesn't promise that. A top waterproof duffel bag is fully protected from water but a water resistant duffel may render your gear damp if met with heavy rain.
Final Thoughts
Choosing a duffel bag in line with your travel needs and requirements is very important. They are an excellent solution if you ever caught yourself in a heavy rain. You never know when situations like that occur and you can always count on waterproof duffels.
With so many options available you really have a variety of specifications available. Skog Å Kust's waterproof bag in many cases fulfils all the requirements. Make your choice and get ready to explore and travel with your new bag.