This post contains affiliate links, so we may receive a small commission on any purchases through these links. See
Our Affiliate Policy
for more info.
Last Updated: November 16, 2021
Are you someone who enjoys trekking, camping, and hiking most weekends? Whether you are planning an adventure on the range or a few day's trips in the city, getting a military backpack comes in handy.
Military backpacks are becoming popular these days due to their functionality and army design benefits. They are ideal choices for military veterans, outdoor enthusiasts, survivalists, and emergency crews who need adequate space to organize their stuff. Such individuals are always on the lookout for durable backpacks that can withstand heavy-duty usage.
Designed with all the convenient features, we have come up with a list of some of the best military backpacks in the market.
Best Military Backpack – Top 10 Review
If you happen to be someone who loves outdoor adventures, a military tactical backpack is a must-have. With a holding capacity of 40 liters, Reebow Gear army pack is a sizable military style bag.
With plenty of room, it has adequate space to store all your essentials, such as cookware, first aid kit, clothes, stove, etc., to go on a three-day trip. Made using high-density fiber, the zippers are heavy-duty and double stitched to withstand rough handling. It features a molle webbing that's sturdy enough to attach additional pouches and tactical gear.
PROS
High durability
MOLLE system with webbing that would enable you to attach more pouches
Water-resistant
Shoulder straps are designed with thick padding and are unlikely to be slipping off or to pinch under heavyweight
CONS
Waist strap is not suitable for plus-sized users and can come off easily
It emits an unpleasant smell that gradually fades though
For added comfort, this affordable yet functional backpack comes with padded straps on the back and lower back areas. With adequate ventilation, it prevents moisture absorption and expels odors.
Whether you happen to be on patrol duty or work as a first responder, 5.11 Tactical Rush 24 is best suited for any rescue operation. Made using highly durable 1050D Nylon fabric, it is resistant to water and can withstand harsh use.
The molle webbing and the self-repairing YKK zippers are unique features of this bag. The backpack is equipped with two external compression straps, a contoured yoke shoulder strap, and an adjustable sternum strap.
It has a spacious main storage area, 29 individual compartments on the inside and outside, a hydration pocket, and a sunglass pouch compartment. The padded laptop compartment is ideal for those who carry laptops to work daily.
PROS
Removable metal rod for support and hard plastic backing
Water-resistant
Equipped with adjustable straps
Highly customizable
CONS
No bottom padding
No waist strap
Slightly heavy
The bag can hold all your equipment and gears up to 37 liters. It is perfect for travel, hiking, hunting, and everyday use. It is comfortable to carry, it is organized and has a lot of compartments. You can also connect a tent to the bottom of the bag through a strap.
Are you in need of a survival backpack that can carry a generous capacity? EMDMAK has a large 42-liter capacity that can store all your belongings for a three-day trip.
This backpack offers great durability and features high-density nylon and double-stitched 900D Oxford fabric. The large main compartment consists of an elastic strap to securely hold laptops or other gadgets that can get damaged while moving around.
Apart from that, each compartment contains a zipper pocket or mesh pocket to arrange your small stuff properly. The Y strap on the top allows you to hold more things, and the straps at the bottom are mostly used for carrying your sleeping pad and tent.
PROS
Durable
Water-resistant
Adjustable strap system
Double zipper closures
CONS
Buckles tend to break easily
With all the features this military backpack has to offer, it is a great value for money. Additionally, it comes with a decent amount of MOLLE webbing on the sides, bottom, and front areas.
This huge capacity bug-out rucksack from GZ XINXING is designed to carry all your equipment and personal belongings for your three-day adventure. It consists of high-density, durable fabric that is water-resistant and double stitched.
The backpack features a front and sideload compression system, padded and ventilated mesh in the shoulder and back strap to use with comfort. The Y-strap at the top allows you to carry your sleeping mat or gear comfortably. It also has two main compartments with multiple pockets and a hydration pocket to easily hold a 2.5 L water bottle while on the go.
PROS
Removable straps
Heavy-duty reliable zippers
Great value
In addition to functioning as a three-day army backpack, it also works great as a trekking backpack, or as a bag for your daily needs. Since it comes with a rain cover, you don't need to worry about taking this rucksack with you on a rainy day.
While trekking or camping in the woods, no one wishes to fall short of the essential requirements. Using the adjustable retention straps on the 24BattlePack, you can further expand the carrying capacity from 20l to 40 L.
Made with only high-quality fabrics, the bag has a main accessory compartment and padded laptop pocket with hanging clips to keep your gadgets safe. Being completely waterproof, it features an insulated hydration bladder compartment to carry your water holsters. The built-in velcro concealed carry holster enhances its versatility for outdoor survival trips.
PROS
Waterproof material
Heavy-duty zippers
Cross-compatible for most accessories
One-year warranty
CONS
Straps are not long enough for some users
The holster isn't big enough
This tactical backpack has the capacity to carry 100 pounds of equipment and outdoor gear. The double-stitched seams, along with the molle straps, make it a durable choice for everyday use.
Anyone who has a tight schedule throughout the week, but enjoys going for a hike or adventure trips during the weekend, must opt for this backpack. The Hannibal assault pack is a great partner to store your essentials while on a three-day trip.
It consists of a water-resistant and durable high-density fabric that allows you to carry a hydration holder easily. It features two small sleeves at the front, two main compartments, and a smaller pocket at the back. Each compartment has two zippered pulls along with a buckle and Y straps to secure your gear.
PROS
Padded shoulder straps
Comes with the USA flag patch
Multifunctional purpose
2 years warranty
CONS
Shoulder strap stitches tend to become loose over time
Attachment sleeves are quite small
The rugged and sturdy performance makes it a great choice for a short yet adventurous weekend trip. This backpack has adequate space to carry all the important items you need while on the go.
Though it leans to the smaller end, the Maxpedition Falcon-II Backpack offers sufficient space to pack your things smartly. The military-grade nylon webbing on the modular attachment points, straps, and handles gives it incredible durability. The presence of genuine duraflex hardware and buckles increases the functionality and sturdiness of the bag.
Built with high-quality 1050-Denier nylon, it offers adequate protection against hail, sun's heat, and wind. Apart from this, the three waterproof layers of polyurethane and DuPont's Teflon fabric protector allows you to keep your equipment and gadgets dry and safe.
PROS
High quality fabric
Layered compartments
Lot of pockets and pouches
Expandable and compact
CONS
Too many straps hanging without a way to keep them tied down
No side pockets for bottles
This backpack is ideal for individuals from all walks of life. Being a versatile and tough option, it is the perfect choice to take along as you go trekking in the woods.
This is one of the best functional army rucksacks that is perfect for hunting, survival, hiking, bug-out, camping etc. It offers you multiple and organised storage compartments and is well designed to be user friendly.
Being able to accommodate around 43L of necessary equipment, it is one of the best bags in the market. Made using high-density fabric material and double stitches, it's built to last for long and serves multiple purposes.
It features two large compartments and two small sleeves to organize your stuff well. When it comes to the survival accessories, it incorporates a rain cover, hydration tube clip, and an integrated hydration bladder with a 2.5 L capacity.
PROS
Versatile and functional
Multiple connection points
Stable strap system
Budget-friendly
CONS
MOLLE webbing not adequately spaced to weave accessories properly
Too many small pockets that end up being unutilized
Waist straps do not hold firm
Being able to survive 72 hours in the woods is different from planning a trip to the city. Due to its modern and sturdy design, this backpack allows you to survive well in both conditions. When it comes to pricing, this is one of the most affordable military rucksacks.
Being one of the most reliable backpacks, the Tru Salute is designed to carry heavy weight in large volume. With a huge main storage compartment, you need not to worry about carrying sufficient content needed to go on a 3 day trip.
Built with a Molle webbing storage system, it features five main compartments with sturdy zippers. The padded mesh area at the back and contoured yoke shoulder strap comfortably spread the weight evenly over your body. In addition to that, the military combat design helps you to maneuver rapidly and enables a full range of motion in any environment.
PROS
Waterproof
Huge capacity
Best suited for dangerous environments
Reliable and sturdy
CONS
Sometimes its hard to lock the zippers
Lacks key leash
Being strategically engineered, this advanced bag is perfect for camping, hiking, survival preparations, and even as a daily backpack. The reinforced quick grab handle makes it easy to carry this pack around.
If you happen to be searching for a multipurpose backpack that is not so huge to take along for a short trip, the WolfWarriorX one is the optimal choice.
Having a capacity of 30L, you can easily store all your necessary essentials for a 3-day outdoor trip. In addition to the expandable main area, it has two sleeves for smaller accessories and a padded compartment for electronic gadgets.
CONS
Too narrow and getting items out of is difficult
Limited webbed molle features
This backpack is also great for hiking or camping. It is big enough to carry the camping essentials you will need for 2-3 days.
What to Look For in Military Backpacks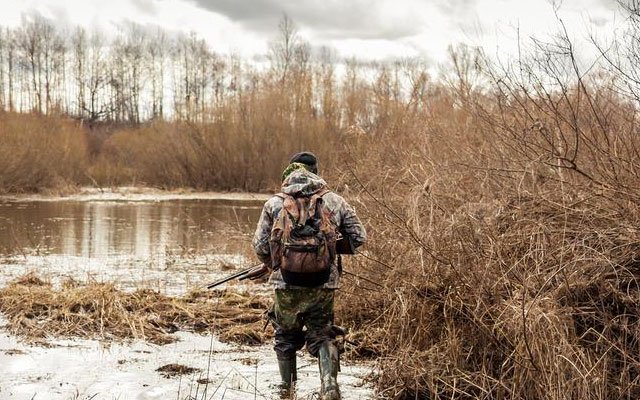 Packed with numerous features, tactical military backpacks are a must-have if you happen to be an outdoor enthusiast. Here are some of the features you need to consider before you make the final decision.
Materials Used
Based on the backpack's material, you'll be able to figure out if it is a quality choice or not. Available in different materials, you need to choose a backpack that can withstand heavy-duty use even in rough weather conditions.
The most common material used in high-quality backpacks is ballistic nylon. This fabric is known for its high tensile strength, water resistance, aberration resistance, durability, and sturdiness. For nylon backpacks to be marked ballistic, it needs to be manufactured with specific military standards to withstand the tough battlefield use.
As nylon comes in various denier values, or for ones that have a higher value above 500. The higher the denier value, the more durable and studied the material will be.
Storage Capacity
Military tactical backpacks have more storage capacity than normal backpacks. With more internal pouches and dividers, you can organize your items well without worrying about where you kept them or piling them in a disorganized manner.
When it comes to the boxed designs, you get to utilize the space more efficiently. Based on how long you'll be out with the backpack, the amount of l storage capacity differs. For instance, a bag with 30 to 45 L holding capacity would be more than enough to keep going for a three-day long trip. For light campers, a tactical bag of 10 to 15 L is more than enough to carry your clothes, snacks, and electronics as well.
Weight
In most cases, weight is the factor that is more often overlooked while purchasing military backpacks. These bags are generally heavier than normal due to the number of compartments, storage volume, and construction materials used. Though these are essential features you need, you will also come across lightweight options that are sturdy and offer adequate functionalities.
FAQs
What is a Military Tactical Backpack?
They are high-performance backpacks best suited for emergency services, military personnel, outdoor trekking and hiking, and first responders. Due to its ability to maneuver easily even during a rapid movement, great durability, and flexibility, along with the numerous sleeves, it makes it easy to access the necessities quickly. The polymer D-rings for carabiner attachment and concealed carry handgun holster make it the best choice for security officials.
Are Military Backpacks The Same As A Standard Hiking Backpack?
Military backpacks are extremely durable, more versatile with enough packable features than a standard hiking backpack. These tactical backpacks also come with numerous compartments, where you can attach multiple items on the outside using clips or straps. This makes it easier for campers to have all the necessary items on short or long trips.
How Can You Pack A Military Backpack Efficiently?
When using a Tactical backpack, make sure to fill the bottom area with heavier items you need for setting up the camp. In the midsection, you can pack it with additional food and items that you need for your campsite.
Most modern backpacks come with padded main compartments with strings attached to securely place your laptop and other gadgets to avoid it from moving around. At the top part, you can keep all your regular items for easy accessibility. Lastly, fill up the outer sleeves with quick access necessities like flashlights, a first aid kit, multi-tools, knives, water bottles.
Conclusion
Choosing the best military backpack is a personal choice. It works wonders in adding comfort to your travel, whether in the woods or at the mountain range. If you plan to go trekking through the trail, we recommend the REEBOW GEAR Military Tactical Backpack as our best choice.
It can hold everything you need for a three-day trip up to 40 liters using high-quality materials. The outer fabric can hold against most elements and is resistant to water and stains. It serves multiple purposes and works great as a military or regular backpack, hunting, range and even a survival bag.
Go ahead and pick the one you want, based on your personal choice. We assure you will be happy with the choice you make.