This post contains affiliate links, so we may receive a small commission on any purchases through these links. See
Our Affiliate Policy
for more info.
Last Updated: October 18, 2021
Leather messenger bags are a stylish way of carrying your gear. These bags never really go out of style. Whether you have to travel or attend a business meeting, a good leather messenger bag will keep your laptop and essentials safe. Thanks to the material they are made of, these bags aren't just a great accessory to have but are also very resistant and long-lasting.
With classic leather messenger bags, you can pick any style. You can wear these bags cross-body or hold them like a briefcase. Not only this, they keep your gear secure.
The name was drawn from the purpose of the bag as it was used to carry postal messages and letters. They were formerly called satchels, courier bags and carryalls. They were first worn by pony express staff and bike couriers. In 1984 John Peters produced a classic messenger made from nylon instead of canvas and added buckles to it. This development made the messenger bag to move from the courier business in to the fashion world.
Types of Leather Messenger Bags
Satchel: designed with two vertical straps for buckles to close the bags.
Saddle bag: designed for horse riders that's why it's called saddle bag. It makes it easy to ride a horse without bothering about the bag falling. It is characterized by round front flaps and can endure high amount of wear and tear. It can be used for long journeys.
Multi – pocket bag: a multi – purpose bag designed to help utility workers and site workers carry their tools without stress. It consists of several pockets so as to enable it carry multiple items. It is the kind of bag hunters and fishermen love using. Numerous outer pockets keep small tools at easy reach.
Camera bag: as the name implies, it's designed specifically for cameras and it also has a similar design as the multi pocket bag to help easy organization of your stuff. It comes with designed slots for keeping cables, lenses, batteries and all camera gadget.
Vertical messenger bag: It normally has its height much bigger than the width.
Brief case: normally made of leather and designed in style of a brief case. They have front flaps and 2 or more buckles for closure.
Military bag: the military messenger bag was inspired by actual bags that men wear when serving in the military. As a stylistic design, they're often characterized by military fonts. They are normally made of canvas, stylized with leather elements. They're usually green, and extremely rugged. These bags are great for taking items to the gym or traveling long distance journeys.
10 Best Leather Messenger Bags For Men Reviewed
Messenger bags for men come in many styles. Let's look at some of the top picks for the best leather messenger bags.
The Kenneth Cole Reaction Risky Business bag is made of full-grain leather, which makes it extremely durable. This messenger bag is a luxurious classic item that only gets better with each use. The interior of this bag is tear-resistant, which makes it long-lasting and suitable for daily use. The flap of this bag has a double magnetic closure.
It is slim but can still fit all of your important gear. The main compartment of this messenger bag has a zipper closure. This compartment is roomy and can easily fit all your work or business belongings, like your laptop or tablet up to 15.6″. The strap of this full-grain leather bag is adjustable and extends to 60 inches; it also features a padded part that makes it easier to carry for a long time. This bag also has a top handle, which drops up to 3 inches.
These bags are made of 100% full grain Columbian leather without substitute or split leather. And, that is why all of these leather messenger bags have some differences or uniqueness to them. You can purchase these messenger bags in black, cognac, or dark brown. They are available in our 15″ L x 11″ H x 3″ D, weighing 2.2 lbs. Because of their durability, design, and comfort, these Kenneth Cole messenger bags are both practical and stylish.
PROS
Adjustable and removable shoulder strap
Made of durable and luxurious cowhide Colombian leather
The interior of this messenger bag is tear-resistant
This slim bag can hold almost everything you need, it is very roomy
CONS
Strap is not thick enough
Available in just one size
This full grain leather messenger bag has the following dimensions 18″ W x 13″ H x 5″ D. It has ample space, and you can fit a 17.5-inch laptop in it. With this messenger bag, you can carry almost all your essential needs like a notebook, pen, wallet. This messenger bag has a compartment for your laptop and also one for your zipper files. It has a zippered pocket on either side, and it also contains smaller sections for other smaller items.
Its bag strap is detachable if you want to carry this messenger satchel bag like a briefcase with its top handle. This vintage messenger bag has you covered for many occasions. You can take it to school, a meeting, or even an office. It is a classic that is evergreen. If you are looking to gift something to the men in your life, this messenger bag is also a great choice.
PROS
2 interior zippered compartments
Made of full-grain leather
It features shoulder straps that can be removed and push locks that are concealed
Vintage and multi-purpose, a classic style for every age
CONS
Heavier than other bags
Available in only one color and size
Weighing 3.9lbs with dimensions of 16.5″ × 12″ × 5.5″ the Samsonite Colombian leather bag can hold all your business essentials. With this messenger bag, you can keep your gear very organized. The zipper closure of its rear compartment makes it dust and dirt-proof; this compartment also has plenty of space. You can carry a laptop that weighs up to 4.4 pounds and is 15.6″ in this leather messenger bag.
This leather bag can also hold your business cards in its organizer and cell phone in its detachable compartment. It has another pocket for your tablet or iPad. The Samsonite leather bag has both a top handle and strap for you to conveniently take it around. The strap is padded and is both adjustable and removable. This bag is a classic made to keep your belongings safe and organized. Along with that due to its design, this bag also serves as a stylish accessory.
PROS
Versatile and durable
Several compartments for organization
Adjustable and removable shoulder strap
This messenger bag also features a removable compartment
CONS
Strap is not made of leather
This messenger bag is made of Hunter Buffalo Leather which makes it durable and of high quality. This bag has a vintage look to it. It also features a padded laptop sleeve that can fit an 18 inch laptop in it. This messenger bag has dimensions of 18 "x 13″ x 5". Its straps can be adjusted and your belongings are easy to access because it is closed by concealed snaps.
This satchel bag has a main section to fit your iPad/ laptop. On the exterior, it has several other sections. There is one metal zipper for easy access and convenience. There are 2 larger pockets in the front that can hold items like wallets, notepads, etc. It is truly a multipurpose leather messenger bag.
PROS
Spacious
Compartments for good organization
External metal zipper for convenience
CONS
Available in only one color and size
This messenger bag is made of full-grain leather. It is a high-quality, durable, and luxurious bag. This bag is made of genuine cowhide Columbian leather and is also great to use on a daily basis due to its tear resistant interior. It weighs 3.6 lbs and has overall dimensions of 16.0″ L x 12.5″ H x 4.0″ D. This messenger bag can easily fit a 15.6″ laptop. It is available in black, dark brown, cognac.
It keeps your belongings very organised with its thoughtful design. It has multiple sections. There are 3 sections on the outside, you can carry your cellular device in one of them. The other one is made for your laptop, tablet, or iPad. In the rear exterior section you can carry all your essentials that you need to frequently access.
The strap of this laptop messenger bag can be extended up to 52 inches and is both detachable and adjustable. It is also ultra-padded and non-slip. And one great news, this full grain leather bag only gets better with each use.
PROS
Adjustable, padded and removable shoulder strap
Long life span
Keeps your belongings organised with multiple sections
CONS
Strap is not thick enough
Kattee men's leather satchel briefcase is made of genuine high quality cow leather with bronze hardware. With this messenger bag, you can carry a 14 inch laptop and many business essentials. It has two interior pockets and two pockets to carry items like a wallet and cell phone. It also has two pockets to hold pens.
It comes with both a top handle and strap. Its strap is padded, removable, and adjustable to a length of 55 inches. With this leather messenger bag, you can have quick access to your items thanks to its button closure.
This messenger is great for men's business gear. It also makes a very good gift for birthdays, anniversaries, and Christmas.
PROS
Enough spacing for easy organization
Laptop sleeve
Adjustable, removable, and padded strap
CONS
Strap is synthetic and could be better quality
Made in India, this men's leather bag is lined with polyester and has a magnetic closure. This messenger bag has three pockets. One of the pockets is the main compartment, while the other two are present on either side of the bag for smaller items. The main compartment has a zipper lock.
You can keep your tablet or iPad in this bag's smaller pocket. However, the main pocket has plenty of space to fit other necessities. The main section of this leather bag also has a wallet, notes, and cardholders. And, it also has a built-in laptop sleeve that keeps your laptop safe and in place. In this laptop sleeve, you can easily fit a 15.6 inch laptop. The strap of this bag is both detachable and adjustable and extends to a length of 28 inches.
PROS
The main compartment has zippered pocket for maximum security
Main pocket also has smaller pouch pockets to hold your wallet or notes
Removable and adjustable shoulder strap
CONS
Available in only one size
The S-ZONE leather briefcase bag is high quality and durable. This bag is made of cow leather with bronze hardware. The best part about this messenger bag is that it ages like a fine wine, the more you use the glossier it gets. It can fit a 14″ laptop with its dimensions of 14.5×3.5×11.
This leather messenger bag has a front buckle decoration and a handle. With a mesh that can move this bag has a strap that is both adjustable and removable. On the exterior, it has 2 zippered pockets, however on the inside it has 2 zippered compartments. With multiple pockets, this bag makes organising easy. This is your bag if you are looking for something to hold your gear in a stylish yet practical way.
PROS
Buckles and zipper closure
Made of durable crazy horse leather
Several compartments for storage
Strap is detachable and adjustable
CONS
Colors and texture are likely to change with bends, scratches and continual use
Its waxe can stain light clothes
Frye Logan messenger bag has a very rich textured leather with a snap magnetic closure. With its 13 1/4″ height and 15″ width, this bag is highly functional. Its cross body strap is adjustable and drops down 22 inches. Altogether this bag has 2 slip and 4 zip pockets. This messenger bag has both interior slip and zip pockets. However, on its front, this bag only has a zip pocket.
PROS
Classic design for diverse occasions
Brass hardware
Soft and lightweight
Made of distressed leather
CONS
Strap is not removable
Few pockets making organization hard
This bag made by Visconti is is a great leather briefcase styled bag. Its design is contemporary. This leather briefcase is made for your business and workplace essentials.
Visconti vintage – 7 tan bag is made from the finest leather. It may have scratches, scars or wrinkles which are the characteristics and beauty of the hide. It is a high quality leather with smooth polished surface.
It has brass hardware. It has a flap closure with magnetic fastening. You can easily fit your gear in this messenger bag with its dimensions of 14.1×3.9×11.8.
PROS
Magnetic closure with brass hardware
Many pockets to hold everything you need
CONS
Can only fit small laptops
All of these leather messenger bags are suitable picks to invest in, but it is important to know your requirements to make the best choice. In the following section we will break down a few features you should keep in mind while purchasing a leather messenger bag.
Things to Keep in Mind When Considering a Leather Bag
We believe that 'not one size fits all' isn't just relevant for your shoes but is equally relevant for all your accessories. Thus, here are a few things to know about messenger bags before purchase to make the right choice:
Leather Type
Since the material of the bag determines its life, longevity, and tear resistance thus it is important that you invest in a messenger bag that is made of good quality leather. A good quality leather messenger bag is a classic that will last you several years and will only get better with each use.
Some types of materials leather messenger bags are made of are:
Full-Grain Leather
This type of leather is one of the finest, most durable, and highest quality leather. It is the best type of leather. It is tear-resistant and can last you a lifetime if kept with care. It also has its own unique and natural characteristics and thus not all full-grain leather bags look exactly the same. The best thing about this type of leather is that it only gets better with each use. Bags made with this material are classic and can be passed on.
Top-Grain Leather
Top-grain leather is the second-best type of leather after full-grain leather. A few millimetres from the top are buffed to take away imperfections. Top grain leather can however, tear and break faster than full-grain leather and is thus less durable.
Genuine Leather
Contrary to the name, genuine leather doesn't actually mean real leather. This leather isn't as long-lasting and will only last you a few years. It is low-quality and is only artificially made to look uniform. Bags of cheaper quality are usually made out of this leather.
Compartments and Storage Available
Even though a beautiful exterior is eye-catchy, but having a spacious and organised interior for your bag is very important. It's is essential that the interior pockets of your leather messenger bag are according to the requirements of your use.
Types of Compartments
Main Section
The main section is usually the most spacious one in messenger bags, it is meant to carry your laptop, iPad, or tablet. Each messenger bag has different dimensions to these compartments. If you are looking for something organised, safe, and easy to access messenger bags with zippers and flap covers should be your way to go. Along with that, if you will be carrying valuables like your passport or IDs, you should go for bags that have smaller sections in their main compartments.
Interior Section
Even though you can easily carry your laptops and iPads in the main section of your messenger bags. Some of these bags offer a padded laptop sleeve to keep your laptop extra protected and safe. If you are someone who likes to be extra careful, messenger bags with such sections should be your choice.
Exterior Section
Exterior sections are usually used to keep belongings that you need quick and continuous access to. Some leather messenger bags offer many of these. If you are likely to carry your keys, wallet, pens, and even notebooks, you should go with a messenger bag that has many of these exterior sections. But if you will only keep a couple of such essentials and won't require continuous access to these sections, you can easily skip purchasing a bag that has many of these.
Closure Type
Along with the sizes and types of pockets, it is also important that your gear stays protected and clean in your pockets. Depending on the type of items that you will keep in different sections of your bag, there are multiple types of closures for messenger bags.
Flap
A flap cover is the simplest and most common type of covering in leather messenger bags. It simply rests over the main section of your bag. This is an ideal type of covering if you are looking to have easy and quick access to your belongings. However it isn't very secure for valuables or important gadgets as it does not provide full covering. You may lose or damage your valuables due to the little openings on the sides of the flap.
Magnetic Snap
Magnetic snaps are great for men's messenger bags. They are quick to open and close and offer a sleek look. However, these aren't very secure either and don't offer full protection or coverage to your belongings.
Buckle
This is the most durable type here. If you don't need quick and continuous access to your items, leather bags with this type of closures should be your pick. These will not only provide high security to your valuables but will also keep them dust and dirt free for the most part.
Shoulder Strap
Shoulder straps are an important feature to keep in mind when purchasing a messenger bag if you value and care about comfort. Some different types of straps for these bags are:
Adjustable
Bags with adjustable straps should be your pick if you are looking for something that you can use on different occasions. Adjustable straps allow you to alter the length and pick which length feels the most comfortable to wear. However, if you will use your bag for only one purpose, you can easily skip looking for this in your choice.
Detachable
If you like to wear your bag crossbody and also hold it with its top handle, you should pick a messenger bag with a detachable strap. Detachable shoulder straps make your bag multipurpose and give it a versatile look.
Padded
Padded straps act like a cushion and make it easier and convenient for you to carry your bag for longer periods of time.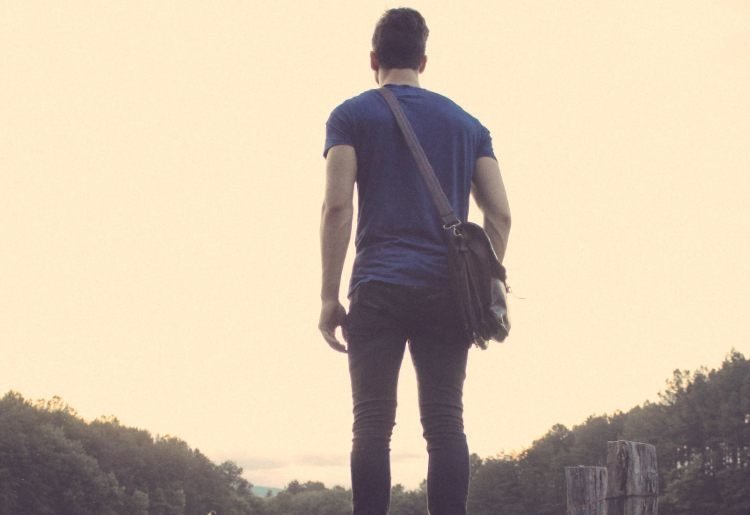 Taking Care of Leather Bags
As much as mens leather messenger bags are made of nice materials, there are still some little but expedient things to do to prolong its life span. Some of those are:
Regular cleaning. Beside cleaning the exterior of the bag once in a while take time and clean the interior as well. Use a damp cloth to clean the lining
Proper keeping of the bag to prevent dust, keeping it away from heat (hot temperature) and others
Wiping water from your leather bag
At least once in while apply a high quality leather conditioner
Frequently Asked Questions
How long should the shoulder strap be?
On average, the length of shoulder straps is somewhere around 28 to 65 inches. However, it is ideal that you purchase a bag with adjustable straps so you can wear it both cross body and on your shoulders.
Are messenger bags stylish?
Leather messenger bags are a classic item that have been in fashion since decades. They never go out of style. These bags, if made out of good leather, only get better with each use.
Where can I use my messenger bag?
Along with being a great pick for your workdays, you can also use your messenger bag for casual meetings and hangouts. Messenger bags can be used on multiple occasions depending on the type of shoulder strap and sections they have.
Final Thoughts

Leather messenger bags have become a trend in the modern days with so many companies producing several types of them. As much as there are good products, bad once also exist.
During our research we found that the Kenneth Cole Reaction Risky Business Colombian Leather Messenger Bag was the best one for men. From its design, colors, organization, and durability, this bag provides it all. If you are looking to invest in a messenger bag, this one should be your pick.